Bookworm on Mar 11 2008 at 5:37 pm | Filed under: John McCain
You may recall that, only last week, I reviewed one of McCain's victory speeches and concluded that it bore some remarkable similarities to Churchill's "finest hour" speech.  It turns out I'm not the only one to see that McCain's . . . perhaps not his rhetoric but his world outlook is similar to Churchill's outlook.  The McCain camp has seen it too, with this campaign video as evidence: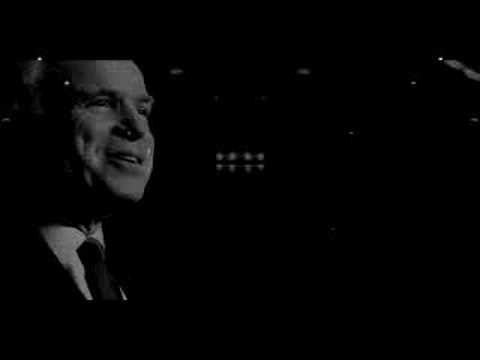 By the way, Dafydd suggests that McCain use this grand sense of our place in history to his advantage, and that he run rings around Hillary's and Obama's petty politicking with some big ideas.
Hat tip:  Big Lizard
Email This Post To A Friend
3 Responses to "McCain and Churchill, Part II"
on 11 Mar 2008 at 5:51 pm

1

Ymarsakar

It's doubtful those brainwashed by enemy propaganda will feel all that positive about a McCain promising to fight more wars for oil and kickbacks.

If McCain won't or can't de-brainwash those Americans, the fate of america will be dark indeed for some time.

on 11 Mar 2008 at 6:39 pm

2

Oldflyer

I don't think it is wise for the McCain folks to compare him with Churchill–certainly not as an orator and advocate of big ideas.

I started to amplify, but think I will leave it at that.

Well, one thought. They can compare him favorably with his likely opponent–either one. One fails as an orator; the other advocates no ideas.

on 11 Mar 2008 at 7:19 pm

3

Zhombre

The fate of America will be dark indeed for one side or the other, because right and left, so-called, have vastly different visions of the future. (I say so-called because the whole right and left paradigm I'd rather see discarded: politic alignment in the 21st century should not be calibrated by where Frenchman sat their derrieres in the 18th. French derrieres do not represent a force of nature; they are IMHO paraphrasing Jefferson, the dead derrieres of the past). Of course I would rather the liberals see their version of a dark fate with the election of McCain since many of that persuasion seem to regard existence as equivalent of the end of the first act of a Samuel Beckett play. Darkness may fulfill them actually.
Leave a Reply
You must be logged in to post a comment.