Bookworm on Jun 16 2008 at 1:03 pm | Filed under: Uncategorized
The National Science Foundation describes itself as follows:
The National Science Foundation (NSF) is an independent federal agency created by Congress in 1950 "to promote the progress of science; to advance the national health, prosperity, and welfare; to secure the national defense…" With an annual budget of about $6.06 billion, we are the funding source for approximately 20 percent of all federally supported basic research conducted by America's colleges and universities. In many fields such as mathematics, computer science and the social sciences, NSF is the major source of federal backing.

We fulfill our mission chiefly by issuing limited-term grants — currently about 10,000 new awards per year, with an average duration of three years — to fund specific research proposals that have been judged the most promising by a rigorous and objective merit-review system. Most of these awards go to individuals or small groups of investigators. Others provide funding for research centers, instruments and facilities that allow scientists, engineers and students to work at the outermost frontiers of knowledge.
You can read the rest of its function and mission here. The salient points are the it's a federally funded agency (that means we, the taxpayers, fund it); it's mission is to make America a better, safer, place; it's probably the single largest source of funds in America's colleges and universities; and it works by handing out grants to deserving scientists.
As to the latter, let me reiterate how NSA defines it's own mission: "to fund specific research proposals that have been judged the most promising by a rigorous and objective merit-review system." I think I should also reiterate that the Cold War-era mandate for this taxpayer funded institution is to keep America as safe and strong as possible. Back in 1950, the Congress envision hunting down the best thinkers in the country and paying them to do their best work for the country. It makes sense as a strategic national security decision in a scientific age.
That's why it fascinated a dear friend of mine, and fascinates me, to see what the NSF looks for on its application form (click on thumbnail to enlarge):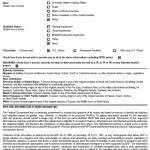 Did you catch that bit about ethnicity? There are two choices: "(1) Hispanic of Latino or (2) Not Hispanic or Latino." As my friend added in his email to me, "BTW, all this information is voluntary of course, and it would not affect the review process. Yeah right!"
Email This Post To A Friend
2 Responses to "It's not what you know, it's what you are"
on 16 Jun 2008 at 2:42 pm

1

Helen Losse

It seems the government makes a distinction between race and ethnicity. Ethnicity being 1) Hispanic and Latino or 2) not. Just below ethnicity is race: 1) American Indian or Alaska Native, 2) Asian, 3) Black or African American, 4) Native Hawaiian or Other Pacific Islander, and 5) white. That is due to the fact that one can be Hispanic and either black or white. And people can be black or white and not Hispanic.

It's inconsistent, of course. If it weren't #5 under race would be European not white. Or perhaps it should be white OR European. Just as all blacks are not African American, all whites are not European.

Ain't it lovely. The mess we (people) have created.

I think you're right, Helen, both in your factual analysis and in your final conclusion.
Leave a Reply
You must be logged in to post a comment.