Bookworm on Jul 29 2008 at 11:16 am | Filed under: Barack Obama, Bush Derangement Syndrome
I've noticed an interesting trend in the comments to my Barack Obama posts lately whenever liberals wander by.  I'll put up a post pointing out something very specific we've learned about Obama, despite his rather thin resume.  I might blog about his relationship with Rezko and the peculiar coincidences of his real estate purchase; or perhaps I'll note that he's been friends with some anarcho-terrorists; or I'll blog about the fact that he doesn't flip-flop (which implies an actual change in position), but simply has a new position for every audience and every occasion (witness his Jerusalem contortions); or I'll point to the fact that his church of 20 years was a hate-filled cess pool; or maybe I'll just point out that this man has less than a thimble-full of real world experience — you know, that kind of stuff.
What invariably happens when I get comments from liberals is that they don't defend Obama, probably because they can't.  Everything I blog about is documented.  He was buddies from Rezko and he did pay below market for his house as part of a Rezko related transaction.  He is friends with Ayers and Dohrn, and has sought as mentors many other arch-Communists.  He has stated three different, conflicting positions on Jerusalem.  The only way to reconcile them is to credit him with a sophisticated knowledge of rather arcane Jewish law.
His position on the Iraq War is equally open to criticism ("I was against it before I was against it except for the Surge which I was against even though I support it, but I still would vote for it despite acknowledging that it works and supporting it now. . . .  Uh, no further questions.")  The Church kerfuffle is as well documented as anything else, and takes pride of place as the first publicity grenade that even a loving media couldn't keep from blowing up on him.  Lastly, with regard to the experience issue, Obama's resume speaks for itself.  I wouldn't vote for him for County dog catcher on that slender a record of practical experience and real world competence.
Faced with the fact that I've never said a single untruthful thing about Obama's failings and ugly baggage, the liberal response is unanimous:  George Bush is worse.  I'm finding this an increasingly peculiar response.
Assuming solely for the sake of argument that everything the liberals say about Bush is true — that he's dishonest, power hungry, inept, has evil friends and entered the White House without any useful experience — what's that got to do with Obama as a candidate?  First, Bush is not running in this election.  His day in the presidential sun is over.  With that stark fact it place, it's clear that comparing the two is like comparing applies and spare tires.  It's a pointless exercise.
Second, if liberals truly do hate the fact that Bush is dishonest, power hungry and consorts with evil people, and that he entered the White House as a useless neophyte with no practical experience, why in the world are they supporting Obama?  As we've already noticed, they never challenge the same substantive attacks against Obama, because they are heavily factually documented and irrefutably true.  This means that, if Bush is a rotten apple, so is Obama.
The smart thing to do, if issues of ineptitude, corruption, and bad friends really bother one, would be to consign both men (Bush and Obama) to the rubbish heap of history and to vote for John McCain.  I think most will concede that, while McCain is less than perfect, there is no trail of slime leading to his door comparable either to the ones liberals have concocted against George Bush or that the indisputable paper and video record shows against Obama.
I have to wrap up with Pee Wee Herman, giving context to this post title: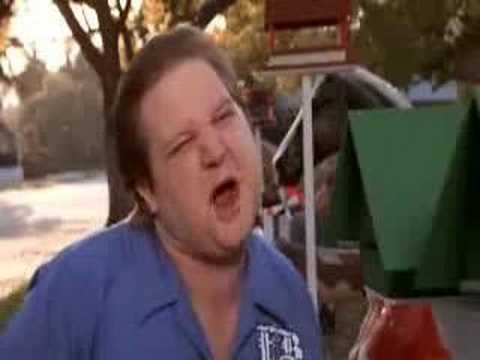 Email This Post To A Friend
3 Responses to "I know you are, but what am I?!"
on 29 Jul 2008 at 5:13 pm

1

Don Quixote

Gee, BW sometimes your questions are too easy:

"Second, if liberals truly do hate the fact that Bush is dishonest, power hungry and consorts with evil people, and that he entered the White House as a useless neophyte with no practical experience, why in the world are they supporting Obama?"

In liberal eyes, dishonesty is forgiven, even necessary to get elected (remember Wright's comments about Obama's attempts to repudiate him?).

It doesn't matter that Obama is power hungry, because they believe he will use that power in ways they will like.

The "evil people" he consorts with are people like Ayers and Dorn and Wright that his supporters like and admire.

And, of course, a neophyte with no practical experience is far from useless when he is your neophyte. I'm sure they think they can lead him by the nose to do whatever they want, just like they think those around Bush have led him around. In that respect he's far better than Hillary who might have thoughts, even a whole agenda, of her own.

on 30 Jul 2008 at 2:36 am

2

JackMayo

You have proven to be wrong about GW, and I think you're wrong here too. You don't have a great track record about your predictions for Presidential effectiveness.

Based on your past judgment alone, I'd say there is a good chance your predictions about Obama are wrong too.

on 30 Jul 2008 at 2:09 pm

3

suek

Oh I'm sure Obama is going to be effective. At just _what_ he's going to be effective – that's the question…

http://sweetness-light.com/archive/obama-to-review-bushs-executive-orders
Leave a Reply
You must be logged in to post a comment.