Bookworm on Sep 29 2008 at 9:57 am | Filed under: Hollywood
I hadn't missed the fact that Paul Newman died of cancer this weekend.  I always admired him, not for his screen presence, but for his off-screen decency:  a fifty year marriage to the same woman and a twenty year commitment to children's charities.  As for his on-screen presence, I too admired his unusual good looks, but I never made the mistake of being unable to separate the man from his roles.
I was thinking of that in connection with this picture, which surfaced as part of all the obituaries about Mr. Newman: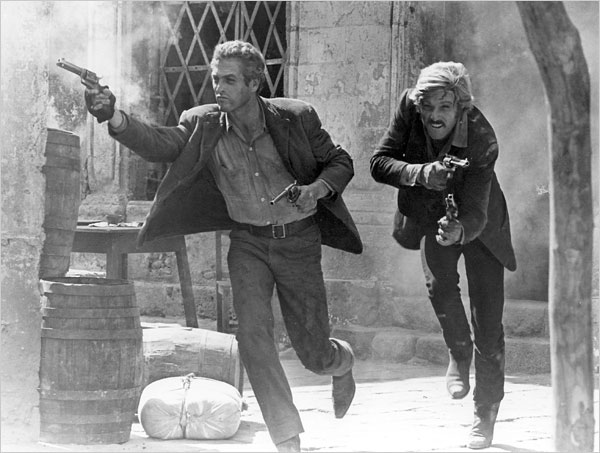 It's a great picture, isn't it?  Anyone other than a child recognizes it as a scene from Butch Cassidy and the Sundance Kid. Don't they look cool?  Running through a shootout with their own guns blazing.  Talk about heroes (or, in the case of this movie, anti-heroes).
Except that's not what the picture shows at all.  What this picture really shows is two grown men playing at dress-up and "let's pretend," with fake guns in their hands.  They aren't brave, they aren't cool.  They aren't doing anything meaningful at all.  If you saw your neighbors do this on the street, your first thought would be "what pathetic geeks."
Of course, unlike those hypothetical geeky neighbors, Newman and Redford are doing one thing:  they're providing entertainment.  I happen to believe that entertainment is a wonderful thing.  I really like being entertained.  But I never make the mistake of thinking that our current crop of studly little actors, such as Brad Pitt or Tom Cruise, are anything but short men (they're always short) who work out a lot with trainers to create pretty but useless muscles, and who pretend on screen to be cool.  These guys don't do anything.  They don't fight for their beliefs, they don't protect the innocent, they don't push around bad-guys.  They put on costumes, and hold fake guns, and prance around to someone's direction.
And when it comes to these hot-shot actors (not just Brad and Tom, but all of them), their off-screen lives range from the banal to the disgusting.  None of them are exemplary in their lives.  Indeed, that's what makes Newman's death truly sad.  Not the end of his screen presence, but the end of a life that was lived with true decency and meaning despite, not because of, the pretence of coolness and "meaning" that Hollywood foists on the American people.
Email This Post To A Friend
8 Responses to "The Hollywood illusion"
on 29 Sep 2008 at 11:20 am

1

Oldflyer

You are so right on Bookworm. As usual.

To extend the thought. I always cringe a bit when I hear a politician say "I am fighting for you". No, you aren't.

I loved Sarah Palin's line that there was only one candidate in this campaign who has actually fought for the country.

on 29 Sep 2008 at 2:02 pm

2

Zhombre

I'm reluctant to say anything disparaging about the man who was a fine actor and good guy, but it's difficult to ascertain exactly which charities Newman's Own actually did contribute to. The company doesn't seem to make this info readily available. And I believe Newman made generous contributions to The Nation magazine, to its nonprofit corporate entity, that essentially kept the magazine alive over the years. I don't place keeping The Nation Institute on life support on the same plane as contributions to third world orphans or disaster victims.

I'll agree with you, Zhombre, that I'm less enthusiastic if he kept that magazine alive, but I did hear that his food company donated approximately $200 million to charities for children with cancer.

on 29 Sep 2008 at 2:42 pm

4

rockdalian

Newman's Own has grown into a powerful and lasting expression of Paul Newman's generosity. The Company has generated over $250 million in proceeds that have been donated by Paul Newman and the Newman's Own Foundation to thousands of charities worldwide. Particularly close to his heart were the Hole in the Wall Camps, now the leading global family of camps for children with life-threatening illnesses, which Paul started over 20 years ago.

http://www.newmansown.com/
At the bottom of the site: Due to unusually high traffic, our full site is currently unavailable.

The site references donations to thousands of charities. It may be that there are too many to list.

Did find this.

Newman's Own Award
Recognizing Unique Opportunities to Improve
Quality of Life for Military Families

The purpose of the Newman's Own Awards is to recognize to volunteer and non-profit organizations supporting our nation's military families. Present an innovative plan to improve the quality of life for military families and you may be awarded up to $15,000 to carry out that plan.

on 29 Sep 2008 at 5:20 pm

5

Mike Devx

All I really knew about Paul Newman was that he and Joanna Woodward remained married in a deeply loving, committed relationship. It often seemed as though theirs was the only such.

And the fact that he was a race car driver, which was a cool departure from the usual dilettante actor bs.

on 29 Sep 2008 at 6:46 pm

6

1Lulu

Look how lean they are compared to today's steroid slugging musclemen.
My, how tastes change.

on 29 Sep 2008 at 7:19 pm

7

pondering penguin

Respected the man, hated his politics, admired his family life. And his sense of adventure well into his 70′s – what a guy. A life well lived.

[...] this art project creepy or funny? Apologies to a certain blogger for the Cruise. . . This entry was posted in Celebrities, Movies, Television and tagged Long [...]
Leave a Reply
You must be logged in to post a comment.