Bookworm on Mar 27 2009 at 4:28 pm | Filed under: Uncategorized
Sometimes, when I hear a song, I'm catapulted back, not to some era in my life, but to a very specific moment in time, sometimes mere minutes long.  Running carpools today, I heard two songs that turned me into a very young 20-something all over again.
The first, the Thompson Twins' Hold Me Now, transported me to a small, neighborhood shoe store (of all places) where I was admiring some very frivolous little sandals.  I was waffling, and was convinced to buy them only because the sales clerk flirted with me so outrageously, I suddenly realized I was the most gorgeous woman in the world and absolutely deserved those shoes to complement my wonderfulness.  Hold Me Now was, of course, playing in the background.  The shoe store is gone, and those feelings with it.
The second, Joe Jackson's Steppin' Out sees me walking into a small, neighborhood music store.  It's a meaningless vingnette.  Nothing happened.  But I spent a lot of happy years in that music store and the shopping trip I made to that store the day Joe Jackson's song played in the background was, I think, one of the last times I went into the store before they tore it down and built a mega-mall in its place.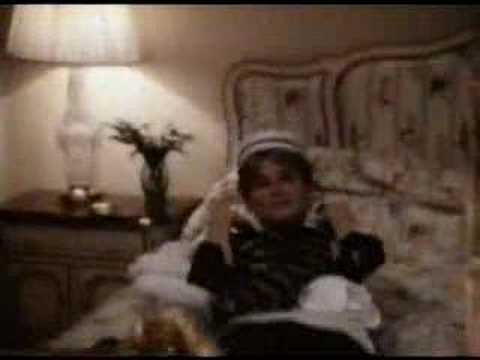 Email This Post To A Friend
27 Responses to "Recapturing lost moments in our lives"
on 27 Mar 2009 at 6:38 pm

1

Bill Smith

Oh Man, I think, next to smell, music has the most power to rocket you back in time to places, and feelings, mostly feelings, places in your mind. Damn, I'm even talkin' 60s now. Bitter sweet sounds.

on 27 Mar 2009 at 7:44 pm

2

highlander

Yes, and then there's the taste of madeleine dipped in honey.

To which I remind you that Monty Python put it in song: "Proust in his first book wrote about, wrote about…." Another thing for the musical memory basket.

Week-End Bloggers…

Here's the Right Wing News guest blogger line-up this week-end. Saturday ——– Bookworm from Bookworm Room Cassy Fiano Kathy Shaidle Five Feet Of Fury Morgan from House of Eratosthenes B. Daniel Blatt from GayPatriot Gina Cobb John Stephenson from …

on 27 Mar 2009 at 8:54 pm

5

highlander

Wonderful! You've closed the loop!

Actually for me it's more visual. Random glimpses from time to time will carry me back to moments when I was a child in the 1940′s. I enjoy remembering those times. They seem far simpler than what we have today, but then I think they almost certainly were not so for those who lived them as adults.

Ahhh, happy memories. Fleeting moments of joy. Stepping out did that for me. Billings, just married, no kids. Hanging out with the husband and eating a Polish sausage with sauerkraut on a rye bun. That was lovely, thank you BW.

on 28 Mar 2009 at 12:05 am

7

Charles Martel

A cliche, I know, but the smell of newly mown grass takes me back 45 years when I was young and indestructible.

In high school we had a monthly Friday night dance in the girl's gym that everybody loved and made sure to attend. I was a runner at the time and my buddies and I would meet at the field house by the track an hour before the dance and change into our running clothes (the coach loved and trusted us, so we had a way in—something about a lost key that, dammit, nobody ever retrieved).

We would run barefoot on the grass that lined the inside of the track, maybe two or three miles, strong and swift, laughing and talking all the way. At the last two laps, a half mile, we'd challenge one another to ramp it up and see who could bring it in the fastest.

I swear I never ran so swift and carefree.

I remember the smell of that grass, the incredible strength of our lungs, legs and young confidence, and the sweet promise that maybe later that night we would meet and dance with The One.

I hope everybody has a memory like that.

on 28 Mar 2009 at 7:16 am

8

Mike Devx

Charles #7:
>> I remember the smell of that grass, the incredible strength of our lungs, legs and young confidence, and the sweet promise that maybe later that night we would meet and dance with The One.

Ah, Charles, but did she promise you the world, but while dating only engaged in ad-hominem attacks, the use of strawmen in arguments, claiming to be a centrist future wife but in reality only wanted to completely control you… and did she end up simply draining every dollar you had in your wallet?

Most importantly, while at that candlelight dinner, did she look into your eyes and say, "You know, Charles… we are the ones we've been waiting for" ?

on 28 Mar 2009 at 8:13 am

9

Mike Devx

Charles #7:

Actually, my main impression of Charles' comment is, "Ah, the remembrance of Youth!" That was one heckuva wonderfully-written comment, Charles!

I remember as a kid grousing about at home, or while walking back from the baseball field, saying every time, "I'm bored. There's nothing to do!" And then we'd spend four or five hours doing all kinds of stuff, and then say, "I'm bored. There's nothing to do!"

These days, I look at the clock, and then I putter about a bit, and I look at the clock again, and I say, "Where in the heck did the last eight hours go? I haven't gotten hardly anything done!"

What a difference.

on 28 Mar 2009 at 8:27 am

10

Bill Smith

I dated a girl from Brooklyn for a while. I took her sailing, and at one point she said she hated the smell of the dock.

Huh?

Yes, it reminded her — powerfully — of the subway, because the railroad ties in the subway are made of creosoted wood — just like docks, and pilings.

I LOVE that same smell. It reminds me of my boat, of boats past on summer camp lakes, family fishing trips in the north Wisconsin woods and lakes as a boy. Both powerful memories.

Is Barack Obama evil?…

While we were having lunch today, my dear friend Don Quixote asked "Do you think Barack Obama is evil?" I hedged. "That's an interesting question. Why do you ask?" "I'm getting the feeling," he answered, "that conservatives are starting to……

on 28 Mar 2009 at 10:58 am

12

Charles Martel

Damn, Mike, you must have been the fly on the wall when I was dating The One.

Everything happened just as you described it. After she confiscated (then ate!) my wallet, she started wearing brown blouses and walking around the neighborhood knocking on doors and interrupting people's dinners.

We ended the day I tried to defend her from a neighborhood bully. The guy was grinding my windpipe under his Doc Martens (just as I was THIS close to seizing control of the situation), when she complimented him on their beautiful shine and how devoted he seemed to them and how it was unfortunate that people didn't see that side of him.

I took the opportunity to slip away. I heard later that she became a coffee whore, putting out for any man who'd buy her an espresso and blow Gauloise smoke in her face. Whenever somebody would drop some coins into the Dixie cup she always kept handy, she'd proclaim, "Yours is the change I've been waiting for."

on 28 Mar 2009 at 11:19 am

13

Mike Devx

Every one in a while I should say, "Thank you, Charles, for not taking offense!"

You're a wordsmith who creates interesting images and sometimes I go off on my absurdist tangents and enjoy attempting to create something bizarro… and it seems to happen often with your comments. Thanks for not taking offense that I often borrow from and exploit something wonderful you've written! Whether I succeed at my "alternate bizarro universe" creation or not!

And you knocked it out of the ballpark with your own "bizarro universe creation" in #12. I got the biggest kick and laugh out of:

>> (just as I was THIS close to seizing control of the situation)

on 28 Mar 2009 at 12:39 pm

14

Charles Martel

Mike, you and I are soul mates. Not many people I've ever met have been on Bizarro's side. Our next step is to perfect a secret Bizarro handshake.

on 28 Mar 2009 at 2:44 pm

15

suek

>>Our next step is to perfect a secret Bizarro handshake.>>

That's going to be a real tough task to complete with only an internet connection. I have no doubt that if anyone can do it, you two can. Nevertheless, you've piqued my interest…_please_ let me know if you succeed…!!

I suspect it's going to look like a Boy Scout Knot merit badge diagram…

on 28 Mar 2009 at 6:45 pm

16

Mike Devx

The Lead Headline on cnn-dot-com is "Lights Go Out Across the Planet For Earth Hour".

One of their intrepid reporters is going to hike up to sheffield park to observe LA in darkness. Hahahahahahaha. LA in darkness. Hahahahaha! Sheesh.

The title of this Book post is 'Recapturing lost moments in our lives'. Well, for anyone stupid enough to turn out their lights for an hour: You deserve that lost moment in your life.

I offer for everyone else, instead, this gem of a response.
It is titled: Human Achievement Hour

http://cei.org/human-achievement-hour

It's not very long. And it is well worth it.

Especially as a response to "(Darkness On) Earth Hour – A Celebration Of The Darkness That Rots At The Core Of The I-Hate-Mankind Movement"

I just want you to know that I, too, am planning to participate in the Earth Day moment of darkness. In fact, I'm going to go those planners one better and do it for many hours, not just one. So, as of about 11:00 tonight, through at least 6 a.m. tomorrow morning, my house will be in darkness. Hah!

on 28 Mar 2009 at 8:21 pm

18

Charles Martel

suek:

Mike and I have already developed the Bizarro secret handshake and stand ready to show it to you since you are a beloved fellow poster at this site.

However, Mike, who insists that we honor Gaia, says we can only show it to you in the dark. Turn off your lights now and we will perform the handshake.

………………………………………………………………………………………………………………………………………………………………………………………………………………………………………………………………………………………………………………………………………………………………………………………………………………………………………………………………………………………………………………………………………………………………………………………………………………………………………………………………………………………………………………………………………………………

How neat is THAT?

on 28 Mar 2009 at 9:22 pm

19

Mike Devx

Just our little contribution to Earth Hour. And Charles, it's Mother Gaia, not Gaia. She is not pleased. The difficulty I have, teaching these infidels!

Although, it must be said, in rare moments of frivolity, she deigns to allow being called "Big Green Momma" instead.

News Flash – Trouble During Earth Hour! Our reporting team reports!
This just in, from 1000 Ludicrous Drive, Los Angeles

Cameraman: "Can't see a damn thing. Are we in the living room with the family?"
Audio Guy: "Yes… I think so. Anyway… we'll get all of this on audio at least."
Cat: "MrrrrrroooooWWWWW"
Sally: "Muffin! You stepped on our cat!"
Cameraman: "Apologies."

Mom: "Hush, Sally, I'm sure he didn't mean to be so mean. Now yes, we are all here in the living room. To my right is my husband, and then my teen-age daughter Britney, and then Timmy, and then Sally. We just got done with our circle chant and our Earth Hour intro of "Kumbayah", too bad you didn't arrive in time to join us."

Audio Guy: "OW! I think I just broke my kneecap."
Mom: "Oh, yes, we put our table over there."
Timmy: "Mom! Sally just punched me in the arm."
Mom: "Sally!"
Sally: "Timmy's pinching me! Make him stop!"
Mom: "Children! You know we can't see anything in this darkness, and I can't turn on the lights for the next hour. Now, behave!"

Britney: "Mom, can I plug in my heating iron? I have to curl my hair! Nick's picking me up at 9:30."
Mom: "Does it have a light?"
Britney: "Well… a small red one."
Mom: "Absolutely NOT! This is Earth Hour, you know."
Britney, bursting into tears: "Then my life is over, you know. Absolutely over. Nick is just going to HATE me." She is inconsolable.
Mom: "Now, now dear. Let me give you a hug." Sounds of her climbing to her feet, moving toward Britney. Crash.
Cat: "MrrrrOOOOWWWWW!"

Mom: "Oh dear, I tripped over the cat. I think my arm is broken. Britney, dear, I won't be able to give you a hug."
Britney, now in sniffles: "That's OK. My life is over anyway."

Sally: "Mom, Timmy's punching me again!"
Mom: "Children! Why can't you follow the mature examples of your father and I? You just wait fifty minutes until I turn these lights back on!"

on 28 Mar 2009 at 11:27 pm

20

Charles Martel

Mike:

You are one of the sickest people I know.

And I mean that as one supreme compliment.

on 28 Mar 2009 at 11:58 pm

21

Mike Devx

Shoot, Charles. I was just over at Teri's blog ( http://viewoutmywindow.wordpress.com ) commenting on her post on how angry Obama is, and I wondered if I was too mean. I didn't think of "sick"! :-/

So I thought I'd riff on a parent who is a true "Earth Hour" fanatic, to the point where, blinded by ideology, nothing, absolutely nothing is going to stop her from observing the holy moment. Even as total chaos ensues.

Timmy and Sally are me and my brother. We took every possible opportunity to pick on each other for years. Britney is the typical teenager for whom anything that goes wrong is like a world crisis.

The Mom was my attempt to mimic the wife of Rex Kramer in 'Airplane'. You know: when the guy arrives to pick up Kramer, and the family dog mauls him, and all she says is "Shep is just so excitable", and she's so incorrectly unflappable – and oblivious – through the whole scene.

(I'm sure I've mentioned elsewhere that Airplane is one of my all-time favorite movies! Now, the cat underfoot in the darkness, triggering much of the chaos… yep, I'm sick.)

on 29 Mar 2009 at 12:21 am

22

Charles Martel

Speaking of obliviousness, I think the ability to portray it in spades is what made Leslie Nielsen so damned funny. He never got the joke.

That's our consolation, Mike. The dunces who are now running the country are so, uh, duncelike, that all it'll take is one Lorenzo Music in the audience going, "Wah, Wah, Wah!" to get the whole country laughing at the farce.

That's my hope and I'm sticking to it, even if I have to stumble over myself in the dark.

Speaking of:

Mother Gaia: "Why did you turn off the lights, Chuck?"

Charles Martel: "The better to run my lusty hands at will over your national parks, you fecund succubus, you!"

Mother Gaia: "Oooh, you scamp! =GASP= How dare you touch my Mons Everest!

Charles Martel: "Sorry, I thought I was fondling your Strait of Hormuz."

Mother Gaia: "Doesn't matter, doesn't matter! Please, you disobedient man-toy, continue stoking my geography!"

Charles Martel: "Will do. Say, can I get a discount on my carbon footprint?"

Mother Gaia: "Yessssss! I am a Flower of the mountain yes when I put the rose in my hair like the Andalusian girls use or shall I wear a red yes and how you kiss me under the Moorish wall and I think well as well you as another and then I ask you with my eyes to ask again yes and then you ask me would I yes to say yes my mountain flower and first I put my arms around you yes and draw you down to me so you can feel my breasts all perfume yes and your heart is going like mad and yes I say yes I will Yes."

Charles Martel: "Uh, yeah, whatever."

on 29 Mar 2009 at 7:38 am

23

suek

Heh. So…if you're in your car on the freeways in LA, you should turn off your headlights????

Somebody must have done that Friday AM…Apparently a truck, a bus and 7-8 cars all had an unfortunate meeting on one of the freeways. That was about 6.30 AM. They were still reporting the freeway as closed and an ongoing investigation at 11.30 AM.

Odd. You bring up Leslie Nielsen, and I mentally see Joe Biden…

on 29 Mar 2009 at 9:53 am

24

Bill Smith

"You don't need forcibly meltible snow in your backyard to experience the cultural enrichment. You can also participate by "placing a couple of electric space heaters inside an old fridge, plugging them all in, and seeing which one wins."

This gave me the first, good, spill-your-coffee-on-it belly laugh I've had in a helluva long time. To see what this is about, see link below.

Bill

http://www.smalldeadanimals.com/

this post: Ceremonial Banishment Of The Snows

I'm sure I've mentioned this before but . . . God, I love you guys!

on 29 Mar 2009 at 10:14 am

26

suek

A quick read from another blogger on the same page…

http://furtheradventuresofindigored.blogspot.com/2009/03/turn-on-your-porch-light.html

on 29 Mar 2009 at 10:29 am

27

Mike Devx

Charles #22:

My God, I never made a connection between the worship of Mother Earth Gaia, and a Swiftian "logical conclusion" to what can only be described as Mother Earth Gaia foreplay!

Subversive, caustic *and* subtle, Charles!

Be careful of those inevitable volcanic eruptions.
Leave a Reply
You must be logged in to post a comment.