Bookworm on Feb 06 2010 at 9:13 am | Filed under: Abortion
A living room full of former hippie gals, all in their 60s,  put together a short and vulgar expression of their disdain for, in their words, CBS having no respect for "women's choice":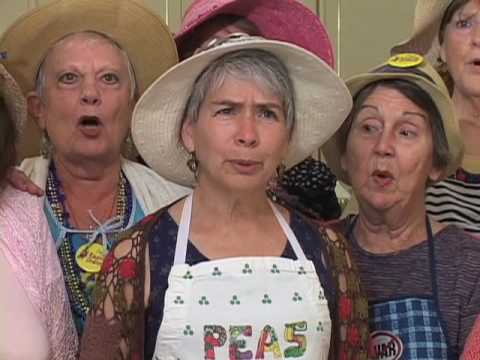 Just so that you're clear on what they're saying, here's the way in which the person who posted the video describes what's going on:
Part of Women's Media Center grassroots effort, this funny, fierce song parody from South Florida Raging Grannies tears CBS a new one, in no uncertain terms, over its decision to run an anti-choice commercial from the Christian right-wing extremist group, Focus On The Family, during 2010 Super Bowl.
As for me, last I heard, CBS had no government input over women and reproductive rights.  What really gets the Raging Grannies' goat is the fact that CBS agreed to show a video in which Tim Tebow and his mom talk about her choice to go ahead with a high risk pregnancy.  In other words, the Raging Grannies' are not upset about CBS advocating the denial of women's "choices."  They're upset about CBS giving voice to a woman whose choice did not include abortion.
Sometimes I think, debating the Left really isn't fair, because it's like having a hard-charging philosophical conversation with a monkey.  I then realize that, in an engagement between a monkey and an intellectual, the monkey often wins.  It's just not victory at an intellectual level.
Email This Post To A Friend
23 Responses to "Old Hippies on the rampage (language alert) against the "wrong" choice"
on 06 Feb 2010 at 9:40 am

1

JackCoupal

You say: They're upset about CBS giving voice to a woman whose choice did not include abortion.  Wrong! Tebow's mother's choice DID include abortion. She just chose NOT to have an abortion. That's what the grannies' anger is about. She didn't make the politically correct choice! That's what their rage is about.

on 06 Feb 2010 at 10:14 am

2

Gringo


From back in the day: "We're the people our parents warned us against."
It needs to be updated to:  "We're the people our grandparents warned us against."

Without bothering to actually review the video, those grandmothers look rather angry to me. Looks to me that they wouldn't have  much patience for a small child's antics. Would you want these grandmothers to babysit YOUR child?
 
 

on 06 Feb 2010 at 11:17 am

3

expat

I am sure young women will be motivated to join these old fogies–just what everyone wants to be when they get older.

on 06 Feb 2010 at 11:26 am

4

Leah

Florida's raging GRANNIES. So at some point they and their children made a choice to procreate. How convenient for them, but others shouldn't make that choice.

on 06 Feb 2010 at 12:12 pm

5

JKB

What does it mean when dementia is going to make these "grannies" seem saner?  But we should count our blessings that they didn't try a nude sit-in to make their point.

on 06 Feb 2010 at 12:15 pm

6

Charles Martel

"But we should count our blessings that they didn't try a nude sit-in to make their point."

I think you've just given me an aneurysm.

Indeed, JKB

The only 'choice' that matters is their choice, you ocean full of slugs and serfs.
 
Know your place

on 06 Feb 2010 at 1:41 pm

9

suek

I loved the comment "the Hammer" (who thought that one up?  love it!) made:
For Progressives, ' The peasants are revolting' is a pun"…!!
 
Took me a couple of reads to catch that one…

on 06 Feb 2010 at 1:43 pm

10

Danny Lemieux

Nasty coven they have there down Florida-Way.
Children should doubly beware and definitely keep white stones in their pocket in case they get lost in the woods.
Suek, that pun is write up there with the title of Henry Kissinger's Memoir, "Years of Upheaval".

I was thinking about the fact that, back in the Sixties, these grandmothers were marching along with signs saying "Power to the People."  Foolish people like me (and in my defense, I was only a little girl), though that really meant "Power to the Person/Individual."  All along, though, the marchers really meant "Power to the Collective" — they just wanted to be the ones in charge of the vast government entity they envisioned.

Ouch, Danny.

on 06 Feb 2010 at 4:16 pm

13

Charles Martel

What's always cracked me up about "progressives" is their fascination with scat and their belief that they are being oh so bold when they make references to it. Notice the looks on their faces the first time they shout out "BS!"? Wow, what rebellious, transgressive powuh!

on 06 Feb 2010 at 5:27 pm

14

Lulu11

It's like a Saturday Night Live sketch.

 Leah , you hit the hypocrisy nail on the head, as did you Bookworm. What is their point- how dare Tebow's mother choose not to abort her son?  How dare she tell people that she had been advised to and the doctors were mistaken? How dare she be grateful that the CHOICE she made turned into a wonderful son and not a memory of what might have been?

Pretty clear their fear is that women  might rethink their decision to abort, past , present and future. The question is, why is that sooo threatening to them? I wonder if any abortions took place amongst this group and if there is some projection taking place here.

on 06 Feb 2010 at 6:32 pm

15

SADIE

In the 1960′s they burned their bras and now wayyyy into their 60′s they burned their brains.

on 06 Feb 2010 at 10:05 pm

16

Bill Smith

Bookie,
I wish you wouldn't speak of "Reproductive Rights" in this context. It's just another lie like "Pro Choice." No one is challenging anyone's "right to reproduce." We're challenging their "right" to kill their babies. That isn't about choosing to reproduce or not. It's about killing an innocent.
In China it IS about Reproductive Rights. The government forcibly aborts your second, and subsequent babies. Calling the "right" to abort Reproductive Rights is grotesque.

on 07 Feb 2010 at 7:08 am

17

Mike Devx

What is the point of these "raging grannies"?  That CBS refused an add favoring abortion, or are they angry simply that Focus On The Family and the Tebows created an ad that was accepted, favoring the choice to keep the baby?
 
If CBS rejected an ad favoring the right to choose an abortion, it's probably because the ad sucked.
 
Not because of "corporate censorship" (a concept that I disagree with – only the government can censor, by definition).  I often get furiously angry at the MSM because of its lies and deceit when reporting the news in its special, slanted way, but I'd never call it censorship.
 
This is the face of smiling fascism, as Jonah Goldberg writes about in the truly excellent "Liberal Fascism" book.  They'll let a "few nutcases" believe whatever they want to believe, but get your views out there into the mainstream of our culture, and suddenly they're raging at you and attacking you, trying to completely shut you down.
 
I haven't seen the Tebow ad, but from what I've heard, it reminds me of the great 80′s-era commercials, "Life… What a Wonderful Choice".  Those ads were truly fantastic.  They simply said, "Choose Life.  It's the better choice.".  There wasn't even a hint of advocating banning abortion.  One in particular, a childless mother sitting on a swing in a playground with a wistful expression, has always stuck in my memory.
 
People similar to the raging grannies love advocacy ads, but only if it advocates their own positions.
 

on 07 Feb 2010 at 8:24 am

18

Zhombre

Raging Granies = Brutally Stupid Biddies of South Florida.   I use the word Biddies instead of what I'm really thinking.  I've had experience with this type of progressive crone before, among the South Tampa Stepford Liberals and the creaky doyennes of the UU Church (the ones who got irate if kids studied the Bible because it was the source of so much intolerance) I belonged to when my mind still functioned Standard Liberal.

on 07 Feb 2010 at 8:44 am

19

suek

>>Calling the "right" to abort Reproductive Rights is grotesque.>>
 
Another example of typical Lefty term inversion…

It's more like right of superior genetics. All those Leftists planned on suppressing the lower class of criminals and lower intelligent races with abortion.

Btw, to check up on how shackled up the black community here in the States are, get them to talk to you about how the US government created AIDs in Africa to kill black people and how the white corporations are purposefully funneling ammo and guns to inner cities so that blacks can kill each other. Then talk to them about Democrats  funding abortion in order to kill black people.
 
If they agree with the last, then you'll know that they can't even figure out that 90 plus % of black people vote Democrat. If they don't agree with you, then it just shows how much they are in chains to their Dem masters.
 
And they still vote Democrat and support Ted Kennedy, a Dead White Male. And they still think the US government is producing genocide against blacks, but abortion clinics are "women's choice".
 
Fools and tools.

on 07 Feb 2010 at 11:09 am

22

Zhombre

It occurred to me where I've seen this type of strident, intolerant feminism before:
http://img.photobucket.com/albums/v280/tomasutpen/wctu.jpg
The joyless hags of the past wanted to do away with liquor — one of life's pleasures IMHO —  and their present-day sisters want to make abortion a sacrament, and do away with inconvenient fetuses.  It's all about negation.
 

[...] Tebow and his mom were going to make a pro-Life commercial, the Left went completely unhinged, with obscene aged hippies, deranged letters, and hate-filled videos about the end of abortion as we know it.  And then what [...]
Leave a Reply
You must be logged in to post a comment.