Bookworm on Oct 08 2010 at 8:29 am | Filed under: Chris Christie
Cuddling up with a Chris Christie video is better than chocolate.  The first minute and a half of this video is a slightly boring statement about Christie's decision not to build a tunnel from new Jersey to New York.  Don't give up, though.  After that wooden intro, the rest is Christie's usual lucid discussion about his belief that the state does not exist to suck the taxpayers dry — especially for a project that is certain to have massive cost overruns and, typical for anything planned by a bureaucracy, one that was not well thought out in the first place: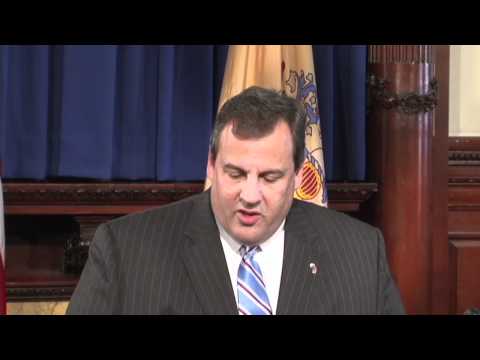 Email This Post To A Friend
5 Responses to "Your Chris Christie moment of the day"
on 08 Oct 2010 at 11:14 am

1

suek

If you can find it, Michael Medved played a short cut yesterday of David Cameron speaking to a Tory meeting of some sort in England.  Wow!!  It was a _barn burner_ of a speech!!
 
Chris Christie has a brother in jolly old England!!!  And jolly old England needs him even more than we do – though I'd like to nominate him for honorary citizenship and give him the keys to the city – any city!

Yes, Chris Christie does a wonderful job at explaining his actions. But, Sorry Book, I don't mean to rain on your Chris Christie parade; BUT!

Here's some quick math (off the top of my head, the real figures may be higher).  From the west there are only two tunnels and one bridge to get into Manhattan by car or bus; by train there is only one rail tunnel in and one rail tunnel out – essentially it is ONE LANE by commuter trains from the west! 

I'll repeat – ONE LANE by train.

During rush hour, New Jersey Transit runs 4 or 5 North Jersey Coast trains, 4 (or is it 6?) NE Corridor trains (from Philly and central Jersey), 2 "Midtown direct" (that's just the name of the line; but all these trains I mention are midtown direct in that they use this one lane tunnel into Penn Station).  That's, at least, 10 trains per hour running through this one lane tunnel – an average of one train entering the tunnel every 6 minutes.  Since it takes more than 10 minutes to go through the tunnel that means 2 or more trains are in the tunnel at any one time.  Just one stalled train causes major headaches and delays of up to 40 or more minutes. (Ever try to back up several trains?)

But wait! There's more!  There are also Amtrak trains using the same tunnel and that's maybe 2 each hour. Which really makes it 5 or fewer minutes between trains in the tunnel. This is not just a time issue; in my opinion, it is also a safety issue.  One "incident" on one train in the tunnel can affect 2 other trains as well.  Not cool.

Also, Amtrak owns and operates the rail line in these tunnels into Manhattan.  Therefore, Amtrak trains, which are frequently late as they travel a much further distance, take priority over any/all NJ transit trains.  Several times a week this happens.  It is not unusual for a NJ train to pull over to the side rail and wait 20 minutes for a delayed Amtrak train to catch up and pass since it was "scheduled" to go first.

But wait ! There's even more!  There are still several NJ transit lines that stop in Newark, NJ or Secacus, NJ and do not go into NYC.  Those passengers must change trains at those NJ stations and transfer to get into NYC. Hundreds of people scrambling aorund Newark or Secacus trying to get to their proper train add to further delays.  With the math above one can see that a delay of 1 or 2 minutes is essentially throwing a monkey wrench into the tunnel schedule.

Long story short, this tunnel is desperately needed.  I have had job interviews in NY (I live in NJ) and have been questioned about my ability to get into the city in a timely fashion when the issue of how I get into the city comes up! NJ Transit trains now have that kind of "unreliable" reputation.  This type of question never came up when I was interviewing for work in the mid-90s.

So, two things may be happening:

Christie is using this "cancellation" to force the issue of cost overruns (yea! take on those union thugs); such as "play fair or I'll take my ball and go home," with the hope that they will agree to something to save money and cut corruption; and the project can go on. I hope this is what is happening.

OR, this may turn out to be Christie's Achilles' heel.  It looks as if he is trying to pander to the national audience in looking forward to a national office run in two years.  If this is what he is doing; it might just backfire. As I said, this tunnel is needed by the middle-class, his main supportors, for job opportunities in NYC. Two years is a long way off, and his popularity train could be derailed (sorry, I just couldn't resist that bad pun) by this type of pandering, and a run for a national office will be that much harder; if not impossible.

on 09 Oct 2010 at 6:02 am

3

Danny Lemieux

There is an alternative, of course, Charles: all these jobs and businesses could move from NYC to NJ.
If the state is bankrupt, it is bankrupt. We all are. That's the devastating legacy "we" have left ourselves: bankruptcy severely limits what you can do, even if it has to be done. Bankruptcy forces us to practice economic triage.

on 09 Oct 2010 at 1:35 pm

4

Tonestaple

Charles, I'm sorry there are transit difficulties between New Jersey and New York, but where is all this money supposed to come from?  If the original deal really does make New Jersey responsible for all cost overruns, then the only sensible thing to do is to walk away.

We're in the middle of a similar brouhaha in Seattle:  everyone (but me and 2 or 3 other people) is enamored of the idea to replace a double-deck highway (built on old fill and which was damaged in the 2001 Nisqually earthquake) with a tunnel but the deal the state legislature gave us makes the City of Seattle fully responsible for all cost overruns.  Mostly our moonbat mayor is a damned fool, but he seems to be holding firm on not getting stuck with this outrageous bill.

As Danny said, we're broke.  We simply can't afford it.  I'm sorry if this makes life difficult for people, but we just don't have the money and we have no prospect for getting the money.

People at the top sucking up too much money with corruption and back room deals. That was the intent and goal all along. The goal wasn't to build a bridge. The goal was to use the pretense to steal money from people legally.
Leave a Reply
You must be logged in to post a comment.