Bookworm on Jun 02 2011 at 6:42 am | Filed under: Uplifting stories
Some in the town of Grand Rapids took umbrage at being tagged as a "dying" American city in some magazine or another.  One man, who has a reputation for showmanship, raised $40,000, and got 5,000 people to participate in this amazing ONE SHOT video: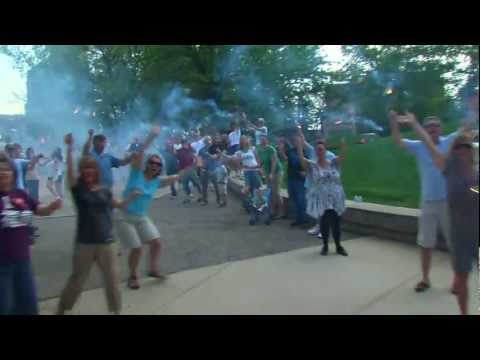 Email This Post To A Friend
5 Responses to "Must see TV"
on 02 Jun 2011 at 1:25 pm

1

Danny Lemieux

What a great video! To put it into context, this is in the heart of Dutch Reformed Church country (which generally frowns on dancing and public display). Note the sparkling cleanliness and perfectly manicured lawns and flora: very Dutch! Yay, Michigan!

on 02 Jun 2011 at 3:34 pm

2

phillips1938

Sorry, many towns have died due to unions.  Grand Rapids is just one that killed the real source of vitality: commerce.  They need to understand that union zombie-ism is the problem, not lack of music or lack of entertainment.

Unions are the death of healthy organisms.

on 02 Jun 2011 at 8:01 pm

4

Danny Lemieux

Unless they are marital unions, Ymarsaker.

It's easy to tell the difference since one is a slave contract and the other one is a voluntary contract.
Leave a Reply
You must be logged in to post a comment.