Bookworm on Jan 23 2012 at 2:06 pm | Filed under: Free speech
Back in the late 1980s, early 1990s, when political correctness first floated into the realm of mainstream culture, everyone thought it was the same as being nice or having good manners.  It's not.  Good manners, to my mind, means assuring that the people around you feel comfortable.  Political correctness means controlling people's thoughts and actions.  It's a very iron hand draped in a warm and cuddly velvet glove.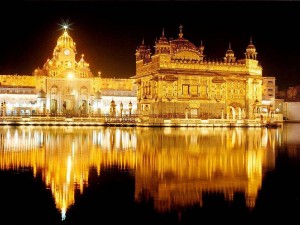 Jay Leno, bland, slighty-left-of-the-middle-of-the-road Jay Leno, made a rather pathetic little joke about Romney's wealth, which consisted of claiming that a beautiful Golden Temple is his home.  The Golden Temple happens to be a Sikh religious site, but you can see how Leno's writers were attracted by its gold-ness.  In other words, the joke wasn't about (or, more importantly, directed against) Sikh's.  Instead, it was about Romney and riches.  Indian Sikhs, however, are up in arms:
A Leno skit showed the temple as the summer home of Republican presidential candidate Mitt Romney.

Mr Romney has faced taxation questions over his huge wealth and many Sikhs are angry the temple has been depicted as a place for the rich.

The Sikh community has launched an online petition and an Indian minister called the comments "objectionable".

Overseas Indian Affairs Minister Vayalar Ravi told reporters: "It is quite unfortunate and quite objectionable that such a comment has been made after showing the Golden Temple."
The friend who sent me this story zeroed in on a specific quotation:
"Freedom does not mean hurting the sentiments of others… This is not acceptable to us and we take a very strong objection for such a display."
As my friend said, "Uh, yeah it does, unfortunately," along with a more pungent (but entirely apropos) comment about the fact that India too has figured out that the only religions in the world that can be the subject of jokes or insults are Christianity and Judaism.
On the subject of free speech, much as I venerate the Constitution, I think the most pithy statement is one that is attributed (incorrectly) to Voltaire:
I disapprove of what you say, but I will defend to the death your right to say it.
Frankly, the contrast between that statement and the political correctness doctrine — "only the arbiters of political correctness, all of whom are Leftist, can determine what speech is acceptable" — pretty much says it all when it comes to the Statists and the Individualists.
Email This Post To A Friend
3 Responses to "Even the affable, slightly generic, left-of-center Jay Leno cannot escape the hurt feelings of the political correctness crowd"
on 23 Jan 2012 at 4:14 pm

1

Ron19

Similar to what dear Nancy said, you've got to say it before anyone will tell you something is PiC (Politically inCorrect).

[...] other day, I blogged about the fact that innocuous, bland, silly Jay Leno had come under fire in India for making a joke that saw Romney vacationing in a golden palace — with the palace his staff [...]

on 25 Jan 2012 at 12:35 am

3

Soviet of Washington

Theodore Dalrymple had this to say (in a Frontpage magazine interview) about political correctness:

FP: You make the shrewd observation of how political correctness engenders evil because of "the violence that it does to people's souls by forcing them to say or imply what they do not believe, but must not question." Can you talk about this a bit? Dalrymple: Political correctness is communist propaganda writ small. In my study of communist societies, I came to the conclusion that the purpose of communist propaganda was not to persuade or convince, nor to inform, but to humiliate; and therefore, the less it corresponded to reality the better. When people are forced to remain silent when they are being told the most obvious lies, or even worse when they are forced to repeat the lies themselves, they lose once and for all their sense of probity. To assent to obvious lies is to co-operate with evil, and in some small way to become evil oneself. One's standing to resist anything is thus eroded, and even destroyed. A society of emasculated liars is easy to control. I think if you examine political correctness, it has the same effect and is intended to.
Leave a Reply
You must be logged in to post a comment.