Bookworm on Jan 31 2012 at 12:24 pm | Filed under: Iran, Israel
The choice before the Cambridge Debating Society was whether one should choose war to stop Iran from going nuclear, or simply accept a nuclear Iran.  Douglas Murray offers a devastating rebuttal to those who say, "Who cares if Iran goes nuclear?"  The 11 minute video starts out good and, halfway through, gets great: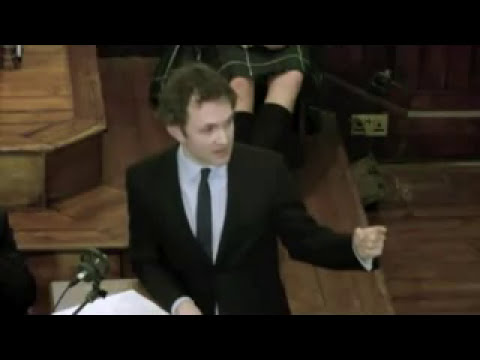 Hat tip:  Seraphic Secret
As a companion piece, please watch a different video that Robert Avrech posted about challenging Muslim ideology vis a vis the Jews and Israel.
Email This Post To A Friend
2 Responses to "Israel and a nuclear Iran"
on 31 Jan 2012 at 3:23 pm

1

cerumendoc

I originally saw this earlier today on Power Line.

This is good.  It's one of those moments of light in what has been three years of gloom. 

on 31 Jan 2012 at 4:41 pm

2

Danny Lemieux

What is it about the Brits that gives them such soaring eloquence in rhetorical debate?

Listening to this, I felt a profound disquiet that this will be the year that Israel is attacked, because its enemies know that Obama will not lift a finger to help them and they also know that Obama may not be in power next year. 
Leave a Reply
You must be logged in to post a comment.