Bookworm on Feb 03 2012 at 5:29 pm | Filed under: Military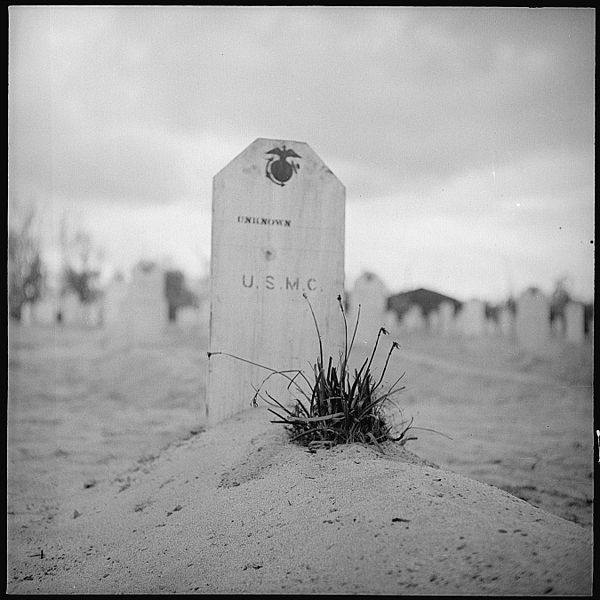 I've finished reading the wonderful Brute: The Life of Victor Krulak, U.S. Marine
, and am about to embark upon Give Me Tomorrow: The Korean War's Greatest Untold Story–The Epic Stand of the Marines of George Company
.  One of the things that stands out in any book one reads about the Marines is the fact that they never leave their fallen comrades behind.  The Chosin Reservoir campaign, which is covered in Brute and which is the Give me Tomorrow, wasn't just a stunning military victory, it was also a profound moral victory because the Marines not only fought their way out of a deep hole, but they didn't leave anyone — living or dead — behind.
To me, there's a vaguely Biblical quality to the Marines' reverence for their fallen.  As you know, under Jewish law, the dead must be buried immediately.  I always thought that was simply a practical rule for a people living in a hot climate.  A more scholarly friend, however, explained to me that there is a much deeper, spiritual reason behind the rule.  The human body is God's creation.  One does not fold, spindle, or mutilate that creation (so that piercings and tattoos will not show up amongst the Orthodox).  This was not just an abstract idea.  During Biblical days, the Jews lived surrounded by pagan tribes that practiced human sacrifice and ritually mutilated enemy corpses.  By immediately burying their dead, the Jews ensured that God's handiwork would be respected and protected, even in death.
Sometimes, recovering the dead may take a while, but the Marines try to leave them in safe hands and they go back when they can.  This video is a moving illustration of that fact.
Email This Post To A Friend
10 Responses to "The Marines take care of their own — forever"
on 03 Feb 2012 at 5:46 pm

1

jj

Well, yeah – but generally the simple, practical, real-world useful rule comes along first to fill the need, then we dress it up afterward with the spiritual and ceremonial.  Since the discovery of refrigeration most of the world's religious dietary laws could be pitched over the side, (it isn't just Judaism and Islam that have dietary rules), but they won't be.  Now they're part of the ceremony of the religion in question, so they'll be kept for that reason – but generally the simple, obvious reason for doing something is the one that naturally occurred to our ancestors.
 

jj:  The pragmatic fact may be true, but the spiritual gloss eventually became the reason that mattered.

on 03 Feb 2012 at 9:25 pm

3

Michael Adams

There's an incident in Schindler's List, when a train of dead people arrives, and they have to get the rigid bodies out without breaking their bones.
 
For Christians, of course, it was very significant that Jesus died before the Roman soldiers would have had to break His legs. 
 
Decent burial of warrior comrades is not limited to Israel.  That Antigone story mattered a lot to the Greeks.  Book, I am much inclined to agree with your interpretation. Everyone knows about the stink of unburied bodies.  The body as a temple is  much more limited in its circulation.  It is why many Christians do not cremate.(Including me.) It is the reason that  we might understand why those young Marines pretended to whizz on the dead Taliban, but not quite approve.  Further, your scholarly friend's understanding is right on target.  Most of the Hebrew Scriptures are about separating the nation of Israel from the surrounding pagans, physically and, more importantly, spiritually. Gehenna, the valley of the Hinnom, was where they had a Baal-cult grove, used for the sacrifice of infants. When it was cut down, the area was used only as a garbage dump. Now THAT is passion!

[...] military supporter and feisty bloggess Bookworm remarks on a book about a Marine Corps legend, Lieutenant General Victor Krulak: I've finished reading the wonderful "Brute: The Life of Victor Krulak, U.S. Marine," [...]

on 04 Feb 2012 at 7:33 am

5

Oldflyer

One of my classmates was the personal pilot for General Krulak for a couple of years.  He has a few stories.
 
Krulak was widely expected to become Commandant.  It was such a sure thing that he had already arranged orders to DC for my friend to continue flying him.  Something happened right at the end. I wonder if the book expounds on the reason he was side tracked.
 
Another personal story.  My neighbor and the man who is buying our house, is a Marine Officer (now Reservist) and wounded Iraq veteran.  He flies a Marine flag at the end of his driveway.  He says it is his home security system; kind of an upgraded "beware of the dog sign".  An understated version of "this property secured by Smith & Wesson" or "trespass at your own risk".
Book, it is a shame that the Chosin Reservoir story has been lost to our youth. I believe that it should rank with the greatest heroic legends of history.  The Marine Corps may be one of the few remaining organizations in our culture that values tradition.

Michael Adams: Certainly the Jews aren't the only ones who bury their dead with reverence and respect. It's just that Jews are the first group I know if, historically, that believed that their dead should be protected from all predators, human as well as animal. That is, unlike pagan tribes that got rid of the dead so that the living could hide from the ghosts, the Jews were the first to see the dead themselves as deserving of respect — something the Marines believe too.

Oldflyer: The book tells that Krulak wanted to fight a smart war, and the Army and the administration wanted to fight a big war. Krulak lost that battle and lost his chance to become Commandant. As for the Chosin Reservoir story, I'm having to steel myself a bit to read Give me Tomorrow. I know it will be a wonderful and uplifting book, but it will also be painful. Having said that, you're right that American schools so assiduously ensure that American young people know nothing of their own military's courage.

on 04 Feb 2012 at 3:21 pm

7

Michael Adams

I am sorry I failed to be clear.  Many people bury warriors with honor.  Many civilizations bury kings with honor, sometimes even their horses. Jews, and from them, Christians, bury ordinary people with honor, I hope that my concurrence is now a bit clearer.

Ah, got it!

Japan faced and still faces a similar situation of national angst and lethargy. They broke through that, somewhat, by looking into the past for heroes such as Miyamoto Musashi to inspire them.

The US will have to do the same, come the Revolution.  And the US Marines are a good repository of such knowledge and traditions. And soon, with totalitarian government control of civilian life, will one of the last to survive regulation, administration, and redistribution of Socialist, Leftist, Democrat schemes.

 That's assuming the Left doesn't just send all the Marines to get killed fighting battles that the Left made as a trap by working with Islam to destroy the Marine Corps. Assuming so.

on 04 Feb 2012 at 6:57 pm

10

Michael Adams

There's nothing like a half-mile swim to clear the mind.  I remember, now, to add that, if infection control is the goal, cremation is quite satisfactory.
Leave a Reply
You must be logged in to post a comment.