Bookworm on May 28 2012 at 1:30 am | Filed under: Military
On this day, as I do every day, I spare a long moment to give my deep and abiding gratitude to those who have served this nation and died in that service.
Thank you.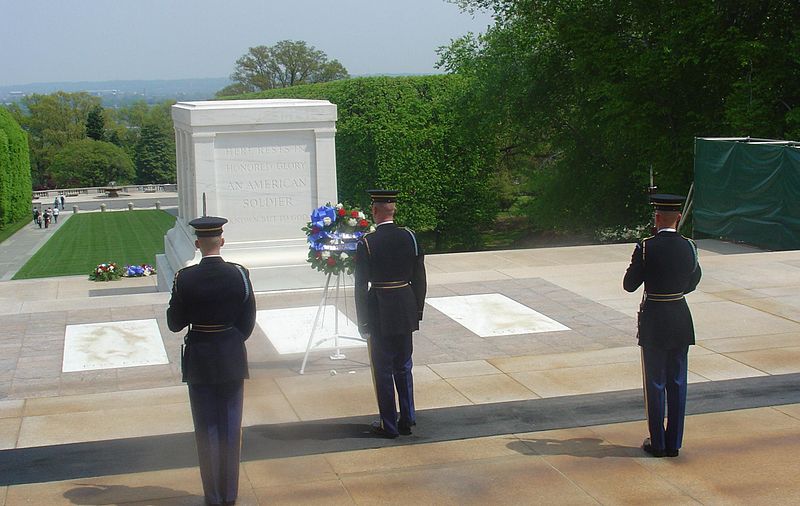 Email This Post To A Friend
3 Responses to "Memorial Day"
on 28 May 2012 at 9:38 am

1

11B40

Greetings:


Back in the summer of last '68, I was doing my military service down in Texas, which, after the Bronx, is the place I'd most like to be from.  For several months, I was assigned to the base's funeral detail.  We would provide pallbearers and a rifle squad for those requesting military funerals in the local area.
 
Military-wise, it wasn't bad duty.  On the days when we weren't scheduled for a funeral, we would spend several hours practicing our "drill & ceremonies" and a couple more squaring away our uniforms and equipment.  On funeral days, we would head out as early as necessary on a 44-passenger bus, often in civilian clothes or else fatigues with our first-class uniforms and equipment in tow.  Often we would change into our duty uniforms at the funeral home, once in the casket display room, or on the bus itself.
 
It being Texas and the Viet Nam war being in full swing, we often had several funerals a week to perform.  There was a certain spectrum from the World War graduates through the Viet Nam casualties.  The former might involve a local veterans' group and an afterward BBQ or such.  The latter were somewhat more emotionally raw as most of us were facing our own deployments in the near future.
 
Two funerals of the latter sort have stayed with me through the years.  The first was of a young Private First Class who had been MIA for several months before his remains were recovered.  I was on the pallbearer squad that day and when we went to lift the casket, it almost flew up in the air.  There was so little of the young soldier left that we totally overestimated the weight we were lifting and almost looked decidedly unprofessional. 
 
The other was that of a Negro Specialist 4th Class.  I was in the rifle squad that day.  In the rendering of military honors, there is a momentary pause between the end of the (21-gun) rifle salute and the beginning of the playing of "Taps".  It is a moment of profound silence in most cases.  During that moment, the young soldier's mother gave out a yowl from the depths of her grief that so startled me that I almost dropped the rifle out of my hands.  That yowl echoes within me still.
 
I'll readily admit that, as a result of my experiences, I became much imbued with a sense of duty and respect to and for our fallen.  Hopefully, today, when our media do their reporting they will show some of the same and let "Taps" be played out in its entirety.  It would be nice for a change.
 

on 28 May 2012 at 9:42 am

2

Beth

We just returned from Memorial Day services at the cemeteries in our little town.  At the Catholic cemetery, we had mass then the Legion and VFW service.  Immediately following, we went to the city cemetery to watch the ceremony again.  Too few people at the city cemetery–as many displaying the colors and shooting the salute as there were spectators.  Sad.  I am thankful that my parents instilled this in me, this duty to honor our fallen military.  My husband served for 12 years–some of the proudest, happiest times we can remember.  
Thanks to those who have paid the ultimate price to protect and defend our blessed country.  Thanks to those families who continue on with broken hearts.

on 28 May 2012 at 5:43 pm

3

SJBill

Our family attended a Memorial Day in our fair city, hosted by a local Veterans' Council.

Unfortunately, several career politicians were present promising new programs and care for all of us horribly mal-treated Vets in the audience. I took the high road and seethed a bit, wondering wchih of these would be the first to get to his car and get out of Dodge before the rush of traffic. My #1 choice did not dissapoint and darted off the stage to his car (yes, he lives in my neighborhood).

This year, the two keynote speakers were from the Navy. One, an O-5 (SWO), currently commands the local Navy Operationsal Support Center, the other, a retired O-8. Each had a different message. The O-5 is from today's kinder and gentler Navy – The Global FOrce for Good – and the O-8 is a Viet Nam era MiG Killer, commanded a F-14 squadron, a carrier and finally a carrier battle group – a little more rousing and more to the ears of the attending Vets.

Most of all, we were surrounded by the gravesites of the fallen. Their presence was not and will never be forgotten by the Vets.

I wonder if the graves were even noticed by all but one or two of the politicians.
Leave a Reply
You must be logged in to post a comment.