Bookworm on Sep 30 2012 at 6:37 pm | Filed under: Blogs and Blogging, Books, California
Real Clear Politics, Sunday, September 30, 2012: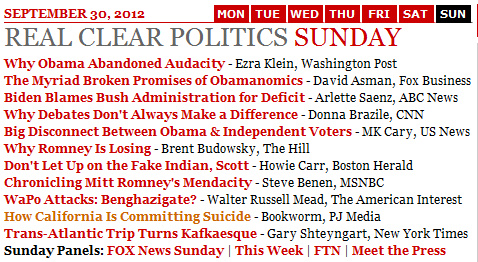 I'm excited not only for myself, but for Laer Pearce, whose book, Crazifornia: Tales from the Tarnished State – How California is Destroying Itself and Why it Matters to America
, is the subject of the post that RCP picked up. It's a great book, and as many Americans as possible should read it, so that they can fully understand what Progressive politics will do to the American landscape.
Email This Post To A Friend
6 Responses to "That out-of-tune brassy sound you hear is me tooting my own horn"
 
GOOD for you (and Laer – who owes you at least a coffee!).  Always nice to be recognized, and you're among friends here!
 
Whenever I got any kind of award, or was mentioned in a book, etc., I would make a copy and send it to my Mom.  She'd put it under the glass on her desk, or hang it on the refrigerator, etc. 
 
This is somewhat the same – thanks for sharing with us!

on 30 Sep 2012 at 9:50 pm

2

Alix

Congrats!

on 01 Oct 2012 at 4:57 am

3

Danny Lemieux

Congratulations, Book. You were also headlined on "Powerline".

on 01 Oct 2012 at 6:07 am

4

Old Buckeye

Way to go! Great to have a terrific blogger get recognized!

Thanks so much for all the nice things you're saying.  Your cheers make me fell as good as the original link did.

[...] The Bookworm Room: That out-of-tune brassy sound you hear is me tooting my own horn [...]
Leave a Reply
You must be logged in to post a comment.