Bookworm on Nov 15 2012 at 10:36 am | Filed under: Open Threads
I've got a few things to do this morning, but I'll be back blogging by about noon Pacific Time.  Until then, feel free to opine.  I'll give you a head start, with today's Drudge headlines (click thumbnail to enlarge):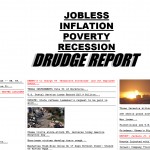 Email This Post To A Friend
Leave a Reply
You must be logged in to post a comment.