Bookworm on Dec 04 2012 at 1:13 pm | Filed under: Christians, Islam, Lefties on Parade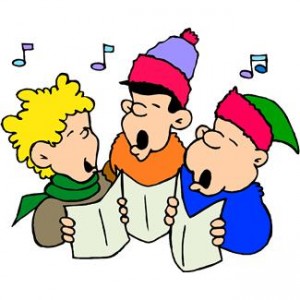 I adore traditional Christmas music, whether it's the Old English Christmas Carols or the non-denominational Christmas songs that began to the music market with Irving Berlin's White Christmas.  I'm as happy singing O Holy Night as I am singing Here Comes Santa Claus.  Christmas songs give me a huge endorphin rush.
There's one class of Christmas song, though, that just revolts me, and that's the modern "Peace" genre.  Those vapid paeans to navel-gazing peace leave me cold.
It is true that the old Christmas carols also shared a vision of peace.  Take, for example:
Hark! The Herald Angels Sing,
"Glory to the newborn King;
Peace on earth, and mercy mild;
Gold and sinners reconciled."
or
Silent night, holy night
All is calm, all is bright
'Round yon Virgin Mother and Child,
Holy Infant so tender and mild
Sleep in heavenly peace
Sleep in heavenly peace
or
O little town of Bethlehem
How still we see thee lie
Above thy deep and dreamless sleep
The silent stars go by
Yet in thy dark streets shineth
The everlasting Light
The hopes and fears of all the years
Are met in thee tonight

For Christ is born of Mary
And gathered all above
While mortals sleep, the angels keep
Their watch of wondering love
O morning stars together
Proclaim the holy birth
And praises sing to God the King
And Peace to men on earth
Each of these songs envisions peace, but that peace is tied to a formalized religious doctrine that envisions both spiritual and behavioral commitments.  In other words, this peace isn't cheap.  Jesus Christ made a terribly painful sacrifice to further this peace, and it is each Christian's obligation to make that sacrifice a meaningful and essential part of his (or her) spiritual life and daily practices.
The modern Christmas peace songs, though, are so horribly banal.  Peace is brought about by vaguely proclaiming that you approve of peace.  John Lennon started it with his bathetic Happy Christmas (War is Over):
So, this is Christmas
And what have you done?
Another year over
And a new one just begun

And so this is Christmas
I hope you have fun
The near and the dear one
The old and the young

A very merry Christmas
And a happy New Year
Let's hope it's a good one
Without any fear

And so this is Christmas
For weak and for strong
For rich and the poor ones
The world is so wrong

And so happy Christmas
For black and for white
For yellow and red ones
Let's stop all the fight

A very merry Christmas
And a happy New Year
Let's hope it's a good one
Without any fear

And so this is Christmas
And what have we done
Another year over
And a new one just begun

And so this is Christmas
I hope you have fun
The near and the dear one
The old and the young

A very merry Christmas
And a happy New Year
Let's hope it's a good one
Without any fear

War is over over
If you want it
War is over
Now
I enjoy listening to the pretty melody (John was always good at that), but the words are so insanely stupid:  "Let's stop all the fight."  What does that mean?  There's no guidance there and no belief system.  The whole song is just a muddled assurance that peace will magically happen if we say that it's a good thing.
I get a snoot-full of these songs every Christmas, because my kids have been in various choral groups.  Last night, I got to hear Rita Abrams' "All we want for Christmas is peace."  As with Lennon's song, it's got a catchy melody and nice harmonies.  But the lyrics!  This sampling, with due respect for fair use, gives you an idea:
All we want for Christmas is peace,
Peace is all we're asking for,
All we want for Christmas is peace,
It's peace we're hoping for.
There's more talk of giving and love and dreams, but the song mostly assures the young 'uns that peace is just something you need to ask for, along with the Malibu Barbi and X-Box already on your Christmas list.
I'm not just engaging in pointless fulminating here.  This notion that "peace happens," without any commitment or changes on your part, or on the part of those with whom you deal, whether as an individual or a nation, can be toxic.  Just today, Bruce Kesler posted an absolutely splendid rant about the way in which the mindless peace-mongers on the Left open the door for unlimited bias on the part of those who don't have a pluralistic peace as their goal:
Most of the most prominent in the West who claim to want peace in the Middle East are, instead, prime facilitators of hate.

By disdaining those Muslims who are closer to Western values, instead pandering to Islamist extremists, or one-sidedly denouncing the defensive measures of the only Western oriented nation in the Middle East, Israel, the claimants of upholding peace have consistently encouraged those who believe and act out of hate.
For your pleasure and sanity, please read the rest of Bruce's rant here.
As for me, I'm spending a little time listening to my favorite Christmas carol:
Email This Post To A Friend
13 Responses to "In which I hate on vapid Christmas songs caterwauling for some inchoate "Peace""
on 04 Dec 2012 at 2:31 pm

1

David Foster

Good post.

A couple of years ago, I reviewed the German movie Dresden, which is actually quite good. Except I didn't like the way it ends…a scene of the two lovers looking out over the destroyed city turns into various video clips of the postwar reconstruction of the city, overlaid with the word "peace" in many languages. As I said in my review:

Dramatically, it didn't work for me at all. More importantly, I think the message was a naive and even a potentially dangerous one. Preaching "peace" is by no means a surefire way of bringing it about. It was, after all, the extreme emphasis on "peace" in 1930s Britain, France, and America–an emphasis that was totally understandable given the dreadful experiences of World War I–that led to appeasement and thence to the apocalypse of World War II. Had the Allies been willing to use military force much earlier–say, at the time of the Rhineland incursion of 1936–the worst of World War II, and the original Dresden, like many other places, would still be standing. 

on 04 Dec 2012 at 4:00 pm

2

Old Buckeye

I can't believe it, Bookworm! That's my favorite carol too! The best version I heard was by a young man with a bass voice sung at midnight Mass from the choir balcony in a large old church. 
I am always listening for great renditions. Here's one I like.
http://www.youtube.com/watch?v=HVHHyiga6mo
 
 

Old Buckeye:  That gave me chills!

David Foster:  I agree with you completely.

on 04 Dec 2012 at 4:11 pm

4

Libby

I love Hark the Herald Angels Sing and Angels We Have Heard on High, probably because they're fun songs to sing with abandon, especially when the organ & church choir are joining in (but I've belted them out  in the car, while decorating the tree, etc.).

on 04 Dec 2012 at 6:19 pm

5

BrianE

The Hallelujah Chorus is one of my favorite Christmas pieces. If you've ever been in a choir performing it, the feeling is incredible. I think this will be sung all year round in Heaven.
http://www.youtube.com/watch?v=C3TUWU_yg4s
Another favorite, "Mary, Did You Know", asks Mary the question– did she have any idea that her son, Jesus, would be the Savior of man.
http://www.youtube.com/watch?v=1eueVMrIupQ
 
I don't think there is any event in history that has resulted in the sheer volume of music as the birth of Jesus.
So much of it truly inspired. 

on 04 Dec 2012 at 7:03 pm

6

Ron19

Also,

http://www.youtube.com/watch?v=SXh7JR9oKVE 

The young woman who started it was on the phone to her sister, so she could hear it. 

And, a Random Act of Cultur:

on 04 Dec 2012 at 8:00 pm

7

Charles Martel

Old Buckeye and Book, I'm in the choir, too: "O Holy Night" is my favorite Christmas hymn. OB, thanks for the link to the Ford-McRae rendition. Pure goodness.
 
Somebody in the comments under the song asked how did we get from such manly voices to Justin Bieber? Not to diss Justin—he's OK—but it's a good question.
 
Now, gotta go and listen to BrianE and Ron19′s recommendations.

[...] I said just the other day how much that song bugs me, and low and behold guess what Bookworm Room was writing about today? That's right – here is what they wrote: I adore traditional Christmas music, whether [...]

on 04 Dec 2012 at 10:12 pm

9

shirleyelizabeth

A lovely version of O Come, Emmanuel by ThePianoGuys:
http://youtu.be/iO7ySn-Swwc
 
Though it is instrumental, I can still hear the lyrics.
I also recommend spending the rest of the evening with their youtube playlist going. Beautiful music.

on 05 Dec 2012 at 10:42 am

10

lee

Oh, Holy Night is one of my favorites, too. I was always fond of Robert Goulet's version, as well as his version of "Oh come Emmanuel."

BTW, where I used to work (in Marin), every year I did the flyer for the employee "Winter Party." (Of course, it was not a Christmas Party, but it couldn't even be a HOLIDAY  party.) I was not allowed to use any of the following images:

Santa
Sleigh
Reindeer*
Red and Green
Christmas Trees
Evergreen Roping
Christmas lights
Angels
Accumulated Snow**

Okay, I understand the no nativity scene rule. But what did/could I use? Candles were okay–they could be Christmas, they could be St. Lucy's, they could also be Channukah, Kwanzaa and Diwali. It was the Kwanzaa and Diwali association that may candle images acceptable. I did one lovely poster using the night sky from the winter solstice. I also managed to get away with BLUE Christmas lights that were so artistic filtered-out in Photoshop that they were interesting looking blue blobs.

* I managed to argue the use of a "black-tailed deer" one year. Since reindeer are NOT native to California, and black-tailed deer are, why could I not use a native species on our winter party flyer? We had enough hanging around in mid-December? I actually used a picture of a white-tailed deer, but no one there knew the difference.

** Accumulated snow was not acceptable because we didn't have accumulated snow there. I know, I know, I have walked through pretty heavy blankets of snow on Mt. Tam, and Burdell can get its share. But because we did get snow occasionally, I could use images of SNOW FLAKES.

I tried to argue that when I was in Israel, I saw Jews using christmas balls and christmas lights to decorate sukkahs, and Moslems using christmas balls and christmass lights to decorate during Ramadan or for some other Eid. No go. It still said "Christmas" to our little Miss Sensitve.

Of course, we couldn't use CHRISTMAS music, though we got away with sneaking some of the out and out secular songs into the rotation: I saw Mommny Kissing Santa, Santa Claus is Coming to Town, Jingle Bell Rock, etc. I included a lovely bossa nova "Svivon, Sov, Sov, Sov" for Channukah. I also found a nice version of "Il est ne" (because little Miss Sensitve and the PC Police had not heard it before, and didn't really understand French.)

BTW, I am Jewish. I always figured that the people who "get offended" by expressions of Christmas are too weak in their own beliefs. If they were strong in their own beliefs, they could weather the visual assault of red and green and sleights and roping and… These are also the people who usually are "charmed" but OTHER religion's holidays, and will bend over backward for just about any other religion but Christianity and Judaism. It just annoys me: Why do people HAVE to rain other other people's parade? I love the festiveness, the joy, and the happiness that people infuse Christmas with. Why would I want that to stop just because it is not part of my religious beliefs?

I don't really have a favorite Christmas Carol; I haven't ever paid much attention to Christmas Carols. But I do not object too, nor dislike Christmas Carols. I don't mind hearing them or hearing about them at all. Neither do I mind any other display of Christmas, religious or otherwise. In fact the last few years I have come to kind of like a lot of the Christmas stuff. I must say I really like the lights.
 
I'm not a religious person and I am not a Christian, but Christmas doesn't bother me, not even the religious aspects of it or possible religious presentations. I have no issue with Christianity or Christmas in general. I recognize the large contribution of Christianity to the heritage and origins of my culture (even if I'm not entirely sure on the exact place of that heritage), and would see Christmas and its religious aspects as presentations thereof. May I remark that even Pat Condell, an (in)famous internet atheist who makes scathing comments about Islam, and has also attacked Christianity on multiple occassions, has come out in support of Christmas last year.
 
No, I do not understand and have little respect for those who whine about Christmas. Suck it up, bunch of crybabies. We shouldn't abandon this. Sadly, of course, some are particular to do just that. In Brussels, the capital of my country Belgium, the city council and the major (who is what I like to call a caviar socialist) decided to not have the traditional christmas tree – a very large decorated spruce tree on the town's central square – this year, but to instead have a kind of avant-garde metal construction with lights. Some are speculating they did this because they don't want to offend Brussel's extremely large Muslim population (about 30%) with the Christmas tree. I wouldn't be surprised if it were and this disgusts me.
 
As for the peace thing… well, I had to think of the old adage "Si vis pace, para bellum" – If you want peace, prepare for war. And we better prepare for war, as one is coming for us, whether we want to or not. And Islam is the culprit. Be not mistaken: the mad ideology of Islam is intent on waging warfare on a global scale. We better be prepared and we better be bolt, instead of being appeasing pussies. We must be prepared to go to great lengths to counter the onslaught of barbaric Islam. Or, as I like to put it, 'Meccam delendam esse'. If it proves necessary, we must destroy even Mecca. These barbarians only understand brute force and violence, and it is what they ought to get.
 
Israel understands this better than any other country, because they are surrounded by enemy nations full of barbaric warriors willing capable of just about anything. Israel dares to at times use force and violence. Israel has to. Would the Muslim nations hate Israel any less if Israel were to lay down its weapons? No. The Muslim nations would overrun Israel, destroy the country and exterminate the Jews in the blink of an eye. Israel seems to have some understanding of this. The West better had gained some more understanding of the nature of Islam and the struggle against it. But of course, Western countries likely will not.
 

on 05 Dec 2012 at 3:46 pm

12

pst314

A pithy rejoinder to pacifist wishful thinking:
"You may not be interested in war, but war is interested in you."

on 05 Dec 2012 at 3:55 pm

13

lee

Ed Ames's "Oh, Holy Night!" It is THE best.
Leave a Reply
You must be logged in to post a comment.