Bookworm on Jan 02 2013 at 3:59 pm | Filed under: Blogs and Blogging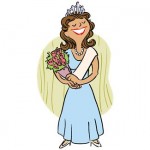 Win, place, or show?  When it came to Gay Patriot's annual Conservative Blogress Diva for 2012/2013, I was a show, but don't think I'm not proud.  When the winner is Neoneocon and the second place is Sarah Hoyt, coming in third is an honor.
You should see me strutting through the house, diva-ly attired in appropriate clothing for Obama's America, where we keep the house at an affordable 64 degrees in the winter:  heavy fleece top, heavy leggings, and thick slippers.  I am the almost-queen of all I survey!
Email This Post To A Friend
9 Responses to "Hold on to your hats: I am a Diva in Waiting"
on 02 Jan 2013 at 4:37 pm

1

Old Buckeye

Congrats, Book! I voted numerous times for ya!

on 02 Jan 2013 at 5:40 pm

2

mdgarnett

Congratulations!  You follow only Mark Steyn on my iist of Conservative bloggers.

on 02 Jan 2013 at 10:59 pm

3

94Corvette

Congratulations – your site is one my favorites and it's good to see you receive the recognition you deserve.

on 02 Jan 2013 at 11:52 pm

4

Wolf Howling

Congrats . . . . but I think that you need to demand a recount.  You was robbed . . .   

on 03 Jan 2013 at 7:01 am

5

Danny Lemieux

Congratulations, Book. Hanging chads or no hanging Chads, this was well deserved. I suspect that you are only beginning to your exponential growth curve of success and recognition as a commentator.

Next step: paid Fox News gigs (…and on our panel tonight, from the Left Coast, we have….).

on 03 Jan 2013 at 7:09 am

6

Caped Crusader

Well deserved, voted for you Chicago style.

on 03 Jan 2013 at 8:28 am

7

David Foster

Congratulation!
I linked the news about the winners at my blog and at Chicago Boyz.

Thank you, everyone!  I honestly couldn't write without you guys.  I'm having a perpetual and always fascinating conversation with you, and it simply inspires me to write more and more.

This is an interesting voyage, although I've only been watching it for a few years.
Leave a Reply
You must be logged in to post a comment.