Bookworm on Mar 06 2013 at 11:09 am | Filed under: Uncategorized
Have you noted which Americans are sad about Chavez's death?  People like Jimmy Carter, Michael Moore, Sean Penn, etc.?  I think this poster, which I grabbed from a Facebook friend, nicely sums it up: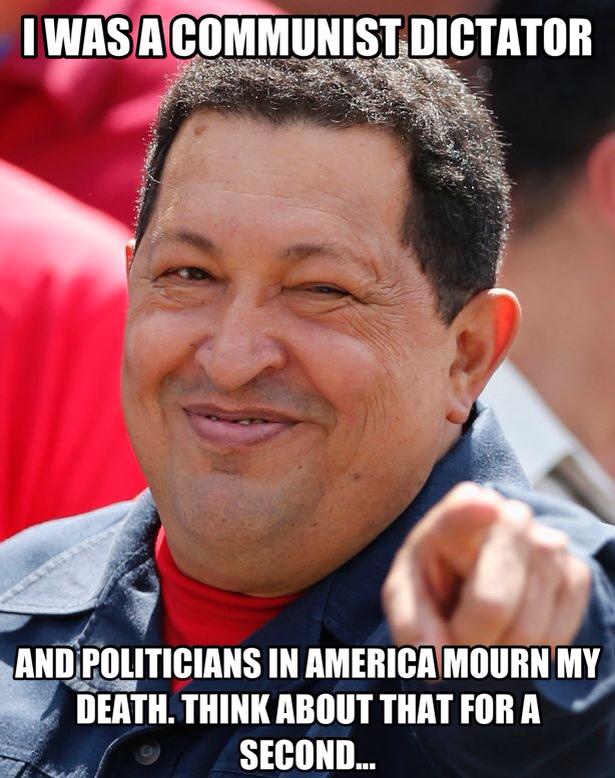 Email This Post To A Friend
3 Responses to "Found on it Facebook: you're judged by the company you keep"
 
I wish that this meant we could count on the scales falling from many eyes in the U.S.
 
But, I've learned from experience – and I harbor no such illusions.

on 06 Mar 2013 at 12:13 pm

2

jj

You already know this, but I'll say it again anyway: you're a lot nicer than I am.  You'd like to see the world's supply of guys like this die of natural causes, just in a bit more of a hurry.
 
I'm reminded of retired New York columnist (Daily News, Newsday, Herald-Tribune, etc.) Jimmy Breslin's comment on the death of one of New York's favorite Mafioso sons a couple decades ago, back during one of the periodic outbreaks of the Italian laddies fighting it out amongst themselves.  Breslin said, "He died of natural causes.  His heart stopped beating when somebody shoved a knife into it.  What could be more natural than that?  Your heart stops when someone sticks a knife in it, right?  Perfectly natural."
 
I too favor natural causes – right now – for a fair number of offal around the globe.  You're willing to wait, I'm getting old: I'm less so.

Evil is seductive. If it wasn't, Original Sin would not exist and people would not fall to temptation. Evil appears very beautiful in the eyes of some.
Leave a Reply
You must be logged in to post a comment.