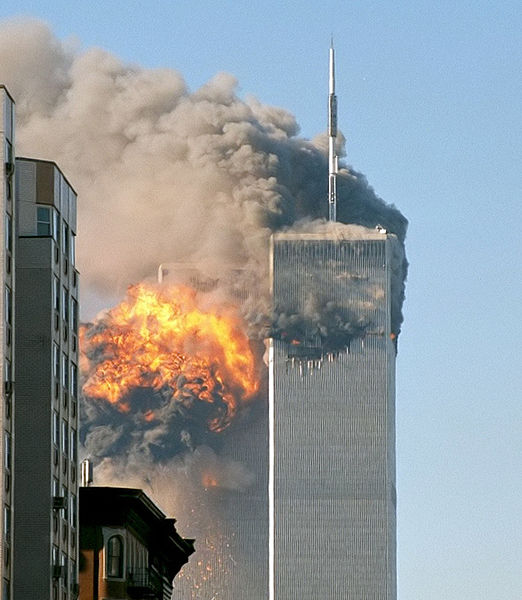 Last year on 9/11, my remembrance post looked at how our political class, led by Barack Obama, seemed to have forgotten every lesson learned from 9/11. Under his aegis, I pointed out, our borders were meaningless, the always dangerous Middle East was a swirling mass of chaos, and ISIS was cutting a bloody swath through that benighted land. This year, things are worse.
Obama's Middle Eastern policies — policies that systematically destabilized Iraq, Libya, Yemen, and Egypt, and that enabled anarchy in Syria and ISIS's rise — have led to the largest migrant crisis since Rome's downfall. Note that I don't say "refugee" crisis. The people moving on Europe contain a small percentage of refugees, but most are Muslims seeking a better life in the West.
Some of these migrants are people who genuinely want that better life. Too many, however, seem to be people who, parasite-like, want to take advantage of Western welfare and generosity, without caring that they'll soon kill their host. And, with a 72% male cohort amongst these migrants, we can be guaranteed of two things: (1) many of them definitely come in as ISIS, al Qaeda, or other Islamist inspired warriors and (2) those who don't yet subscribe to radical Islamic creeds, will quickly be infected by an ideology that sanctions mass rape, mass violence, and mass killing against the kafir in whose midsts they find themselves.
The worst irony of today's 9/11 anniversary, though, is that yesterday, the fourteenth anniversary of the day before the world changed forever, the Obama-led Democrat party took steps to ensure that 9/11, rather than seeing the peak of Islamic terrorism, will begin to look like a dry run, just as the 1993 World Trade Center attack was a dry run. I'll quote liberally from Charles Krauthammer on what precisely Obama and his Democrats (all of whom should be run out of office) have done:
The script is already written: The International Atomic Energy Agency, relying on Iran's self-inspection (!) of its most sensitive nuclear facility, will declare Iran in compliance. The agreement then goes into effect and Iran's nuclear program is officially deemed peaceful.

Sanctions are lifted. The mullahs receive $100 billion of frozen assets as a signing bonus. Iran begins reaping the economic bonanza, tripling its oil exports and welcoming a stampede of foreign companies back into the country.

[snip]

Obama did not submit it as a treaty because he knew he could never get the constitutionally required votes for ratification. He's not close to getting two-thirds of the Senate. He's not close to getting a simple majority. No wonder: In the latest Pew Research Center poll, the American people oppose the deal by a staggering 28-point margin.

To get around the Constitution, Obama negotiated a swindle that requires him to garner a mere one-third of one house of Congress. Indeed, on Thursday, with just 42 Senate supporters — remember, a treaty requires 67 — the Democrats filibustered and prevented, at least for now, the Senate from voting on the deal at all.

But Obama two months ago enshrined the deal as international law at the U.N. Why should we care about the congressional vote? In order to highlight the illegitimacy of Obama's constitutional runaround and thus make it easier for a future president to overturn the deal, especially if Iran is found to be cheating.

[snip]

This is a revolution in Iran's international standing, yet its consequences have been largely overlooked. The deal goes beyond merely leaving Iran's nuclear infrastructure intact. Because the deal legitimizes that nuclear program as peaceful (unless proven otherwise — don't hold your breath), it is entitled to international assistance. Hence the astonishing provision buried in Annex III, Section 10, committing Western experts to offering the Iranian program our nuclear expertise.

[snip]

Imagine: We are now to protect Iran against, say, the very Stuxnet virus, developed by the NSA and Israel's Unit 8200, that for years disrupted and delayed an Iranian bomb.

Secretary of State John Kerry has darkly warned Israel to not even think about a military strike on the nuclear facilities of a regime whose leader said just Wednesday that Israel will be wiped out within 25 years. The Israelis are now being told additionally — Annex III, Section 10 — that if they attempt just a defensive, nonmilitary cyberattack (a Stuxnet II), the West will help Iran foil it.

Ask those 42 senators if they even know about this provision. And how they can sign on to such a deal without shame and revulsion.
By the way, before you pillory Republicans for having let this happen, do remember that, without a veto-proof majority, they're left with little more than symbolic weapons in their arsenal:
But step back a moment and take note of a few political facts. First, a Republican majority in Congress does not mean there is a conservative majority in Congress. And many House GOP conservatives are actually quite weak, worried more about their own re-election than taking a tough vote. The votes in the Senate simply aren't there to sustain a defunding of Planned Parenthood through the route of a government shutdown, for example. The lesson of this and other frustrations is that we need to elect a new president.
The above is not meant to defend either Boehner or McConnell, both of whom seem happy in their role as Obama's lap dogs. It simply acknowledges the practical realities of American politics.
But back to today's issue, which is the importance of remembrance. With every passing year, 9/11's emotional resonance lessens, with September 11 becoming nothing more than a sad story rather than both a national tragedy and a wake-up call. Even worse, too many of the younger generation don't even have a textbook acquaintance with 9/11. Our continued survival as a free nation demands that we remember 9/11 in a way that enables us to understand the lessons it teaches about the nature of evil and about the evil nature of radical Islam, whether it emanates from Sunni or Shia Islamists.
Here are two posts with pictures that need to be seared into every free person's corneas as a way to remember what happened on 9/11 and what a modern war on American soil looks like:
70 Powerful Images From September 11, 2001
30 Pictures Of 9/11 That Show You Why You Should Never Forget
As for me, I refuse to forget. Below the fold, you will find the names of all of the men, women, and children who died on September 11, 2001 at the hands of Islamic terrorists — terrorists who are still revered wherever radical Islam has a hold.
I've written lengthier memorials about three of the honored dead. (I prefer "honored dead," a nicely Victorian phrase, to the word "victim," which negates Americans' fighting spirit):