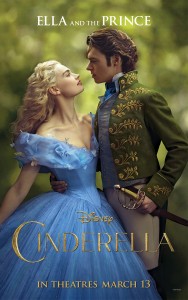 A word of advice if you go to see Disney's new, live-action Cinderella: Don't take a cynic with you. Cynics will not appreciate this sugary, beautiful confection. To them, it's an offense at every level.
You'll note that I said "sugary," rather than the more dismissive "saccharine." Something that's saccharine isn't really sweet; it's fake. Disney's Cinderella is sweet through and through.
Kenneth Branagh directed the movie with a mid-19th century sincerity that is utterly alien to movies that are directed at today's youth market. There was no snark, there was no sleaze, there was no vulgarity. It was innocent and sweet and flowery from top to bottom. The little girl in the row behind me, maybe ten years old, loved it. So did I. The teenaged cynic in the seat next to me sneered the whole way through.