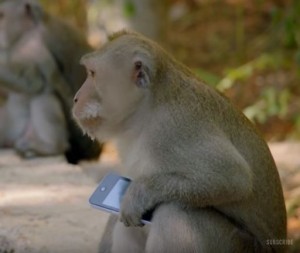 One of my friends posted a very cute video on Facebook. If you can't get the video to work, what you would see if you watched it is some clever monkeys in a Japanese tourist area. Rather than stealing people's food, they instead steal people's glasses, hats, flip-flops, and even their smart phones.
This is not a sign of monkey brain-death, with the monkeys so fascinated by modern technology they no longer care about food. Quite the contrary. It's a sign of advanced monkey intelligence. Stealing food is random, leaving them with whatever dribs, drabs, and dregs they can find.  Stealing things humans consider valuable gives them something to hold for ransom.  Thus, the monkeys will return the stolen items only if the owner offers them a sufficiently satisfying quality and quantity of food:
Now, some might think this is just cute and clever, or that it shows that monkeys understand supply and demand as well as the concept of bartering. People with these thoughts will be right, but they'll also be missing the bigger picture. What Wolf Howling pointed out to me when he saw the video is that we are witnessing government (or the mafia) in action: The monkeys forcibly remove something of value from the people unfortunate enough to be in their jurisdiction, and then make people pay ransom to recover whatever it was the government took in the first place. This is not government of the people, by the people, and for the people; it's corruption.
And while I'm on the topic of government corruption, I'd like to throw in a few words here about Daniel Hannan's Inventing Freedom: How the English-Speaking Peoples Made the Modern World
, which, peculiarly enough, has something to say about thieving monkeys.  Not in those precise words, of course, but his discussion about liberty and capitalism seems to apply to those clever primates.
I bought the book back in July, when I was fortunate enough to attend one of Hannan's speaking engagements, but I'm embarrassed to say that the book languished on my "to read" stack until this week. Because Hannan is erudite, charming, and articulate, I knew the book would be worth the read, but I spent the last half of 2015 scrambling from one family demand to the next, and coddled myself in between with a steady, pathetic diet of my junk novels.
This year, is different: I am steadily resuming control over my life and over my reading, so I sat down to read Inventing Freedom and, so far, have found it a much more interesting and enjoyable read than any junk novel could have been. I was depriving myself of something really pleasurable by delaying so long before reading it. Anyway, the last six months are water under the bridge, and I want to talk about Hannan's book, which I'm almost halfway through.