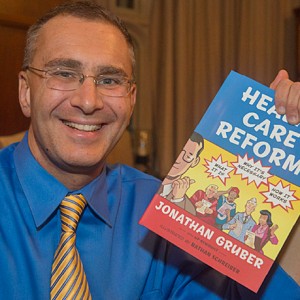 A Bay Area resident who reads my blog, asked that I publish an open letter to Dr. Jonathan Gruber.  Because the letter's writer has to make a living here in Marin (70% Democrat), she's writing under a pseudonym.  I'm betting that this letter will resonate with many of you:
***
Dear Dr. Gruber,
I watched your panel discussion videos with fascination where you talk about creating Obamacare and how you needed to obfuscate and deceive in order to get it passed. I noticed how you hold the voting American public in contempt, saying how stupid we all are.
After viewing it I thought I would write to you to let you know how your important legislation for which you got paid $400,000 in consulting fees has affected my life. Because when I hear you speak about the voters of this country I don't get the feeling that you have any understanding or empathy for us. I am sure you have more important things to think about.