The California Open Primary has the practical effect of stifling Republican political speech in November, when it matters most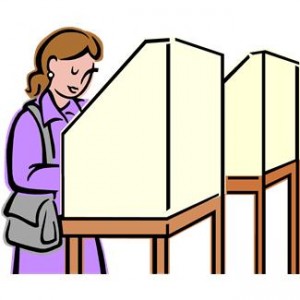 This election will be the first election since California voters decided, in 2010, to turn ours into an Open Primary state.  The practical effect of having done so is that the November election, rather than being head-to-head combat between the two parties, will be a run-off between the winners from the June election.
The road to this limited November ballot has already started, with candidates from all parties reaching out to voters.  The problem, of course, is that the candidates' have only just begun their fund-raising, and only die-hard political junkies are really paying attention. Then, in June, the Open Primaries mean that voters can vote for anyone they want, across party lines.
Once the votes are counted, the two candidates who got the most votes go on to the November ballot.  Everyone else vanishes from the scene.  In states that have a heavy party majority in one direction or the other (as is the case with Bright Blue California), the practical effect is to banish minority party candidates from the November ballot.
Those who support Open Primaries contend that it is an efficient way to ensure that, when people are really paying attention, the majority of voters get to pick from the two most favored candidates, without having the airwaves — and their brains — cluttered with advertisements and speeches from candidates who don't have a realistic change of winning.  Those who oppose the Open Primary process — and I am one who does — contend that it effectively shuts the minority parties out of the political debate.
The point of the primary system is to give citizens who are members of a specific political party the opportunity to pick that candidate who best represents their views.  Then, in the Fall season, those cherry-picked party candidates get to go head-to-head, giving voters a genuine ideological choice.  This is important even in states that tilt heavily in one direction or the other, because it means that, when voters are actually paying attention, they are exposed to more than just the majority party's viewpoint.
In other words, if an Open Primary state tilts heavily in favor of one party or the other, the minority party isn't just precluded from winning (and this holds true even if the majority party has some major scandal over the summer that causes its total collapse).  In addition to being banned from the ballot, the minority party is also entirely denied a voice in the marketplace of political ideas.  Without a candidate on the ballot, the minority party has no commercials, no debates, no opinion pieces, and no candidate interviews.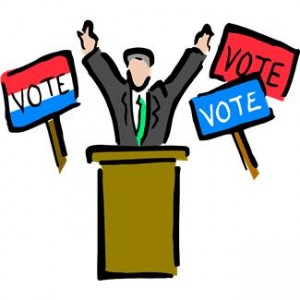 In True Blue California, seeing Republicans banished from the ballot entirely has been the Democrat dream — although supporters are careful to frame this one-party outcome in terms of "moderation":
Carl Luna, a professor at San Diego Mesa College [and, judging by this post, one who leans Progressive, rather than conservative], said the hope is that the new way of voting will increase voter turnout and will lead to election of more moderate candidates.

"Since anybody can vote for anybody, you might have to appeal more toward moderate candidates, toward independents," he said. "So you get two Democrats who win in one district, they go to the general election and the Democrat that can get Independents and even moderate Republicans to vote for them has a better chance to win."
Here in Marin, because the ultra-Progressive Lynn Woolsey is finally gone for good (yay!), a multitude of Democrats have lined up to try for her seat. The same cannot be said for the Republican side of the ballot.  As is often the case in Marin, it's been hard to find a Republican candidate willing to do the hard work of campaigning, knowing that the campaign won't go anywhere.  We've had good people in the past (for example, Todd Hooper or Bob Stephens), but both men ran knowing full well that victory was unlikely.  Ultimately, they didn't run to win; they ran to be heard.
This year, Dan Roberts is fronting the Republican party's primary ticket for Woolsey's former seat in the House of Representatives.  (Since he's the only Republican in the primary, I guess he's back the ticket too.)  I wish him well, I really do, but honesty compels me to say that Roberts doesn't have a snowball's chance in Hell of winning.
Two years ago, Roberts' low melting point wouldn't have stopped him from having a voice in the November campaign.   His presence on the ballot would have brought conservatives to the polling places.  He would have run an Op-Ed in the local paper, and his supporters would have sent letters to the editor. Indeed, if the summer bought more bad news for Democrats (skyrocketing oil prices, war in the Middle East, massive Obama administration malfeasance and scandal), he might even have benefited from a Democrat collapse, and pulled out a Republican victory.  None of those things, however — whether the opportunity to have conservative ideas heard or the possibility, albeit small, of a turn for Republicans in Marin — will happen.
In November, in keeping with the Democrat dream, California conservatives will be silenced.  The ballot will have only the names of the two top Democrat candidates for Marin's seat in the U.S. House of Representatives.  The newspaper editorials and letters to the editor will say nary a word about conservative approaches to the serious problems vexing this nation.  There will be no commercials and no speeches.  The Free Speech that is a fundamental part of our democratic process (that's small "d" democratic) will have been smothered and buried in June.  And, should the Democrat party suffer a national collapse over the summer, it will still wipe the board in California.
To give more dimension to the anti-democratic tilt of the Open Primary, and of the ethical dilemma conservatives face, I spoke the other day with Stacy Lawson, who is one of the Democrat candidates seeking Woolsey's old seat.  Stacy seems like a very nice gal, whose selling point is that, with her business background, she is the moderate Democrat in the race, one who supports small businesses and true economic growth.  She's pro-Israel, which she correctly identifies as the only true democracy in the Middle East.  Stacy specifically disavows ties to the Progressive branch of the Democrat party.
This is all for the good.  Except that when you talk to Stacy, it's clear that, while she doesn't have the anger that characterizes Progressives (which is why I think she's a nice gal), her world view is antithetical to a conservative voter's beliefs.  Why?  Because she believes government is the answer.  Rather than supporting small business by having government back off in terms of taxes and regulations, she believes government should be in the front line of fomenting growth, especially by subsidizing and promoting green energy.
Stacy was kind and polite when I suggested that green energy was iffy and expensive, and that we might do better to promote America's huge fossil fuel reserves, while focusing on ways to refine and use those reserves in the cleanest way.  Nevertheless, it was clear that Stacy thought that my suggestion was a direct road to the old-fashioned, 1970s' type of river, one that was filled with dead fish and caught on fire periodically.  In other words, even thought Stacy is indeed a moderate Democrat, she's also an AGW, Big Government, vaguely anti-military (that's where she'd cut the deficit) politician — or, as I already said, antithetical to a conservative voter's beliefs.
In a perfect world, I would not vote for Ms. Lawson, even though I like her and appreciate that she is, by current Democrat standards, a moderate.  In a perfect world, with all due respect to the courageous Dan Roberts, I would also have some real choices in June on the Republican side of the ballot.
But this is not a perfect world.  In this, the real world, because Marin is an almost impossible venue for Republicans, and because we now have an Open Primary that allows for only two spots on the November ballot, when November comes, it is a dead certainty that, with the exception of the presidential ticket, my only choices for the House of Representatives (and for any other political office) will be Democrat versus Democrat.
I don't like being forced to deny my political self (that is, I don't like being forced to vote against my own party's candidate), but pragmatism says that there's an advantage in using the Open Primary to temper the other party so that there is at least one person who is relatively sane on the ballot.  This, of course, is precisely what Carl Luna (the professor I quoted above) hoped would happen — Republicans will vanish, but they'll serve the vestigial function of protecting Democrats from their worst excesses.
So I have a question for you:  In June, should I cast a symbolic vote for the Republican Dan Roberts, thereby making a principled stand for my party, or should I vote for Stacy Lawson to help ensure that, when the November election takes place, the top two contenders for U.S. House of Representatives include a Moderate Democrat, rather than two Progressives?
(Incidentally, when it comes to the judges running for Marin County Superior Court this year, I'm not being forced to make the choice between a good Republican who can't win, and some Democrats, one of whom might be better than the others.  There are only two men running for judge:  Judge James Chou, a moderate Democrat whom Arnold Schwarzenegger appointed to the bench, and Russell Marne, a self-professed Progressive.   As between them, the choice is clear:  It's the moderate, experienced James Chou all the way.)