Marin County: What it's like to live in one of the most affluent and liberal outposts in America
Marin County — blessed by nature and haven to the rich.  It's where I live.  My house is blessed by nature and my neighborhood is a haven to the Marin middle class (a middle class that works ridiculously hard and pays obscene sums of money for the pleasure of living in a beautiful place, with a temperate climate and excellent public schools).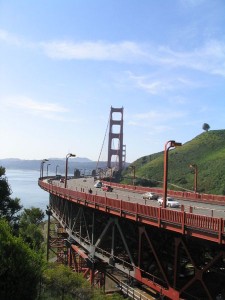 Marin County is also one of the most liberal and, therefore, reactionary counties in America.  Norman Rogers captures it perfectly:
The population of Marin is overwhelmingly white, Democrat, and financially well-off. In 2008, nearly 80% of the vote went to Obama. The main minority consists of Spanish-speaking immigrants who prosper by providing services such as gardening, house-cleaning, and child care. The going rate for babysitting is close to $20 an hour. Although official statistics say that the Hispanics have low incomes, those statistics are based on the assumption that landscapers and babysitters, often in the country illegally, carefully report their earnings to the government.

[snip]

In Marin there are shared values, and it is expected that the residents will toe the line. One of those shared values is a kind of make-believe tolerance. The reality is that the inhabitants of Marin are just as conformist and narrow-minded as are the inhabitants of flyover small towns ridiculed by Hollywood or Ivy-League sociology professors. Deviations from expectations will usually generate silent disapproval rather than verbal correction. However, if you depart too far from expectations, you may experience vigorous disapproval.

[snip]

Marin political ideology is nominally progressive or liberal. But for local issues, virulently reactionary politics is the norm. It seems that the typical resident of Marin wants everything to remain exactly the same as it was on the day he moved to Marin. A hilarious example of this was the 1977 water crisis. A two-year drought caused the reservoirs to run nearly dry. The situation was saved only by building an emergency pipeline that was run on the surface of the 6-mile-long Richmond San Rafael Bridge to bring in water from water agencies that had better planning or weren't suffering from political opposition to everything new. Thirty-five years later, the problem still exists, and the water district is still proposing solutions that are shot down by anti-development Marin people.

[snip]

Smart people lacking a solid education are susceptible to crackpot ideas, be they global warming, the evil of plastic bags, radio waves making people sick, or Steve Jobs' theory of healing cancer with nutrition.
You can read the rest here.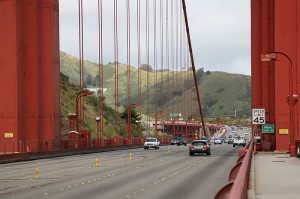 From reading the last paragraph Rogers wrote, you might think that Marin County is a bizarre combination of NIMBY-ism, hard Left politics, and reactionary fervor because the people are uneducated.  In fact, the contrary is true:  they're over-educated, and their politics are a perfect reflection of people who drank the Kool-Aid in the Ivy League colleges, and ultra-liberal State Universities, or at even more ultra-liberal "liberal" arts colleges.  These are all people who Left their expensive universities for well-paying jobs, and are now making sure that the rest of America goes broke.  I know these people well, and I can assure you that most don't have a mean or manipulative bone in their body.  In other words, Marin does not boast an army of mini-George Soros clones.  They actually believe that their ultra-liberal politics will indeed create the rising tide that lifts all boats.  Thus, Marin is populated by an army of those mindlessly indoctrinated by Soros' ideas.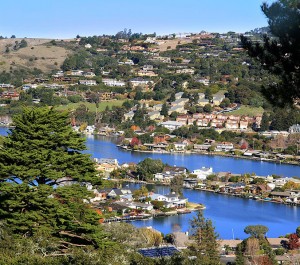 That's Marin.  And these are three stories ripped from today's headlines in the Marin Independent Journal.
First, we learn that Sir Francis Drake Boulevard, one of the major arteries in Marin, is finally going to undergo an upgrade.  This is a road that varies between four lines and two lines as it wends its way from Larkspur, which is on the Bay, to Olema, which is kissing cousins with the Pacific.  It travels through pretty suburban communities (including ultra-rich Ross), verdant Pacific forests, and ends up in a little hippy-dippy town.  During the morning and evening commute, it's a nightmare, with traffic going at paces that would bore a snail.  It's an old road that has completely decomposed in the more westerly segments, and it does not serve the modern community's needs very well.  A little improvement would be useful, even if it was only timing the traffic lights better.  Which gets us back to the upgrade.  This is what it takes to improve a road in Marin:
It took three years of study, more than a dozen community meetings and county hearings and countless hours by public works staffers who hurdled a gauntlet of challenges outlined in a $1 million environmental analysis. But shovels finally will hit the ground this summer on repair of Sir Francis Drake Boulevard through Samuel P. Taylor Park.

First, however, permits will be needed from agencies including the state Regional Water Quality Control Board and the U.S. Army Corps of Engineers. The county public works crew has taken no chances, reviewing every aspect of the 5.2-mile stretch of roadway with regional officials who are expected to flash the green light for the project, estimated to cost $5.5 million.

"We've been talking with them for years about this, walking every foot, looking at each of the 72 drainage culverts" planned, said Public Works Director Bob Beaumont. "We're looking forward to getting the project moving."

Or, as put by Ernest Klock, the county principal civil engineer overseeing the project, "We're ecstatic!"

[snip]

Because spotted owls nest in the area, construction is limited to weekdays from August to November, Beaumont said, noting that the birds, sediment affecting creek and fish habitat, redwood trees and other matters were among numerous constraints faced by project planners.
I'm all for preserving Marin's beauty and character — after all, that beauty and character explains why we pay the big bucks to live here.  But a $1 million environmental analysis and a $5.5 million cost bill strike me as somewhat excessive for a repair that essentially boils down to less than five miles of road.  (The distance is my best guesstimate from reading the project's description.)  That's more than a million dollars a mile.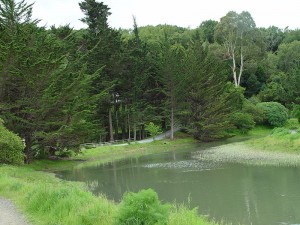 Not only are Marinites willing to spend vast sums of money to placate the Sierra Club gods, they're also willing to whistle away even greater sums of money in homage to those same gods.  I've posted here before about a Marin community's fierce resistance to a George Lucas project that would have created a gorgeous, pastoral office park that would have employed hundreds of people and brought in millions of dollars.  George Lucas eventually said "forget about it."  He was in such a snitch that, not only did he ignore the county's panicked blandishments offering to back down from some of its more extreme positions, he promised to sell the land to a low-income, high-density developer.  Other communities, less stridently liberal than Marin, are leaping on the opportunity to host Lucas' project:
Local leaders hope Luke Skywalker will pack up his lightsaber and come to a galaxy not so far away.

The city is trying to lure George Lucas' company Lucasfilm Ltd. — the force behind the "Star Wars" and "Indiana Jones" franchises — to Walnut Creek and entice the filmmaking giant to build a big movie production studio in the Shadelands Business Park.

This comes after Lucasfilm development arm Skywalker Properties yanked plans to build a film studio on Grady Ranch in rural Marin County last month. The surprising move came after decades of homeowner opposition and difficulty obtaining necessary development permits in Marin.

A pitch from the Walnut Creek city manager sent to Lucasfilm boasts of the city's 97 percent business occupancy rate downtown, its health care facilities, open space, business partnerships and top-performing schools — not to mention two nearby BART stations, Mount Diablo and various housing options.
Hey, George!  That sounds like a good deal to me.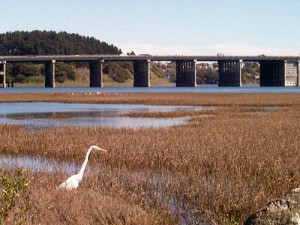 And finally, a look at one of the Congressional candidates in Marin.  The seat is open now, because Lynn Woolsey is retiring.  The current front-runner, Jared Huffman, is the candidate who passes for a "centrist" in Marin politics.  He's not.  As I wrote in an earlier post, every one of his positions is consistent with the hard Progressive political menu.  Norman Solomon's candidacy, however, proves why Huffman sounds normal:
Solomon, who has dedicated his life to political activism — opposing war, nuclear proliferation, nuclear power plants and environmental degradation — is one of a dozen candidates competing in the June 5 primary for the new 2nd District congressional seat.

[snip]

Solomon attended Reed College in Portland, Ore. in 1970 but only for about a month.

"The Vietnam War was raging," Solomon said. "I found political activity much more compelling than sitting in the classroom. I went to just a lot of anti-war demonstrations in the late '60s and early '70s."

[snip]

In 1972 when he and other protesters tried to blockade the Republican National Convention in Miami Beach, Solomon was Maced and sent to jail for four days.

"I studied nonviolence and practiced it," Solomon said. "We were inspired by the civil rights movement and brought that to the anti-war and anti-nuclear movement."

In the late 1970s, Solomon was sent to jail again, this time for 40 days, for repeatedly protesting for the closure of the Trojan Nuclear Plant, near Rainier, Ore., and mounting a nonviolent blockade of a train carrying nuclear warheads to Bangor, Wash.

[snip]

During the 1970s, Solomon also began doing freelance reporting for the Pacific News Service and became an associate of the Center for Investigative Reporting in Berkeley. Articles Solomon wrote for The Progressive and The Nation, chronicling the exposure of members of the U.S. military to radiation during bomb tests, led to the writing of the first of his 12 books. In partnership with Harvey Wasserman, Solomon wrote "Killing Our Own: The Disaster of America's Experience with Atomic Radiation."

After Ronald Reagan's election as president in the 1980s, Solomon and Anthony Guarisco, founder of the International Alliance of Atomic Veterans, traveled to Moscow where they organized a sit-in at the U.S. Embassy calling for the U.S. to join the Soviet Union in a halt to tests of nuclear bombs.
And on and on and on, with Solomon at the forefront of every single radical Left activity American politics could offer.  You won't be surprised at his approach to the Iraq War:
Solomon published "Target Iraq: What the News Media Didn't Tell You," prior to the U.S. invasion of Iraq in 2003 and made three trips to Iraq, one accompanied by actor Sean Penn, in an effort to head off the war. Solomon said that as the drum beat for war in Iraq grew louder, many liberal Democrats failed to speak out, just as they did initially during the Vietnam War.

Solomon said, "I understand the truth of the AIDS activist slogan that was adopted in the late 1980s: silence equals death."
Interestingly, though, once you get past his past, Solomon's laundry list of political ideas is virtually identical to every other Democrat candidate:
If elected to Congress, Solomon said his first priority would be to boost public investment in green jobs, education, housing, infrastructure, health care, public transportation, environmental protection and retirement security while cutting military spending, imposing a transaction tax on Wall Street, plugging tax loopholes for corporations and ending the Bush tax cuts for the wealthy.
I urge you to go to the newspaper article, scroll down to the bottom, and read Solomon's specific political ideas, in his own words.  He is a perfect snapshot of the Progressive candidate, unleashed.  By the way, although I've never met him, I'd willingly bet that he's charming at school cocktail parties and a nice guy to say "hello" to in the grocery store aisles (if you can even see him behind the cloth grocery bags stacked high in his shopping cart).  Marin liberals are very pleasant human beings, despite being animated by ideas that, if taken to the logical conclusion, would drag us through British politics, then Greek politics, then Cuban politics.
And now let me introduce you to Dan Roberts, a candidate who doesn't have a snowball's chance in Hell of winning.  In rational world, of course, if Marin-ites voted in their true self-interest (one that keeps Marin rich and beautiful, while preserving America's overall strength and wealth), a moderate Republican candidate should sweep the board:
Marine Corps 2nd Lt. Dan Roberts was leading his troops back from a patrol through Vietnam's Elephant Valley near Da Nang in 1966 when a mine exploded, killing one soldier and piercing Roberts' left leg with shrapnel.

"I guess there was an element of shock and disbelief. I had these fragments of shrapnel going through my left calf," Roberts said. After his radio operator had staunched the blood coming from his leg and bandaged the wound, Roberts said he "organized a defensive perimeter and helped the choppers come in to evacuate the wounded." Eventually, he was airlifted out himself and sent to a military field hospital for treatment.

[snip]

Roberts grew up in the Bernal Heights neighborhood of San Francisco. His mother's great great grandfather came to California in 1849 to mine for gold.  Roberts' father worked as a Teamster warehouseman in San Francisco, and his mother was a full-time homemaker. Roberts attended Lowell High School [Ed.:  My alma mater too], even though it required more than an hour's bus ride to get there.

Roberts said his family members were all "hard-core Democrats." But Roberts' politics took a different turn while he was earning his bachelor's degree in business administration at San Francisco State University from 1960 to 1965. He paid for his education by working nights as a janitor and as a golf caddy on weekends.

"I saw the beginning of the takeover by the liberal elements of that wonderful institution," he said, "and I objected to that."  [He was right to object.  SF State, which boasts Angela Davis as a faculty member, is one of the most hard core Leftist schools in America, and a haven for antisemites.]

[snip]

Roberts enlisted in the Marines in 1964. He had heard stories about military service from his uncles who served in the Navy and from other family members. He was motivated by patriotism, a yearning for adventure and a desire for excellence, which he associated with the Marine Corps.

After making it through Officer Candidate School, Roberts was sent to Vietnam in 1966 as a second lieutenant. He served as an artillery forward observer, slipping behind enemy lines to direct the fire of U.S. howitzers. After being wounded, Roberts had to relearn how to walk; his left leg remains partially paralyzed to this day. He served out the remainder of his tour of duty with a mortar battery.

[snip]

After leaving the Marines, Roberts earned his master's in business administration at Loyola University Chicago by attending night classes while working as a salesman for the Monsanto Co. Then he returned to San Francisco, where from 1972 to 1987 he sold stocks and bonds for Dean Witter & Co., rising to the position of manager.

In 1987, Roberts left Dean Witter and founded his own investment firm, Roberts & Ryan Investment Inc. in San Francisco, which he continues to operate. There is no Ryan. Roberts tried to register the business simply as Roberts Investment but "every iteration of Roberts was taken."

[snip]

Roberts' wife died in 1985; his sons were 9, 15 and 17 at the time.

"So to some extent I had to play both roles," he said.

[snip]

So far, Roberts has invested $160,000 of his own money in his congressional campaign. If he wins and goes to Washington D.C., Roberts said he will focus on cutting federal spending and reducing corporate and individual taxes.

"The government can never create a job," Roberts said. "It just takes money from people who pay taxes and gives it to a third party. It's a transfer payment at best."
This is a man of substance, decency, and common sense.  As I said, he doesn't stand a snowball's chance in Hell of winning here in Marin.  I deeply admire his willingness to join the battle though.  (Not surprising, I guess, given the fact that he's a Marine.)
Please check out the newspaper article, scroll down to the end, and compare Roberts' political positions with those that Solomon advances.  Roberts own website is here, if you'd like to make a contribution to his bravely quixotic effort.
Marin County — land of the rich and crazy.