Lemmings and herded cats — musings on Japan and America
Spending two weeks in a country does not make one an expert on that country.  Indeed, I'm sure the opposite is true, which is that one learns just enough to be dangerous.  One sees the country without understanding it.  Nevertheless, both from looking at the Japanese in action and from speaking to myriad people, both Japanese and Western, I'm prepared to make the dangerous leap to conclusions.
I can't speak for other people, but what struck me most strongly about Japan was the homogeneity — not just racially, although it is bizarre in today's world to be in a country where everyone, with the exception of tourists and the American military, is racially Japanese — but also behaviorally.  No matter where we traveled in Honshu, the behaviors were identical.  Everyone said "Arigatou gozaimasu" (0r "thank you very much") constantly.  And I do mean constantly.  Whether listening to shop keepers, desk clerks, train announcements, bus drivers, subway passengers, or anyone else in any other walk of life, that phrase must have popped up every third or fourth sentence.  So much so that one began to doubt that it had any real meaning.  It began to feel like a verbal twitch, akin to an American "um" or "like."  Nevertheless, the Japanese fully understand its polite import, and someone who deletes that phrase from his or her vocabulary is definitely rude.
The bowing is akin to the thank yous — all the Japanese do that, to the point at which it feels leached of meaning.  However, had anyone failed to do it, it would have been quite obviously rude.  I found myself bowing reflexively and then, being American, felt guilty for doing so.  Americans shouldn't be bowing.  I consoled myself, though, by telling myself it's a meaningless, mannered act, rather than a showing of fealty to a sovereign power.  Given the reflexive bowing, I was almost inclined to forgive Obama for bowing to the Emperor — but not quite.  He's the American president and it was just wrong to bow to the Emperor, no matter how nice a man the Emperor is and no matter the ritual nature of the bow.
Wherever we traveled, the bus drivers spoke in sibilant whispers.  As best as we could tell, they were constantly muttering under their breath such things as "Everyone sit down, thank you very much," "we're all on the bus, thank you very much," "move to the back, thank you very much," "the next stop is _______________, thank you very much," or various other mindless nothings, many of which had already been announced on the overhead recording (complete with multiple pre-recorded "thank you very muches").  Please note that it wasn't just the repetitive phrases that were homogenous — it was that identical whisper that the drivers all over Honshu murmured into the microphones.  The first time it was funny, the second intriguing, the third, fourth and etc., it was kind of weird.
My overall sense was that the Japanese are obsessively attached to behaviors.  I liked their obsessive cleanliness, since it meant that travel was less onerous to me.  Since I was raised by a (Japanese) concentration camp survivor with a fetish for cleanliness (cleanliness in a tropical camp could mean the difference between life and death), I have a few obsessive behaviors myself.  Traveling always squeezes me emotionally, as I deal with musty beds and less-than-clean bathrooms.  In Japan, especially because we stayed in tour-group vetted hotels, I didn't see anything that was less-than-clean.
Nevertheless, even with my appreciation for all things clean, it was strange that, everywhere we went, barring public venues such as train stations or stadiums, the bathrooms were equipped with virtually identical bathroom slippers.  They might be a plain tan color or, more commonly, a snazzy his-and-her toilet design (see below), but they were all styled the same.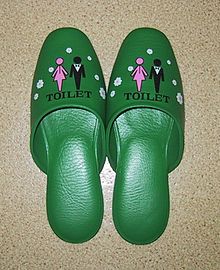 The deal with these slippers is that, when you enter a bathroom barefoot or in socks (as is the case in all homes, hotels or nice restaurants), you immediately put on the toilet slippers.  If you forget to take them off when you leave the bathroom, it's akin to walking out with toilet paper attached to your derriere. Being a fastidious type, I liked the fact that I didn't have to walk barefoot onto a potentially urine-spattered floor.  Nevertheless, the ubiquity of identical slippers no matter where we traveled was peculiar.
The most fascinating example of the Japanese ability to function in unison was the baseball game we attended.  Although I'm no baseball fan, it was a very enjoyable experience.  The stadium was, of course, immaculate (including the bathrooms).  The fans were happy and friendly, making it a vastly different experience from attending, say, an Oakland Raiders game, which can be rather frightening.  The fans never booed the opposing team or a bad player on their own team.  Instead, they cheered for their own team.  We Americans cheer too, but in a chaotic, unstructured fashion.  The Japanese have cheerleaders in every section and the fans follow along with chants and rhythmic beats on their noisemakers (which look a bit like small bowling pins).  I'm not unique in observing this.  Others, too, have drawn the same conclusions about Japanese group think as played out in the baseball stadium:
The difference is in the atmosphere of the stadium as the game is being played. Both teams had huge bleacher-seating fan sections all of whom cheered for every batter during every inning. This is not just random cheering, it's highly organized. Think college football games, except pull people from all ages and demographics. Everyone had noise makers and shirts. Businessmen in suits pulled a jersey over their shirt and tie. Old women screamed their hearts out.

The collective nature of the cheering reflects Japanese culture of groupthink, not standing out, etc. I've never seen such a highly organized cheering machine in any other sports venue or game I've attended. Such a collective fan spirit means many people show up by themselves but instantly join in. The fans cheer while their players are batting. Then they sit down and are quiet the other half of the inning, again reflecting the Japanese value of respect and dignity for opponents.
The whole baseball game experience was charming, but the groupthink bothered me.  You see, as far as I'm concerned, groupthink goes a long way to explaining how a polite, thoughtful, kind, decent group of people can suddenly morph into a monomaniacal killing machine.  The Japanese did it.  The Germans did it.  The Chinese did it.  If the lemming group moves in a nice direction, all is good.  However, if the lemmings get steered towards the cliff, nothing will stop them.  Since morality is defined by manners, when the manners dictate death, off they all go, engaging in mass suicide or homicide.
Americans, traditionally, have appeared more like surly herded cats than enthusiastic lemmings.  For every stain on American history (slavery, the treatment of the Indians, the imprisonment of Japanese-Americans, Jim Crow), there have been countervailing forces, vigorously protesting these injustices.  Yes, the injustices happened, but they were never the product of a unanimous society mindlessly going along.  Instead, they were the result of societal tension and were destroyed by that same societal tension.
Many years ago, I read Pierre Berton's Klondike : The Last Great Gold Rush, 1896-1899
. I enjoyed reading the book, but with time's passage, only two things remain in my memory. The first is Berton's description of the Klondike mosquitoes, which were so big and aggressive that they could quickly kill a horse. The second is his description of a town that was split evenly down the middle between Canada and the United States. On the Canadian side, the townspeople instantly formed a provisional government, and quickly had an orderly, top-down society. The American side, however, was a Wild West town, with a pure democracy, in which every townsman had a voice. The streets were muddy, crime was rife, and little got done.
At the time I read the book, I was actually embarrassed by the American Klondike town — "What violent, disorganized losers Americans are!"  Since then, though, I've come to appreciate the American unwillingness to bow down to leaders.  We don't — and shouldn't — look to a strong leader for help.  We look to ourselves.  It may slow us down, but it also allows us to innovate and, most importantly, helps us put the brakes on bad ideas.  We herd as badly as cats do, and we should be grateful for that fact.