Obama whines and Biden cries when their gun grab bill fails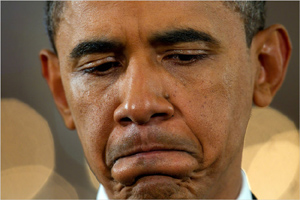 Here's another one that appeared first at Mr. Conservative, but I wrote it and I agree with every word I wrote:
With the failure of the Democrats' gun grab legislation in the Senate, the President and the Vice President took the political blow like the sensitive, New Age, Progressive men that they are – Obama whined and Biden cried.
Standing on the White House lawn, along with the same sad, bedraggled group of people Obama has been dragging around for weeks as he made his emotional argument against guns, Obama hurled insults in every direction. Ignoring the fact that the gun control bill contained cute little provisions, such as the one giving liberal physicians the right to report for a national criminal background check patients seeking treatment for depression, Obama blamed his newest scapegoat – the NRA:
But instead of supporting this compromise, the gun lobby and its allies willfully lied about the bill. They claimed that it would create some sort of "big brother" gun registry, even though the bill did the opposite. This legislation, in fact, outlawed any registry. Plain and simple, right there in the text. But that didn't matter.

And unfortunately, this pattern of spreading untruths about this legislation served a purpose, because those lies upset an intense minority of gun owners, and that in turn intimidated a lot of senators. And I talked to several of these senators over the past few weeks, and they're all good people. I know all of them were shocked by tragedies like Newtown. And I also understand that they come from states that are strongly pro-gun. And I have consistently said that there are regional differences when it comes to guns, and that both sides have to listen to each other.
In fact, Senators – the Democrat Senators — backed away from the bill because their constituents recognized an unconstitutional gun grab when they saw it — and they let their displeasure be known. In addition, these same constituents understood what Obama refuses to acknowledge: that nothing in the bills before the Senate, including the background check, would stop a future Newtown, while everything in the proposed bills was intended to undermine the Second Amendment.
We know that more guns in law-abiding hands, not fewer, will protect students; we know that, despite the dog-and-pony show not all Newtown parents support gun control; and we know that both Biden and Obama are hostile to and neither understands the Second Amendment. No wonder the NRA prevailed.
While Obama whined, Biden looked as if he was seconds away from tears. With his mouth pinched shut in a frown, and his eyes squinted closed, Biden, the same man who cackled maniacally through the Vice Presidential debate, was the personification of tragedy.
Obama and Biden represent the debasement of American politics. Government is no longer the preserve of intelligent gentlemen – it's the home of emotional actors who try use tragedy to bully through an agenda that has as its sole purpose depriving the American people of their individual rights. It's true that bad things happen because of guns. Bad things also happen because of pressure cookers, and cars, and baseball bats. We cannot legislate away risk. The Founders understood, though, that, even though guns do present the risk of accidental and intentional injury and death, they are the only reliable tool standing between an individual's freedom and his government's overreach.