Considering how meaningless marriage has become, I hereby withdraw any opposition I've ever had to gay marriage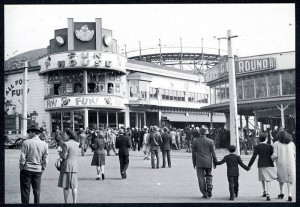 For an almost 80 year run that ended only in 1972, Playland at the Beach was San Francisco's Coney Island.  Beginning in 1928, and subject to a few minor changes over the decades, Playland settled into the form known to City residents through its final days:  it had roller coasters, the camera obscura, a merry-go-round, and the famous Fun House, home of Laughing Sal (who now lives at the Musee Mecanique).
At its peak, Playland was a vital entertainment hub. It was bright and shiny and fun and funny. The roller coasters and the Fun House were state-of-the-art entertainment. The latter boasted a giant barrel roll; rocking, moving floors; air vents to blow up girls' skirts; long, wavy slides; spinning floors; wavy, distorted mirrors, and all the other accoutrements of 20th century amusement park culture. You can get a sense of Playland's attractions from this clip from 1937's Damsel in Distress, featuring Fred Astaire, George Burns, and Grace Allen:
I went to the Fun House several times in the late 1960s and very, very early 1970s. There was still a musty magic to the slides, mirrors, vented floors, and, of course, Laughing Sal, but mostly the Fun House was a drab, depressing place. For starters, it was filthy, clotted with five decades worth of grime, made sticky from a nice Pacific Ocean salt overlay. All of the attractions were rickety. I always had the lowering suspicion that the moving, rocking sidewalk would suddenly buckle, either throwing me into the air or dropping me into some damp, spider-ridden basement.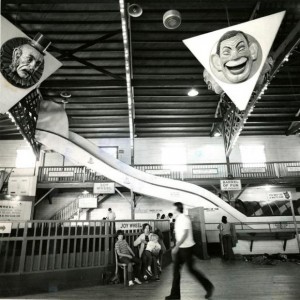 The Fun House's clientele was no longer made up of a cheerful amalgam of families, young couples, and children old enough to go there on their on. Instead, it was overrun by screaming, usually overwrought children. It wasn't bright and shiny. It was less Disney and more Lord of the Flies. We children ran around frantically, evidencing a grim determination to have fun in this hallowed San Francisco amusement park, a bleakness captured nicely in the picture to the right, which was taken shortly before the Fun House closed for good.
I was always delighted with the offer of a trip to the Fun House (I really liked the idea of Playland at the Beach), but I was even happier when it was finally time to go home. I invariably left there tired, dirty, overwhelmed, and both depressed and demoralized. The only magic left was the patina of age, which I was too young then to appreciate.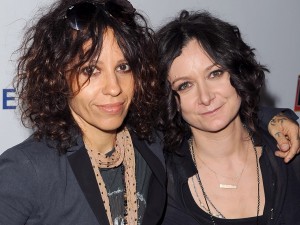 Perhaps because my brain is wired a bit differently, I thought of Playland at the Beach when I saw this headline: "'Roseanne' Alum Sara Gilbert, Rocker Linda Perry Wed." I have no idea who Sara Gilbert and Linda Perry are, so I was unexcited by their wedding (although I naturally wish them many happy years together).
Thinking about it, it occurred to me that, even if I had known who they are, I probably still would have found the headline uninteresting. Looking at the state of modern marriage, I can no longer articulate a good reason to care about other people's weddings and subsequent married life.
Just as the Playland I knew was a faded, dirty, broken-down relic of its past, barely hinting at its former grandeur, so too is marriage today leached of the meaning that once gave it such preeminence in Western society. Historically, marriage has been an extremely important event, both at the individual and the societal level, controlling as it did sexuality, paternity, and property.
Up until our very modern era, before a girl got married, she was (in theory, at least) a sexually uninitiated child under her parents' care. Marriage was her entry into the adult world: she left her parents; her faith and her state both encouraged her to have sex (with her husband); and she began producing and raising the next generation. For centuries, even millennia, the wedding was the single most transformative event in every woman's life. It marked a profound change in her standing in society, from child to woman.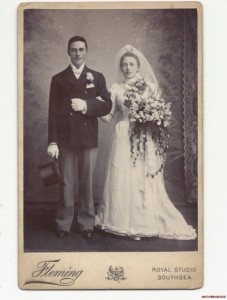 While men weren't necessarily the sexual innocents their wives were supposed to be, marriage was an equally life-changing event for them. They might not have been virgins, but their previous sexual relations were illicit, carried out with prostitutes or lusty widows. Any children that resulted from these relationships were not supposed to be acknowledged. They were bastards without legal rights, and the man's obligation to care for these children was a personal decision, rather than something mandated by law or religion.
By marrying, the man got unfettered access to sex, with his church's and his state's approving imprimatur, and he got children that were presumptively his, with all the legal and moral responsibilities that entailed. The man's carefree bachelor days were over, and his days of maturity and responsibility began. If he wanted to be assured that his wife's progeny were indeed his, he'd better be a good husband.
Marriage's centrality in pre-21st century society wasn't just about questions of sexuality and paternity unique to heterosexual relationships. It was also an important economic relationship. For rich people, it meant the blending of fortunes or even of nations. For poor people, it meant that the man and woman formed an economic unit, with the man laboring outside of the house to bring in food or goods, and the woman laboring inside the house (and in the garden), to enable the man to work and to do whatever it took to stretch his earnings as far as possible.
In America's past, a healthy society depended on the marriage partnership. It regularized sexual relations (and paternity issues), creating social stability and slowing the spread of sexually transmitted diseases. It also increased men's economic opportunities, thereby enhancing America's potential economic growth, which operated to everyone's benefit.
No wonder marriages were celebrated, not just by the participants, but by society at large. Add in the fact that traditional religions sanctify marriage, elevating it from a social and economic relationship into a covenant before God, and it's easy to understand marriage's preeminent position throughout Western history, generally, and American history, specifically.
Nowadays, every one of those reasons for marriage is gone. Sex is unrelated to marriage. Childbearing is controlled by birth control, abortions, and fertility rituals . . . er, fertility treatments. Paternity is determined by genetic tests. Economically, marriage is a good thing, but the state will step in and help the mother and children out if the father decides that all the responsibilities that flow from impregnating a woman are just too burdensome and too little fun. Only people who have a middle class aversion to poverty and welfare enter into marriage for economic reasons. Religions still support marriage's importance, but many congregants seem more interested in the party than the sacrament.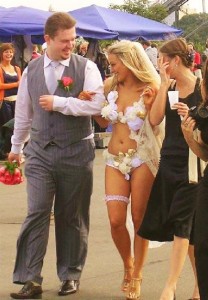 And of course, there's modern divorce. Marriage isn't a permanent commitment; it's a relationship experiment that is easily shucked. It's a very good thing that we no longer live in a time when only death would part a couple, leaving married people (usually women) at the mercy of abusive, insane, or absent spouses. It's not so good a thing that we now live in a time when people divorce simply because they're bored and want the thrill of a new relationship. (And yes, I have known people to divorce for just that reason.)
Modern marriage no longer serves any of its necessary societal functions. It's a relic, just like the Fun House I knew as a child was a relic. What once was shiny and central to American life has become a peripheral excuse for a frenetic party. The couple standing at the altar have already had sex (with lots of people), they (with financial help from taxpayers and employers) are controlling the woman's fertility, and they're making financial decisions irrespective of their marital status. Societal changes, mass media, and the vast wedding industry have ensured that modern American wedding is primarily about the right dress, the beautiful cake, and the most viral wedding video.
All this means that the LGBTQ crowd is arriving at the party when the party's already over. Looking back on my Fun House experience — high expectations in advance, followed by a disappointing reality when faced with a dusty ghost from the past — I actually feel sorry for those same-sex couples rushing to take part in an event that's long past its heyday. As a society, we haven't quite reached the point of Miss Havisham presiding over her long-gone wedding feast, but the decay is setting in.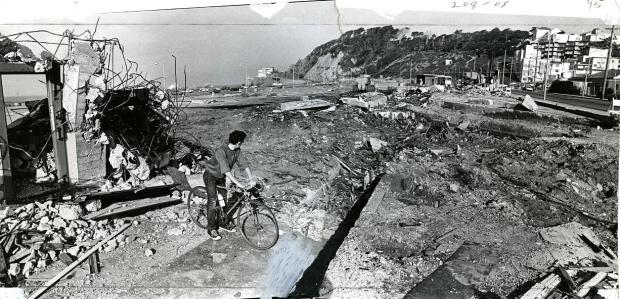 Modern American marriage has become a form without substance . . . a Fun House without the fun. Given that reality, why should we care that the LGBTQ crowd is flocking to catch the tail-end of the party? Let them have their last dance as the lights dim and the tables are littered with dirty plates and half-filled glasses.
For those Americans who have a religious commitment to marriage, they should go and have that religious ceremony and live their married life in accordance with God's commandments. And for those Americans who subscribe to the belief that the children's well-being is best served in a stable, heterosexual relationship, they should get married (in a church, synagogue, temple, or mosque, or before a registrar) and they should stay married for the children's sake. For everyone else, the caravan has already passed on and it's probably long past time for the dogs to stop barking.