IRS correspondence seems to reveal conspiracy to criminalize conservative speech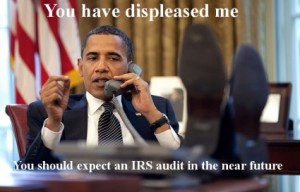 The IRS's job is to collect the taxes that Congress demands the American people pay. Under Lois Lerner's guidance, though, the IRS's job, apparently, was to identify potential conservative targets for Department of Justice criminal investigations. Hmmm.
PJMedia currently has running two excellent posts on the subject. The first is J. Christian Adams' "A new, more sinister IRS scandal." The second is Bryan Preston's "The terrifying implications of the IRS Abuse-DOJ connection."
Preston opens his post with this compelling paragraph:
Thank God for Treasury Inspector General for Tax Administration J. Russell George. His investigation of what turned out to be the IRS abuse scandal may well have saved the Constitution and the nation.
I hope Preston is correct.
Adams closes his post by saying, "Just wait until the American people learn more about the modern American version of history's speech regulators."
Sadly, I think Adams is wrong. The ones who never pay attention will continue not to pay attention. As for the man-in-the-street Democrats, the ones who are unthinking, not activist, Leftists, I'm sorry to say that they won't suddenly think, "Oh, my God! What have we become? This has to stop."
Instead, when you try to convince knee-jerk, unthinking Democrats that their party is using the most powerful government agency in America to shut down political debate and imprison political dissent, you'll get a shrug, along with mumbled remarks about "conservative wackos are paranoid," and "these people were obviously breaking the law," and "the IRS saved us from turning into a Christian Fundamentalist Nation, kind of like Iran."
Government is the last place in which the war is fought.  The initial battles are for people's hearts and minds, and the Left started fighting and winning those battles in the 1960s.  Now, as the old saying goes, "it's all over but for the shouting."