The need for loud, swift action in response to John Kerry's libelous statements about Israel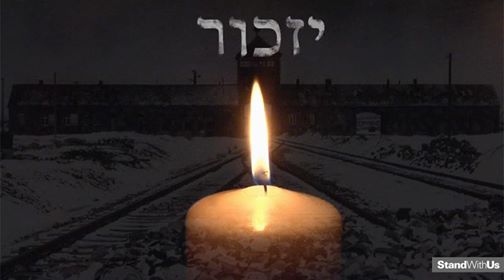 Today is Yom Hashoah — Holocaust Remembrance Day — a day on which Jews and all civilized people around the globe commemorate the 6 million who died at the hands of virulent antisemites. Israel takes this day very seriously.
For those unclear on the whole Israel concept (Obama, Kerry, and State Department, I'm speaking to you), Israel is the only liberal democracy within the Middle East. It's the only nation in that region that allows all people to worship freely, that accords full rights to women, and that protects all minorities, including sexual and racial minorities, from discrimination, even while extending to them the full panoply of available civil rights. When its neighbors kicked out around 1,000,000 Jews in the years after 1948 in order to make their nations judenrein, Israel took in every single one of those refugees (distinguishing itself from the surrounding Arab nations who refused to take in the tens of thousands of Arabs who fled Israel after the UN recognized its statehood).
Showing what a crude bastard he is (which is separate from his being a stupid, malevolent, narcissistic gold digger), John Kerry chose Yom Hashoah as the day on which to announce that Israel is on the verge of becoming an apartheid state. This is is the same John Kerry, of course, who has been repeatedly stating that it's all Israel's fault that his misbegotten peace talks failed, never mind the fact that Palestinians demanded concessions before negotiations began, refused to give up anything, refused to negotiate, continued to celebrate mass murderers, and recently allied themselves with a terrorist group.
This is also the same John Kerry who appears incapable of realizing that the only reason that the Palestinian territories, Gaza, and the surrounding Arab nations aren't apartheid nations is because they skipped the whole "discriminating against minorities" part.  Instead, they simply slaughtered or expelled their Jews and are now working towards the same end with their Christians.
John Kerry has gone from being merely a pathetic buffoon to becoming a grave national embarrassment, at least from the viewpoint of ordinary Americans who value freedom and recognize Israel as a light unto nations, especially situated as it is in the heart of the globe's darkness.  Sadly, the only thing keeping Kerry in office is the fact that the Democrat Party power structure, from the President on down, wholeheartedly (and with increasing openness) agrees with Kerry's sentiments.
Although Obama et al are becoming less coy about their old-fashioned, virulent antisemitism, they are not entirely immune to public pressure, provided that enough of the public puts pressure on them.  We are the public and it's time for us to raise our voices.  The Emergency Committee for Israel has issued a good statement to that point:
On Friday, Secretary of State John Kerry raised the specter of Israel as an "apartheid state." Even Barack Obama condemned the use of this term when running for president in 2008.

Yet this was no gaffe. Secretary Kerry's musings on the Jewish state's dire future have become a regular feature of his public remarks. His latest prediction follows other statements in recent months that have in effect threatened Israel — never the Palestinians — with a list of disasters should his diplomatic efforts fail: violence, isolation, delegitimization, boycotts — and now "apartheid."

It is no longer enough for the White House to clean up after the messes John Kerry has made. It is time for John Kerry to step down as Secretary of State, or for President Obama to fire him. And it would go a long way toward repairing the damage Kerry has done if his predecessor as Secretary of State, who is the likely Democratic Party nominee for president, explained why this kind of rhetoric had no place in her State Department and why it will have no place in her presidential campaign.
If you would like to see John Kerry forcibly retired, call (202) 647-4000.
UPDATE:  This seems like an appropriate place for Dennis Prager's video about the Middle East conflict: