Donald Sterling is the Left's desperately needed "wag the dog" moment, distracting from their myriad failures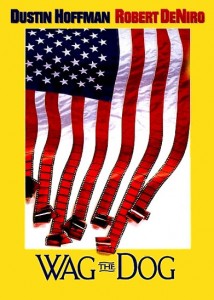 Wag The Dog was a clever black comedy about a president hiring a Hollywood producer to trick the public into believing there was a war in Albania in order to distract the public from a sex scandal right before an election.  The movie came out in 1997, and became forever cemented in the public's consciousness when, in 1998, Bill Clinton bombed a few pharmaceutical factories right around the time Monica Lewinsky and blue dresses were becoming a big deal.  Donald Sterling is the Left's new "wag the dog" moment — a racial one, this time, not a martial one, because we live in the age of Obama.
If you think about the Sterling scandal without the attendant hysteria it's pretty pathetic:  desiccated, insecure, ugly, rich, old man fears that his black/Latina girlfriend's palling around with handsome, successful, young(ish), black men will make him look like what he really is:  a eunuch with a gold digger on his arms.
"It bothers me a lot that you want to broadcast that you're associating with black people. Do you have to?" (3:30)

— "You can sleep with [black people]. You can bring them in, you can do whatever you want.  The little I ask you is not to promote it on that … and not to bring them to my games." (5:15)

— "I'm just saying, in your lousy f******* Instagrams, you don't have to have yourself with, walking with black people." (7:45)

— "…Don't put him [Magic] on an Instagram for the world to have to see so they have to call me.  And don't bring him to my games." (9:13)
But for the fact that there are a few other racist incidents in Sterling's past (refusing to rent apartments to blacks or Latinos, and making nasty comments), what you really see here is enormous sexual insecurity. Sterling doesn't view these black men as inferiors.  Instead, he sees them as a threat to his virility and his relationship with a young woman who, because of her own background, could easily be seen as preferring them to this desiccated, pot-bellied, mean-spirited little man.
Nevertheless, the story overnight mushroomed in an hysteric denouncement of racism, with special emphasis on the fact that Sterling, being old, rich, and white, must be a Republican, a fact that makes him representative of all Republicans.  It was irrelevant that, while Donald Sterling's official political affiliation is the subject of much debate, it's pretty clear that he's been pouring money into Democrat causes, including making very nice with the NAACP for years, resulting in his receiving an NAACP lifetime achievement award in 2009.  It's also irrelevant that the vast majority of America's Republicans and conservatives are neither rich nor old, that many aren't white, and that Sterling's closest demographic relatives (rich, white, and racist) live in the Democrat party.  (I'm talking to you, Harry Reid.)
I'm not denying that Sterling's remarks were couched in racial terms, are nasty, and are therefore racist.  But let's get serious here: Are the privately-stated rantings of an old, insecure man so important that they should result in thousands of news stories, headlines, tweets, Facebook posts, magazine articles, analyses, etc.?
No, his rantings aren't important at all.  Contrary to what many Americans are being made to believe, this isn't really about a rich, powerful sports team owner saying mean things about black people. Instead, the Donald Sterling story is about sucking the oxygen out of the news cycle so that people who don't pour over it as obsessively as you and I do aren't paying attention to a few other important stories.
What's important to know is that most people can't hold that many thoughts or sensations simultaneously.  That's why, with a few exceptions, multitasking is an illusion and, quite often, especially when cars are involved, a very dangerous one.   A million years ago, my Lamaze teacher told me the human mind's inability to process more than three, maybe four, disparate bits of information at the same time is the real secret behind Lamaze. The breathing doesn't change anything in the birth process. What's important is to drag the woman's focus away from the pain and put it somewhere else.
In today's political world, if you're busy fulminating about a pathetic 80-year-old gnome, you're not going to have room in your brain or your emotions for myriad news stories that are infinitely more important.  These stories include:
1.  The revelation that there is concrete evidence proving that the lies about the Benghazi attack originated in the White House and were a deliberate effort before an election to hide the fact that the administration knew that Al Qaeda was resurgent and that, despite this knowledge, it failed to protect Americans before and during the attack, leaving four Americans quite horribly dead.  Apparently the administrations fraudulent lies to the American public weren't limited to Obamacare.
2.  The fact that Secretary of State John Kerry botched the Middle East peace talks so terribly that the Palestinians threw themselves into Hamas's arms, with Kerry blaming Israel for this failure, before using PLO-esque language to announce that Israel is turning into an apartheid nation. Kerry is either evil or a fool. Who knows? What we do know is that Kerry's never been either an honest or unbiased broker in the peace talks, and he's certainly been an incompetent negotiator.
3.  The embarrassing reality that what was once the most powerful nation in the world is now so manifestly weak that, from Russia to Venezuela, with stops at all points in between, including Syria and Afghanistan, every bad actor in the world thumbs his nose at Obama, even as that actor cuts a bloody swath in his wake. I'm not saying that Obama has any ability now to remedy the situation in Ukraine, Syria, Venezuela, the West Bank, etc. He doesn't. He knows, the American people know, and the bad guys know that America will not, and therefore cannot, fight. The problem is that Obama got us into this situation in the first place. He radiated weakness like a badly wounded Wildebeest lying in the noonday sun on the African plain. He turned America into hyena bait.
4.  The recent admission that America had another "unexpectedly" slow growth in the first quarter of 2014 (a mere 0.1%), something the MSM-Pravda media immediately blamed on the weather. As Sadie helpfully pointed out to me, the extreme winter, although it hit China too, didn't slow China's economy at all. (But do keep in mind that China's supposedly glowing economic numbers are probably on the extreme end of lies, damn lies, and statistics. The rule of thumb is that data from leftists always lies.)
5.  The ongoing, extreme, exponentially growing disaster that is Obamacare.  At the end of the day, Obamacare's only success will have been that it managed to use government coercion, threats, and penalties to force 8 million people to sign up for insurance through government exchanges. Wow! Government bullying works. What government bullying couldn't do was make 20-30% of the new enrollees pay for this insurance; make the enrollment balanced, rather than weighted in favor of the old and sick; get doctors and hospitals to agree to sign onto low-paying networks; lower costs for the middle class people forced off of their good policies; keep deductibles low, etc. Those of us who never drank the Kool-Aid knew in 2009 that only delusional people could believe that you could mandate more coverage and sweep in more people who can't pay, all the while lowering costs all around.
6.  America's vanishing privacy.  Sterling may be a stinker, but he thought he was having a private conversation.  Americans should be outraged that they no longer have zones of privacy.  (Although if these zones of privacy really are gone, let's just banish birth control too.  After all, the main reason the Supreme Court used to justify striking down laws banning birth control was that Americans have an inherent right to privacy.)
All of which gets us back to the ginned-up national outrage about Donald Sterling.  Donald Sterling is a nothing. He may be rich and own a sports team, but the fundamental truth is that he's a creepy old nebbish whose world views were formed in 1940-something. He's a relic. He's meaningless. He's every old Leftist who goes around mouthing stupid things about black people. (Like Harry Reid, for example.)
Sterling matters only as cover. He's the fake war in Albania from the movie "Wag the Dog."  He's the bombed pharmaceutical factories when people were getting too close to the Lewinsky's blue dress.  America!  Forget Sterling.  Pay attention to the real stuff!