Muslim impatience leads a fed-up world to express surprising support for Israel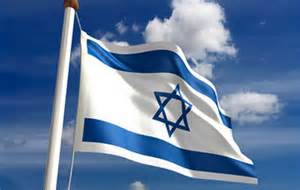 I told my sister that I had reached out a few days ago to a relative in Israel, who assured me that she and her family, who live around Haifa, are currently far enough north that they're not affected by the rockets.
"What rockets?" asked my sister, who has been unable, for the past week, to read the news.
"The rockets from Hamas," I told her.  Then, knowing how she hates to hear "scary" bad news, I hastened to add, "What's happening in Israel is actually good news in a peculiar way."
Good news? Why, yes.
I've long said that the Islamists made a mistake when they started their jihadist rampage in dead earnest with the attack on 9/11. If they'd done nothing, the West would have continued its complacent ignorance, unaware of a demographic time-bomb ticking in its midst.
The nature of Islam, though, is that it cannot wait. As soon as it reaches critical mass, off it goes. Back in 2008, Edward Cline riffed off a friend's email that used a percentage rule of thumb to measure levels of Muslim violence in any country:
"As long as the Muslim population remains around 1% of any given country it will be regarded as a peace-loving minority and not as a threat to anyone…."

[snip]

"At 2% and 3% they [Muslims] begin to proselytize from other ethnic minorities and disaffected groups with major recruiting from the jails and among street gangs."

[skip]

"From 5% on they [Muslims] exercise an inordinate influence in proportion to their percentage of the population. They will push for the introduction of halal ("clean" by Islamic standards) food, thereby securing food preparation jobs for Muslims. They will increase pressure on supermarket chains to feature it on their shelves – along with threats for failure to comply (United States)."

[skip]

"At this point, they [Muslims] will work to get the ruling government to allow them to rule themselves under Sharia, or Islamic law. The ultimate goal of Islam is not to convert the world but to establish Sharia law over the entire world.

"When Muslims reach 10% of the population, they will increase lawlessness as a means of complaint about their conditions (Paris – car burning). Any non-Muslim action that offends Islam will result in uprisings and threats (Amsterdam, Denmark – Mohammed cartoons, murder of Theo van Gogh)."

[skip]

[The one anomaly in this set of statistics is Israel, which has not experienced uprisings and threats of violence. Its Arab or Muslim population enjoys equal political rights with Jewish Israelis. The suicide bombings and rocket attacks that have killed hundreds have been perpetrated by outsiders.]

"After reaching 20% [of a population] expect hair-trigger rioting, Jihad militia formations, sporadic killings and church and synagogue burning:

[skip]

"After 40% you will find widespread massacres, chronic terror attacks and ongoing militia warfare:"

[skip]

"From 60% you may expect unfettered persecution of non-believers and other religions, sporadic ethnic cleansing (genocide), use of Sharia Law as a weapon and jizya, the tax placed on [conquered] infidels:"

[skip]

"After 80%, expect state-run ethnic cleansing and genocide:"

[skip]

"100% will usher in the peace of 'Dar-es-Salaam' – the Islamic House of Peace' [more correctly, dar-al-Islam, or Land of Islam]. There is supposed to be peace because everybody is a Muslim."
The problem with the "can't wait" strategy that is intrinsic to Islam is that you tip off your opponent to your intentions.  In a perfect world, the West, once it got the tip-off about Islam's intentions in 2001 would have embarked upon a true crusade aimed at doing whatever possible to quash Islamic aggression in and against the West.  This crusade would have involved wholeheartedly military action against armed Islamists; closed borders throughout the West to prevent any more Muslims from entering, regardless of how cute the children are; education at home aimed at getting Westerners to understand the threat and to tear young Muslims away from their affiliation to a conquering faith; and constant vigilance.
But we don't live in a perfect world.  What we got in 2001 instead of immediate action to curb Islam's territorial aggression was thirteen years of hogwash, emanating from people of good will and ignorance (such as George Bush with his "religion of peace" blather); from Leftists who see in Islam a temporary ally to destabilize the West; and from Islamists themselves, who realized that they had a lot of useful idiots at their disposal.  Rather than confronting Islamism head-on, those who have recognized its trajectory have been demonized, ridiculed, and marginalized.
In addition to silencing Islam's critics, this hogwash also meant that, barring limited engagements in Iraq and Afghanistan (rules of engagement, COIN, etc.), we've spend the last thirteen years apologizing to Muslims; yielding to their increasingly outrageous demands; welcoming them into our countries and institutions; and handing them the levers of power wherever we could.
Considering how grim that last paragraph sounds, why am I saying that things are actually surprisingly good right now?  I'm saying it because the Muslims, flush with the power we handed them, may finally  have overreached themselves.  Moreover, they may have been aided in this regard by Barack Obama's increasingly manifest hatred for Israel, the world's only Jewish state.
Sitting at home, in America, which once was Israel's greatest ally, things don't look so good.  Obama refused to talk to Netanyahu when Iran bombs in Hamas hands rained down on that tiny nation.  He only picked up the phone when Israel finally began to retaliate, and he did so, not to cheer her on, but to tell her to stop being part of the "cycle of violence" and, instead, to hold her fire.  So not good.
But Obama, it turns out, is one of the few national leaders who's taken this anti-Israel stand.  Other nations, most surprisingly, are supporting her, not Hamas:
France's Prime Minister Hollande, unlike Obama, got on the phone with Netanyahu and expressed his nation's strong support for Israel in her battle with Hamas.
The Arab world as a whole is fed up with Hamas:
*United Nations Secretary-General Ban Ki-moon: "Today we face the risk of an all out escalation in Israel and Gaza with the threat of a ground offensive still palpable and preventable only if Hamas stops rocket firing."

*The Lebanese Internal Security Forces detained two persons for having fired rockets into Israel.

*Egyptian security forces seized 20 rockets on their to being smuggled from Gaza.

*Mahmoud Abbas, chairman of the Palestinian Authority, attended a Ha'aretz "peace conference" in Israel the day the current fighting began* and has infuriated Hamas by his willingness to continue to work with the Government of Israel.

*Jordan's Foreign Minister Nasser Judeh demanded that Israel "stop its escalation immediately," but balanced this with calls for "the restoration of complete calm and avoidance of targeting civilians" and "the return to direct negotiations."

*François Hollande, president of France, gave Netanyahu the most vervent backing of any foreign leader when he assured the Israeli leader that "France firmly condemns the attacks" against Israel and expressed "the solidarity of France against the rockets being fired from Gaza. The Israeli government must take all necessary measures to protect its population against threats."
In the same Daniel Pipes' article from which the above information comes, Daniel Pipes also points out that the world's media is unusually quiet this time around, without any of the ringing denunciations of Israel's self-defense that have become the norm. Indeed, many of us have already remarked upon the peculiar fact that the BBC, usually one of the most virulently antisemitic media outlets outside of the Muslim world, was the first to point out that the Palestinians were using pictures of people killed in Syria in an effort to demonize Israel.
The Egyptians, who have always sided with Hamas even though they recognized that it was a destabilizing element on their border, are now open in expressing their hope that Israel will destroy Hamas:
Some Egyptians are even openly expressing hope that Israel will completely destroy Hamas, which they regard as the "armed branch of the Muslim Brotherhood terrorist organization."

Sisi's Egypt has not forgiven Hamas for its alliance with Muslim Brotherhood and its involvement in terrorist attacks against Egyptian civilians and soldiers over the past year.

The Egyptians today understand that Hamas and other radical Islamist groups pose a serious threat to their national security. That is why the Egyptian authorities have, over the past year, been taking tough security measures not only against Hamas, but also the entire population of the Gaza Strip.
Clearly, nations are realizing that their interests are aligned more closely with Israel than with a radical Islamist organization.  Any stable or semi-stable state, including a Muslim one, has looked into the Syrian or Iraqi abyss and realized that there is no benefit to Islam completely unleashed.  In addition, to the extent that leaders such as Vladimir Putin are expressing their support for Israel too, I suspect that some of the support is a way to highlight the fact that Obama is a completely marginal national leader now.  If he's against Israel, why then everyone else will be for it.
One other thing that's different is that, for the first time, both the Israeli Defense Forces and pro-Israel NGOs have been flooding social media with pro-Israel posters, videos, and articles.  Here's a comprehensive gallery of such images, some of which you've seen before, some of which are new: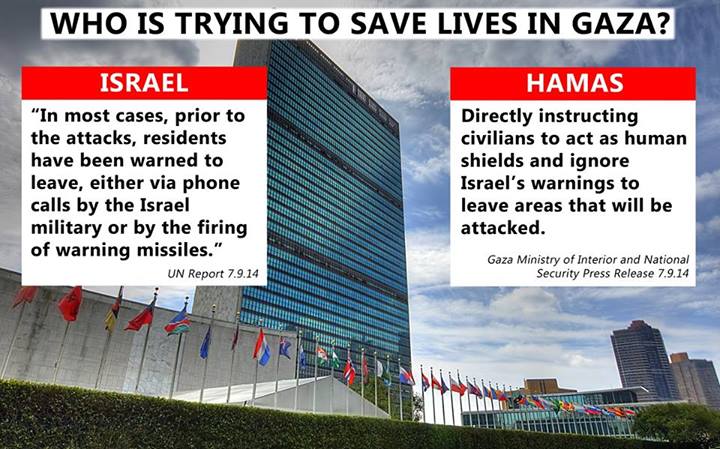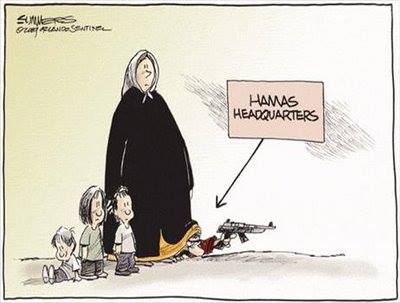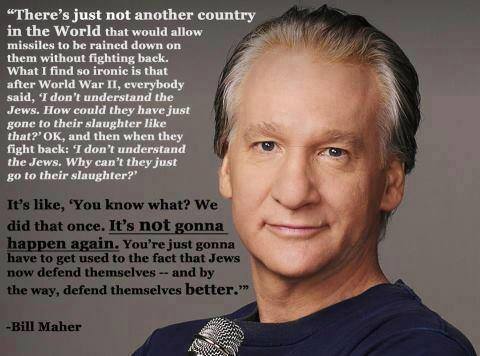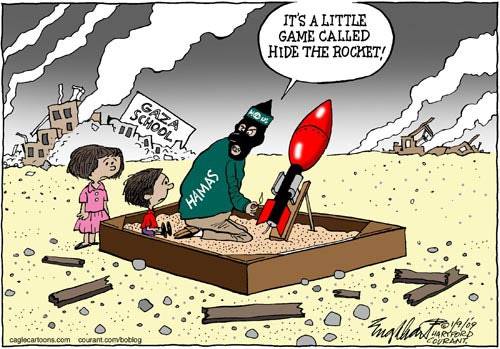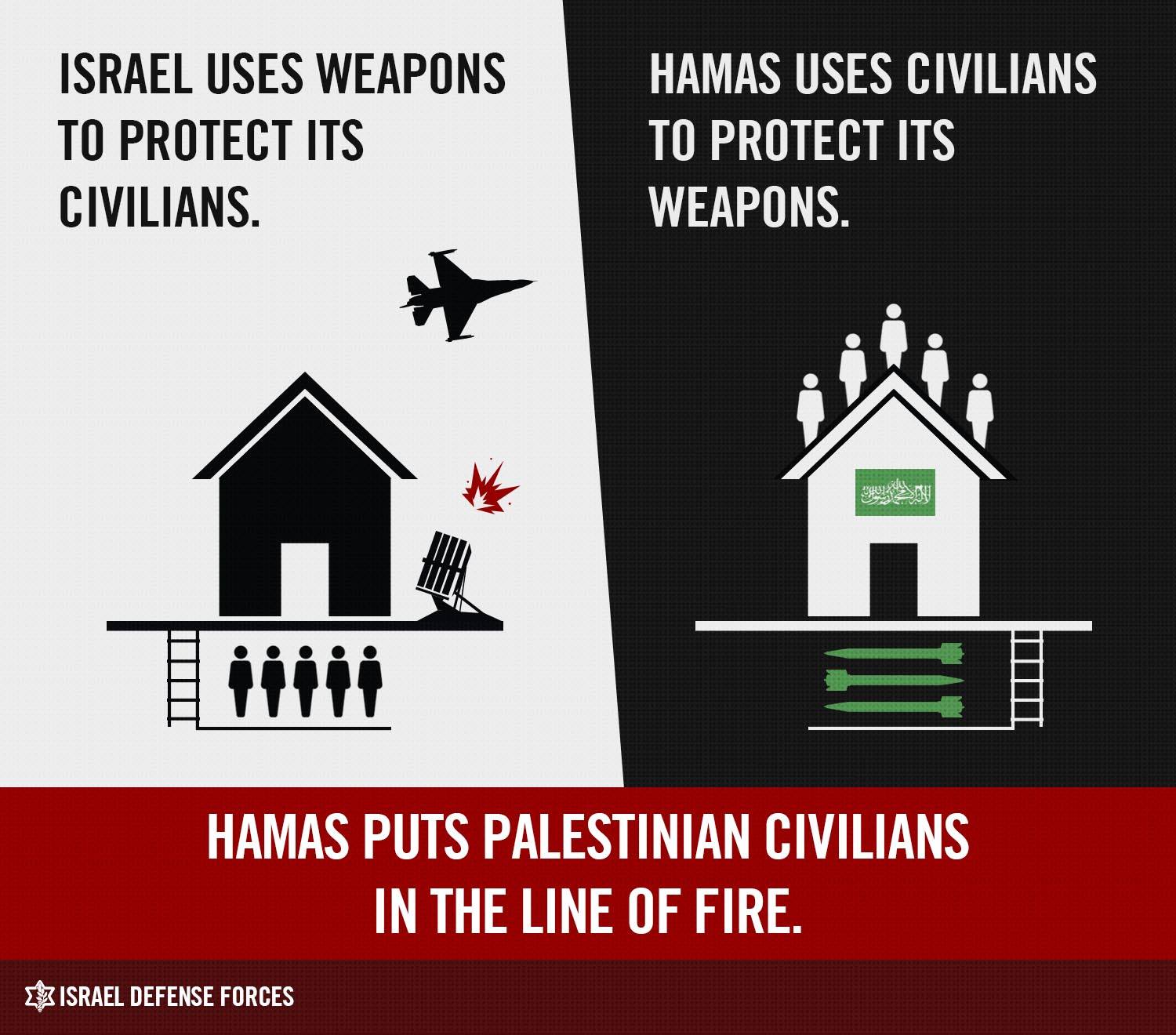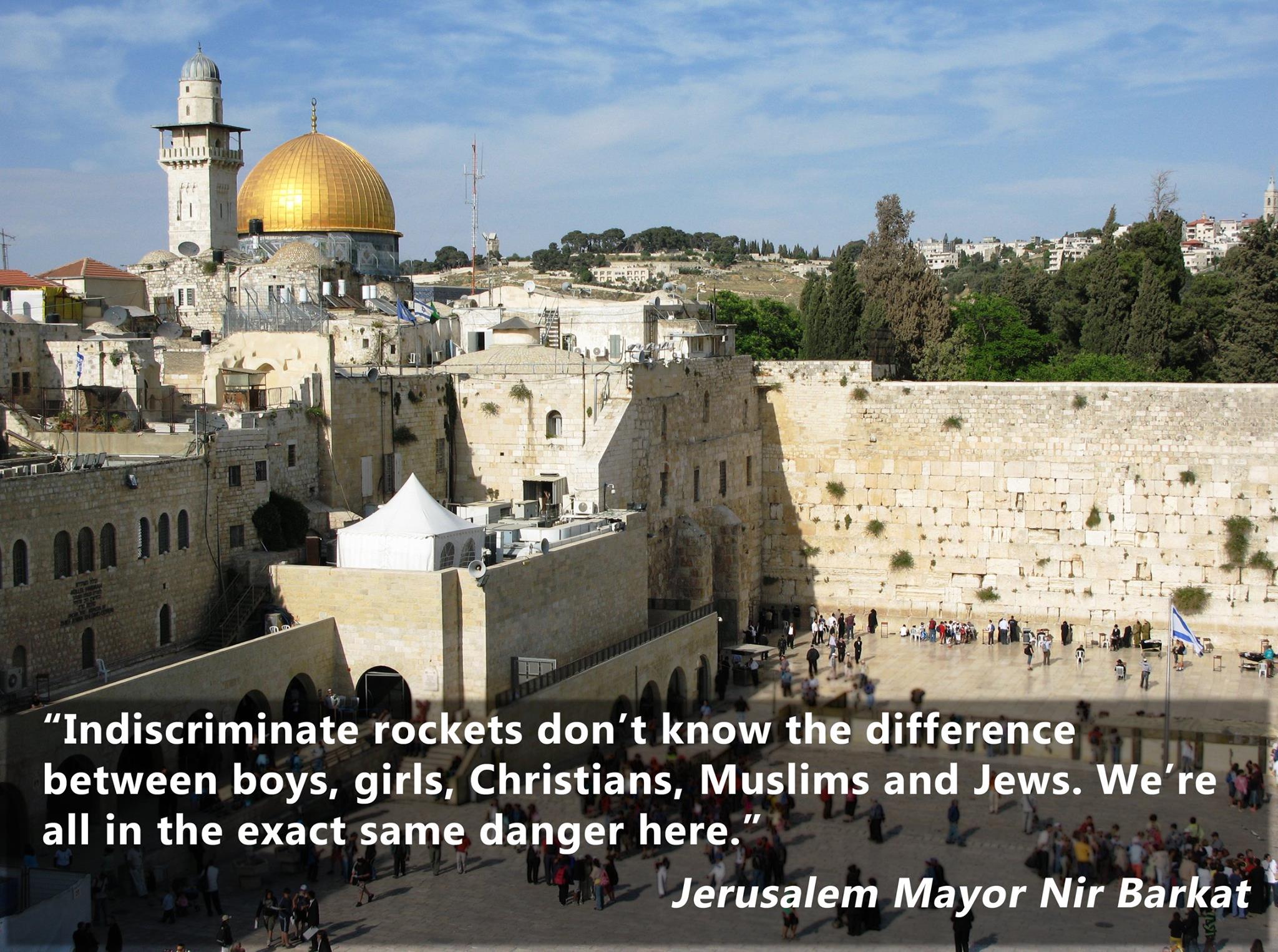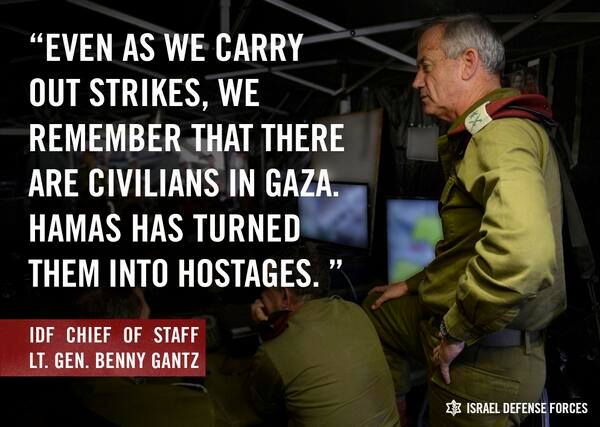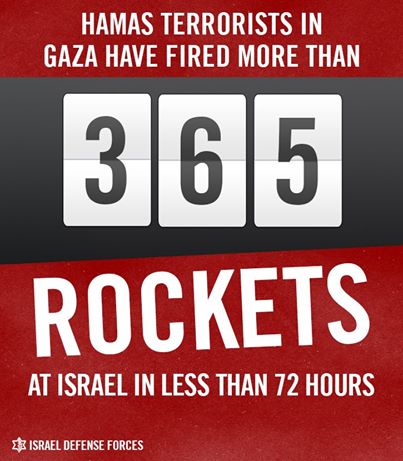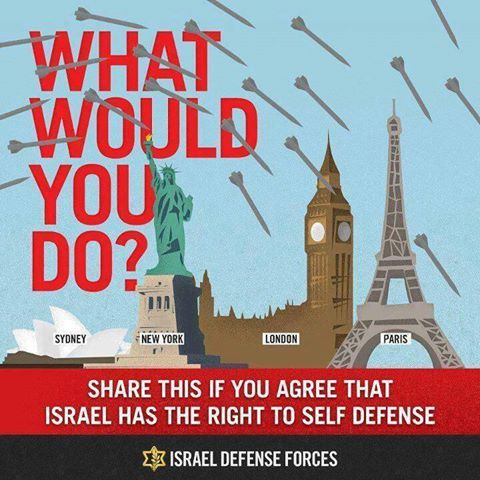 Does all this mean that the world loves or will come to love Israel? Most decidedly not. It could mean, though, that the world, including the Arab world, is finally figuring out that Israel is not the enemy. She is, instead, the canary in the coal mine when it comes to battling radical Islam. Moreover, people may finally be figuring out, thanks to Islamists having shown their hand too soon, that (a) if ISIS is Islam, it's not a religion of peace and we don't want it; and (b) that if we don't want it, we must act decisively or we'll end up having it, regardless of our desires.