Wednesday mid-day round-up and Open Thread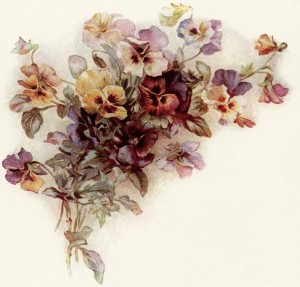 Hang on to your hats, because this round-up's a big one (and quite interesting too, I hope).
Reading through my own posts, I have a sense of a world rushing unstoppably towards something catastrophic. I think many feel this way, which is why they're so terribly aware of the 100th anniversary of WWI's onset, when a series of seemingly small events triggered the first of the 20th century's blood baths.
Rather than think of current events as the beginning of the end, I'm trying to think of them as the building crisis that becomes before one can lance a boil. Lance too soon, and things only get worse. But if you let that boil come to a head, and lance it at the right moment, you kill the boil, not the patient.
It's an ugly, graphic analogy, I know, but I often remind myself that, less than 100 years ago, shortly after WWI started, Rupert Brooke died after the battle of Gallipoli, not from a wound, but from an infected mosquito bite. It's better if infections don't start but, once they do, you have only a small window of time within which to defeat them.
As for Brooke, in the first heady days of WWI, when well-raised boys just out of school still viewed the war through a romantic, chivalric lens, and before the full horrors of trench warfare wiped out entirely Victorian innocence, he wrote this famous poem:
If I should die, think only this of me:
That there's some corner of a foreign field
That is for ever England. There shall be
In that rich earth a richer dust concealed;
A dust whom England bore, shaped, made aware,
Gave, once, her flowers to love, her ways to roam,
A body of England's, breathing English air,
Washed by the rivers, blest by suns of home.

And think, this heart, all evil shed away,
A pulse in the eternal mind, no less
Gives somewhere back the thoughts by England given;
Her sights and sounds; dreams happy as her day;
And laughter, learnt of friends; and gentleness,
In hearts at peace, under an English heaven.
** 1 **
While we're acknowledging the past, I'm sorry to report that another great member of the greatest generation has passed: Theodore "Dutch" VanKirk, the last surviving member of the crew of the Enola Gay, died at aged 93. Paul Tibbets, the plane's pilot, speaking of VanKirk, who was his navigator, and Paul Ferebee, his bombardier, described them once as "the best qualified airmen in the outfit." VanKirk, especially, had an uncanny knack for getting the plane precisely over the designated target.  Tibbets, VanKirk, and Ferebee, saw themselves as the Three Musketeers.
VanKirk never regretted his role in dropping the first atomic bomb:
"I honestly believe the use of the atomic bomb saved lives in the long run," VanKirk told The Associated Press in a 2005 interview. "There were a lot of lives saved. Most of the lives saved were Japanese."
He's right, too. We now know that, had the war continued using traditional methods, while Japan would eventually have surrendered, it would only have done so after hundreds of thousands of civilians died on mainland Honshu. Moreover, 60,000 – 100,000 more Americans would have died. With those numbers, the atomic bomb was a no-brainer.
Dutch VanKirk, I salute you! Godspeed.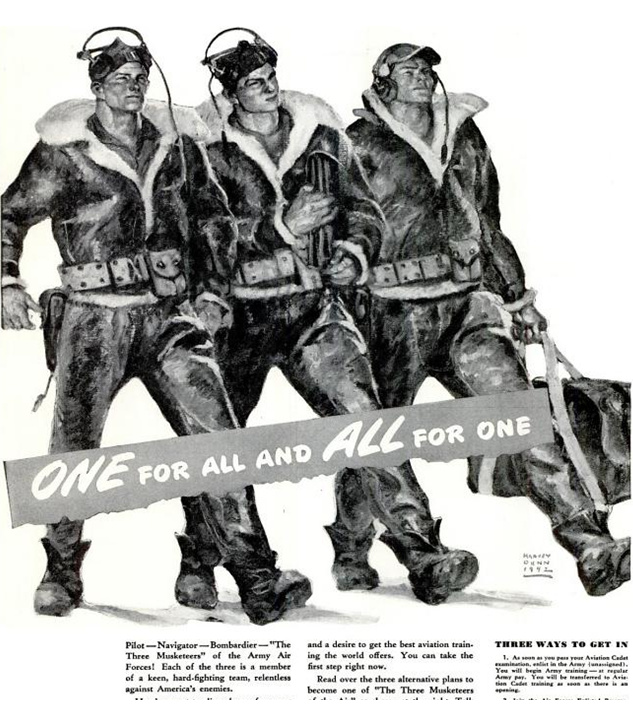 ** 2 **
PJ Media has put together a compendium of the way in which Hamas uses children, women, and animals — i.e., living beings within the society who have no free will — to carry out their dastardly double aims of killing Jews and manipulating world opinion.
** 3 **
Dan Gordon's encomium to the heroes in the IDF left me in tears.
** 4 **
A black Jewish woman cries "Shame!" at those American blacks (the majority) who support Hamas against Israel. She begins by reminding them that it was the Muslims who drove the slave trade in Africa, and then goes on from there.
** 5 **
Seth Mandel claims that Hamas's tactics show that it's losing the ground war. No wonder Obama is doing is best, vis-a-vis Israel, to snatch defeat from the jaws of victory.
** 6 **
And please ignore anyone who says that anti-zionism is different from anti-Semitism. Greg cleanly kills that fallacious argument.
** 7 **
Is Israel ignoring Obama, not just because he's a useless, pustular excrescence on the world's body politic, but also because they're hoping to run out the clock on Hamas's welcome amongst the Palestinians themselves?
** 8 **
The Israeli media has hurt the State Department's feelings — and the State Department appears incapable of understanding that Israel, like America, has a free press. This means, of course, that the media's statements are independent of the Israeli government. The State Department, however, is acting as if the Israeli media is like Pravda, or like any of the drive-by media outlets here at home, which robotically parrot the administration's party line.
** 9 **
I'm sorry to be so blunt, but a lot of DemProgs are just plain stupid. A blog called The Delaware Liberal has put forward its plan to end the war between Israel and Hamas. The premise, of course, is that the combatants are morally equivalent. The DL therefore proposes that there be an externally-imposed one-state solution.
This is a typical Leftist trope, with its biggest proponent being Samantha Powers. That's the kind of stupid we already know. What makes this specific proposal a new and wonderful stupid is this paragraph:
An international intervention, first offered voluntarily and if denied, forced on the two parties…probably with the UN as a peacekeeping force but with major trusted groups from both sides providing the reorganization: ie: the Arab League, UN and maybe NATO.
Yes, because the Arab League, the UN, and NATO have been such impartial, objective friends to Israel. For anyone who lives in Reality World, all of the objective evidence currently available indicates that the UN is actively complicit in advancing Hamas's military and genocidal goals. No wonder Roger Simon says it must be stopped. (Not that it will be stopped, especially because it's putting into practice what America's foreign policy leader — that would be Obama — supports in theory.)
** 10 **
Richard Fernandez wrote a great post about the denial that characterizes Washington's view of Islamists. In a way, what's even better than the post itself, is a comment Wretchard left to that post:
There's an unconscious soft bigotry in the press coverage of the region. Nobody wants to accept that these exotically caparisoned militants are serious. They're not out to 'end the cycle of hatred' or to 'promote reconciliation' or to 'seek justice'. They are out for conquest. They are out for blood. They are determined to grind their heel into the enemy's face and carry off everything he owns. Or, as one Iranian general put it: they are out to hunt the Jews house to house.

Yet even when they say it, we insist on misunderstanding them, as if they were retarded children, which they are not. "Surely you don't mean that? Don't you want a ceasefire? Of course you do. Can't we all stand on a mountaintop and share a Coke?"

If we could only listen to ourselves we would conclude that we were loco in the coco.

The only thing that distinguishes Israel is they, alone of all the countries in the region, are the only ones willing to humor us. To put up with this crazy talk. Obama is Napoleon, in the sense that inmates in the funny farm are convinced they are the former Emperor of France. Sure boss, sure you're Napoleon. Anybody can see that.

The Middle East is mentally at war. And the West is mentally on the happy ranch.
** 11 **
Using the Halbig decision as his starting point, Robert Tracinski has penned a mournful elegy for America's once robust and intelligent approach to drafting laws.
** 12 **
For your convenience, fellow Watcher's Council member Tom White (at VA Right) has put together a compendium of all the Gruber statements supporting the fact that, despite generally not knowing what was in the Obamacare bill, the Democrats in Congress definitely meant to limit subsidies to state exchanges:
** 13 **
"I was for Obamacare before I was against it." That could be a quotation from the mouth of any college professor who thought Obamacare was a great idea (and propagandized to his students about it), but has now discovered that, when actually put into play, Obamacare is a bad deal for college professors.  I'd be laughing myself sick if they were the only ones suffering from this legislative travesty.
** 14 **
Things are starting to emerge about Lois Lerner, and I'm not talking about evidence regarding her professional capacity as the leader of an IRS program to destroy use the IRS's incredible power to silence pro-Israel, anti-Obama voices by denying them the tax-free status awarded to DemProgs. Instead, we're learning about Lois Lerner, the person.
For example, we now know she's Lois Lerner the conservative hater (they're "a**holes"):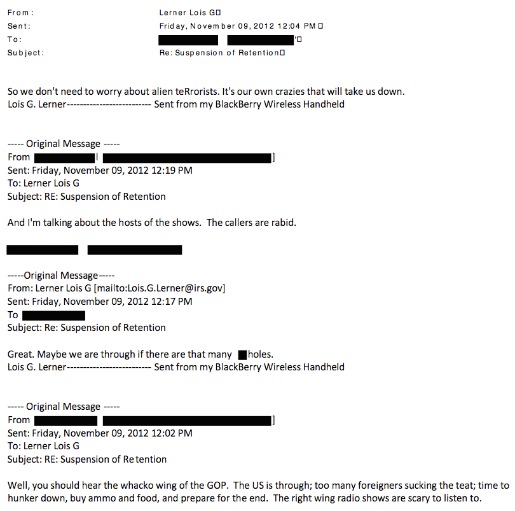 We've also learned that she's Lois Lerner the class snob and spelling idiot (sneering at the "hoi paloi"):

It's all well and good to sneer right back at Lerner, but it's worth remember that she is part of a Democrat elite class that runs the administrative branch of this country and that, thanks to public sector unions, has made itself virtually untouchable.
** 15 **
And really, in what sane universe is anyone okay with the IRS interfering with American foreign policy?
** 16 **
So, Jesse Ventura managed to win a $1.8 million judgment against Chris Kyle's' widow. The responses at Twitchy express how I feel.
** 17 **
I'm not much for Twitter (its enforced brevity doesn't work well with my loquacity), but even I'd noticed that AP's tweets have become semi-literate and manifestly biased. A once somewhat decent news agency has utterly debased itself.
** 18 **
In her logical, kind, impartial way, Megan McArdle completely destroys Mary Mapes, the gal who produced the "news" segment that led to Rathergate. McArdles article isn't just interesting on its own terms.  I also think every young lawyer should read it as a primer about how to use evidence for advocacy.
** 19 **
Was Mika tired? Did she have a stroke? Or was her DemProg brain overwhelmed by the logic she'd heard from Israeli Ambassador Ron Dermer? We'll never know, but we do know that she made an embarrassing verbal mistake as she sent the Morning Joe Show over to commercial:
**20 **
Obama will act with impunity on immigration and amnesty, because he knows he can — there's nothing Republicans will do to stop him. He knows that, as the first black president, he is immune to consequences. Moreover — and this has nothing to do with Obama — Congressional Republicans are spineless weasels and sell-outs, who are willing to put the party and the country on a suicide watch in order to garner the short-term benefit of Chamber of Commerce cash.
Perhaps given the fatal taint in the original Constitution (that it accepted slavery), there's a divine justice in the fact that our nation's freedoms are being destroyed by a sort-of black man. The irony would be more perfect if he were the descendant of slaves, but I guess irony isn't picky about the instruments it uses.
The illegal aliens, incidentally, are not grateful:
** 21 **
A lot of Marin's young people tend to go off to exotic locales to do volunteer work. It's nice that they recognize their good fortune, but I often think there's an unwholesome element of "white man's burden" to these journeys. After all, there's poverty and despair in America too. One of these volunteers has finally realized that her "voluntourism" is, at best, an ineffective way to help people, because it harnesses skills she lacks while ignoring those that she has.
** 22 **
Kevin Gallagher takes a humorless, pedantic stand against what he claims is Weird Al Yankovic's humorless pedantry in "Word Crimes." I, of course, found Word Crimes completely delightful. Anyway, as a lawyer, I incline to grammatic pedantry because I would guess that 80% of my commercial law cases involved problems arising from ambiguous language. Punctuation and grammar matter if clarity matters.
In any event, you don't have to read Gallagher's entire article, which oozes pedantic high dudgeon. Instead, enjoy the comments.
** 23 **
The science is in, and vegetarians are less healthy than meat eaters. Don't get too excited, though, fellow carnivores. As Earl (who sent me this link) added, one has to consider that many people embrace vegetarianism because they are sick. Thus, Bill Clinton, a heart-attack-waiting to happen, embraced vegetarianism as a way to turn his health around. He would have entered the cohort ill and skewed the statistics.
Still, I don't doubt that those who refuse meat are missing out on essential nutrients. We're meant to be meat-eaters. (On that subject, I highly recommend Catching Fire: How Cooking Made Us Human
.)
** 24 **
The Left likes that it's a party of "intellectuals" — witness all the university professors and their poor, brainwashed students who support the Democrat Progressive movement. In a post about geekdom's new trendiness, Charles C. W. Cooke explains what I laboriously figured out after leaving school, which is that being academically-oriented is not same as actually being smart, let alone functional.
** 25 **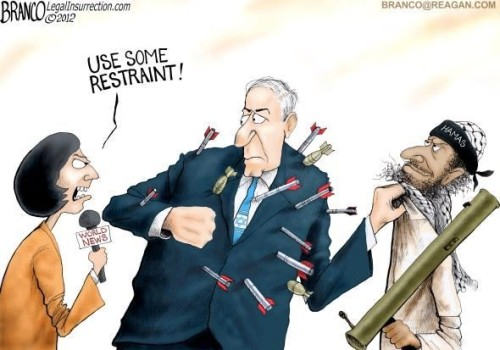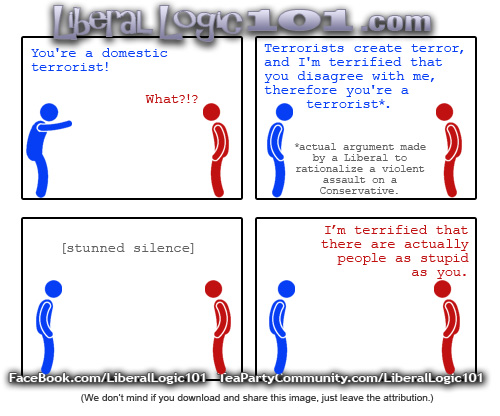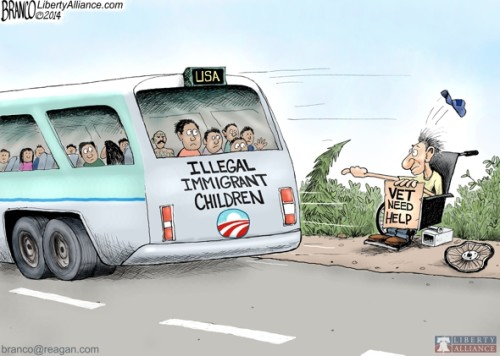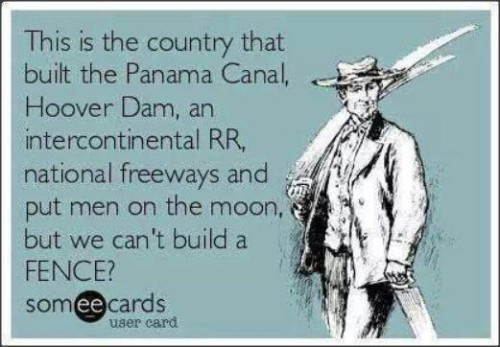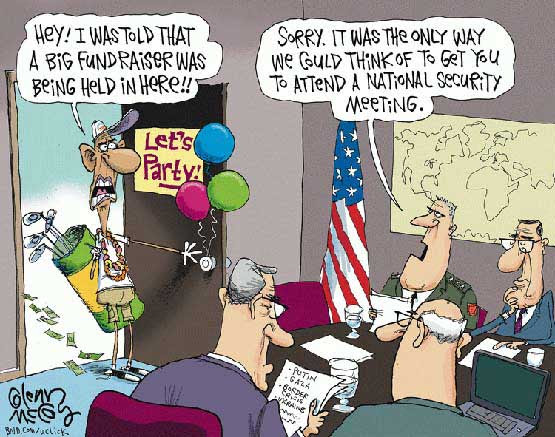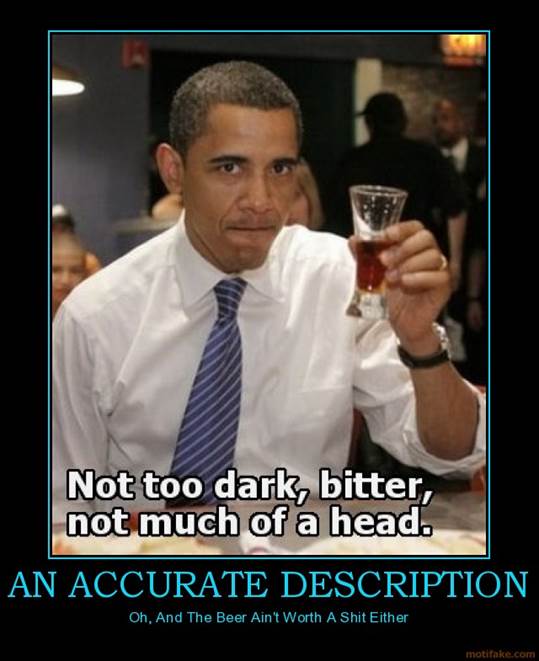 ** 26 **
As always, my thanks to Earl, Caped Crusader, and Sadie, who were instrumental in helping me find the articles and images described here.