Israel's friends need to keep a very close eye on Obama in the coming days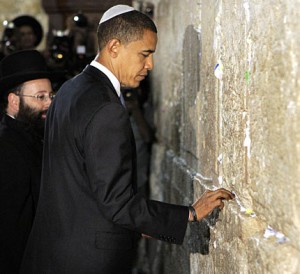 It's already old news that Obama halted what was supposed to be an automatic shipment of rockets to Israel to re-equip the Iron Dome system that protected her citizens so well from the thousands of rockets Hamas aimed at Israel from schools, hospitals, playgrounds, and homes in Gaza. One shipment thankfully won't make or break Israel's defense system. Shmuel Rosner, however, points to something incredibly disturbing about Obama's decision to halt the shipment, more disturbing even than the lack of rockets.
The disturbing aspect arises because it's unclear what purpose Obama is serving by withholding needed weapons systems from Israel. Rosner gives examples showing how, in the past, even presidents friendly to Israel have conditioned weapons on certain specific behaviors they wished to see Israel stop. This time, though, it's different and, to the extent Rosner can see any goals Obama hopes to achieve, none of them benefit Israel:
The current punishment is a mystery. We don't know what it is that the US is trying to achieve by halting the shipment of arms. I see several possibilities (there are probably more):

A. To generally humiliate Netanyahu: Surely, there is no great love between this administration and the Netanyahu government, and holding the shipment can be just one of these tit-for-tat insults with no clear purpose in mind. If this is the case, that's, well, childish.

B. To try to make Netanyahu more flexible at the Cairo negotiations: If this is the case, that means that, as David Horovitz wrote, the US is actively assisting Hamas (Horovitz made an even larger claim – that at this point, any public brawl between the US and Israel serves Hamas).

C. To pressure Israel into doing something else that Israel refuses to do, something that hasn't yet been made public. If this is the case, we will probably get more hints in the coming days as to the matter under dispute.
Rosner puts his money on Option A, which in some ways is even worse than the others. Think about it: We have reached a point in this administration at which it's perfectly possible, even reasonable, to believe that our president will willingly put a substantial percentage of Israel's 8 million Jewish and Arab citizens at risk simply because he's spiteful. We've gone from hope and change to petty and murderous in just six years.  We've also gone from a coherent foreign policy, one friendly to democracies, to a tyrannical foreign policy driven by the pique of a self-anointed imperial leader.
Looking at Obama's possible motives, Rosner also reaches a further conclusion, one that's even more disturbing than the fact that we have a president with the moral compass of a spoiled, nasty little three-year-old:
So I don't see a clear-cut case here for "Obama doesn't care about Israel's security". But I do see something else that is quite disturbing: Obama no longer cares if people say that he doesn't care about Israel's security.

Let me explain: for six years it was important for the administration to separate "security relations" from "diplomatic relations", because the separation enabled it to keep wrapping itself in a 'supportive of Israel' garment even as it was having bitter fights with the Israeli government. When relations were very tense, the pretense of them being still very strong was important for the Obama administration to maintain. Of course, part of it is because it is true: the relations are still strong. The US and Israel have ties strong enough to sustain a period of tension between the two governments. But there were also other reasons for the Obama team to insist on the viability of the "security" relations. Possibly, some of this was for political reasons – Obama did not wish to pick a fight with political supporters over Israel. And some of it probably had psychological motivations – it enabled people within the administration that are basically supportive of Israel to compartmentalize their own feelings about the policies of the administration in which they serve.
If Obama genuinely believes that his friendly behavior regarding Israel no longer matters when it comes to carrying out his agenda at home, the situation can be disastrous for Israel. Those of us paying attention to Israel have always known that someone who hangs out with Palestinians and Israel-haters not only isn't a friend of Israel, no matter his rhetoric but is, instead, an enemy of Israel. Having kept up the "friend" pretense as long as he thought necessary, he apparently believes that the time has come for him to throw off the pro-Israel mask and show his true colors. If Rosner is correct, halting rocket shipments isn't the worst thing that Obama has prepared for the Jewish nation that he finagled into relying on him, to its detriment, for six years.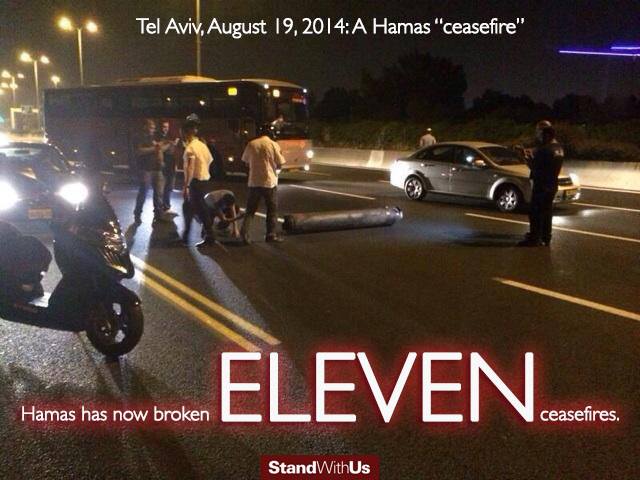 This speculation takes on extra urgency, today, with Hamas having broken the ceasefire just hours ago by shooting a massive rocket barrage at Tel Aviv and Jerusalem.  The next few days will speak volumes about whether Israel can still look to America for support.
The fact that the American population strongly supports Israel will not matter if the President has decided that he no longer needs this domestic support for Israel to carry out his own agenda. As a presumed Israel hater (again, look at his friends), Obama may use his unique authority on foreign affairs to cut Israel adrift. It really doesn't bear thinking about, but think about it we must.
Certainly, the IDF is focused and angry. On Facebook, it left a very ominous message: "Hamas has made its decision. Now we will make ours."