Some random last thoughts about RFRA and gay marriage
A friend sent me this poster: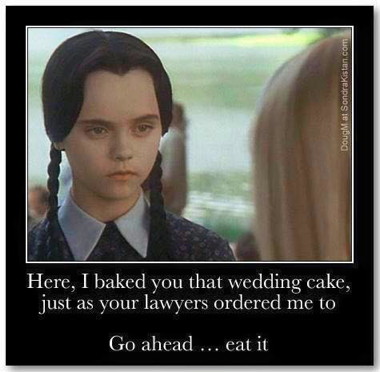 I emailed my friend back, and thought I'd share with you the random thoughts the poster triggered in my fevered brain:
We know that gay lefties, each thinking of him or her (or its) self as a modern-day Rosa Parks, aren't just stumbling into these bakeries or photographic studios by accident, but are, instead, deliberately targeting Christians. It's the nature of the target, of course, that explains why these self-styled activists are no Rosa Parks. Parks targeted government discrimination. These lefties are targeting individual freedom of religion, freedom of speech, and freedom of association. Huge difference.
And here's another "one more thing" to say about this gay mafia: Because they're targeting good Christians, I can bet you the Lefties assume that the same people who place such value in their relationship with Christ would never dream of spitting in food — or doing something even nastier. If you watched that icky movie The Help, you remember that the black woman got audience applause for baking her own feces into a pie. The Left knows, however, that someone who will sacrifice a job rather than betray his faith won't really do something like that.