Musings about the Leftist Man-God and his unshakeable belief in his infallibility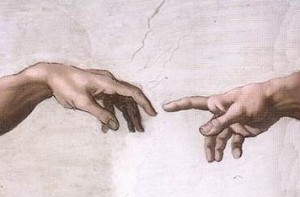 I continue to be unpleasantly overwhelmed by deadline intensive work.  Breaks are few and far between.  The virtue of this is that, separated from the minutiae of daily news, I've had the opportunity to step back and focus on larger trends.  My musings today too me into the realms of Leftist Infallibility.
One of the most frightening things that characterizes the Left it its sense of its own god-like power and knowledge. That's always been present in its atheistic tendencies (look at the bloodshed of the French, Russian, and Chinese revolutions), but we're seeing a different version of it in the 21st century, one that I think arises because of "scientific utopianism." When I say "scientific utopianism," I'm talking about a sense that began with post-WWII culture and, all emerging data to the contrary, continues to escalate amongst Lefties.
Scientific utopianism used to be summed up in the old slogan "Better living through chemistry."  That was a commercial line to sell products, both licit and illicit.  Amongst Leftists, however, it's the belief that science — or, more specifically, their take on science — offers all the cures for mankind, not to mention the power to destroy mankind.
Back in the 1950s, although people understood that science could wreak unbearable havoc (e.g., the atom bomb), at the same time possibilities seemed so limitless and exciting. I think Disney captured it best in educational cartoons celebrating medical and scientific advances, in Tomorrowland, and in the Carousel of Progress. People envisioned a world of clean, easy, unlimited travel; perfect health; endless food and clean water supplies; the ability to wage war quickly, efficiently and, if possible, relatively painlessly; day-to-day comforts that effectively ended work; and comfortable control over the environment.
Barring that looming mushroom-shaped cloud, this scientific utopianism promised the Baby Boomers (and their progeny) that Nothing was Impossible. The ordinary consumer, not given to deep thought, understood these  "Better living through chemistry" and "Nothing is impossible" slogans to mean basic, and wonderful things, such as the eradication of polio and the introduction of the microwave often.
For the Leftist intellectual, though, these slogans meant something much greater: If nothing is impossible for man, who needs God? Man is God. So as not to offend those "voting morons in flyover country" (and yes, that is how the Left thinks of you), it's dangerous to be tactless enough to admit that man is his own God, but the Leftist intellectual class certainly concluded that this was the case.
If man is God, he has asked all the right questions and, solipsistically, has all the right answers. Your Man-God has cleared the way for himself: His beliefs about the Big Bang (a Catholic priest may have come up with the idea, but it clearly means no God); climate (man is more powerful than the earth, and the solar system); diet (science or their accompanying Gaia worshippers, who are the crunchy version of God deniers, know exactly what you should and shouldn't eat); medicine (which merges perfectly with the "man is God" ethos about science and food); and gender (mere biology is so limiting, and Man-God can and should transcend it) have create to the Man-God's satisfaction a fully realized universe and moral doctrine. Moreover, given that this is a faith, whether achieved through white-collar science or crunchy Gaia-worship, this new Man-God, is just like that nasty, judgmental, homophobic, probably racist, and definitely misogynistic Biblical God in one very significant way:  He is infallible.
Except that every month a slew of news stories shows that your newly anointed Man-God  is not infallible. Indeed, far from it.  In a very short time, we've learned the following (and I'll leave you to search for links, if you're so inclined): butter in moderation is not bad for you; cheese in moderation is not bad for you; whole milk in moderation is not bad for you; salt in moderation is not bad for you; artificial sugar in any amount is bad for you; polar bears are not going extinct; glaciers are not vanishing; the Arctic and Antarctic are still here; hurricanes are not worse; the ocean has not risen to the proportions of that mythical Biblical flood; the Big Bang theory may be wrong; unlimited amounts of marijuana probably aren't harmless; chocolate is healthy (I always knew this); coffee is healthy; vaccinations do not cause autism; and on and on. I bet that, even as you're reading this, you're mentally tallying up all the recent stories I've forgotten that turn conventional wisdom on its head.
The problem with having elevated yourself to the altar is that the view from there is nice. There's a heady pleasure in seeing people bow down, worship, and obey your every command. The world's collective Leftists are therefore unwilling to acknowledge their all-too-human fallibility. Instead, they're doubling down on their assertions, predictions, demands, and sense of infallibility.
Think of it: In a Judeo-Christian era, when individuals or select groups arrogated god-status to themselves, they'd be appropriately ridiculed and marginalized. Now, they're worshiped and we offer them the keys to our earthly kingdom.