The Humpty Dumpty remedy for the Church's gay marriage problem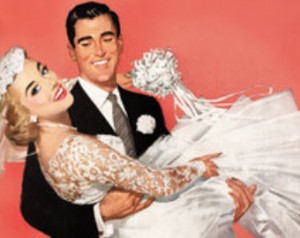 The fact that I've been too busy to blog does not mean I've been too busy to think.  My thoughts of late have turned to gay marriage.  I predicted a long time ago that turning gay marriage into a Constitutional right would open the way for a direct attack on religion — or, more accurately, on traditional Christian faiths — and I was entirely correct.  NRO's David French has been busy tracking the immediate legal, political, and financial attacks aimed at the church in the wake of the execrable Supreme Court decision. It no longer matters that the Court could have reached a similar, constitutionally correct, outcome without destroying religious freedom. The reality is that the Court did what it did, and the Left is armed and ready to fire.
Another thing I observed back in 2008 or 2009 is that the gay "marriage" problem is, as much as anything, a question of semantics.  Although America long ago constitutionally separated church and state, our concept of marriage remained stuck in the British tradition, one in which church and state were the same thing.  Marriage was seamlessly a civil and a religious event.
In the past century, and with accelerating speed in the past two decades, Americans have turned to the word "marriage" to represent two entirely different events:  The first is the religious, or quasi-religious, coming together of a man and a woman before their friends, their God, or their New Age guru; the second is a bureaucratic process notifying the government that a couple wants the economic and contractual benefits and burdens the government bestows on those who live together with the presumptive intent of having children.  The word "marriage," therefore, has two fundamentally unrelated meanings, one purely religious and one purely civil.
Because this semantic difference is causing real problems thanks to same-sex and polygamous "marriage" demands, I have been arguing since 2008 that America's federal and state governments should get out of the marriage business entirely and, instead, sanction only "civil unions."  Under this scheme, states can sanction whatever the heck "civil unions" they want — man/woman, man/man, woman/woman, cow/pig, man/women, etc..  Each state would be an experiment in determining what unions most benefit society as a whole, the state's economic well-being, and, most especially, children's ability to thrive.
But that's not what Justice Kennedy did.  Instead, he looked at the U.S. Constitution and found hidden in it, hidden behind the unicorns and rainbows, a constitutional right holding that everybody's dignity is such that they can marry whomever or whatever they want.  Most of the Founders would be horrified about this hitherto unsuspected "civil right," although I suspect old Benjamin Franklin would have been amused.
Still, as the old saying goes, if the mountain won't come to Mohamed, than Mohamed most go to the mountain.  Because Kennedy has insisted that government "owns" marriage, it's time for the church to let go of marriage entirely and try something new.  Now, don't get too upset.  Hear me out, because I think the Left has shown traditionalists the way to go. You need to think about the stories that have been dominating news headlines for weeks, even years, of late.
Rachel Dolezal has shown us that all people, no matter their genetic racial make-up, can be whatever race they prefer. Of course, this can be a bit of a double-edged sword as the media showed with George Zimmerman.  Race becomes a fluid concept depending on whether you're the right kind of victim or not. If you've been beaten up by a white guy, you're undoubtedly black or Hispanic (or gay, or all of the above), but if you're a light-skinned Hispanic who killed a murderous black man in self-defense, you're first white and, when that fails, you're that new breed of race called "white Hispanic."
Of course, successful racial re-identification isn't limited to blacks and Hispanics. In academia, the favored racial "borrowing" is Native American. Andrea Smith, Elizabeth Warren, and Ward Churchill have shown us that, no matter the absence of a single drop of Native American blood in your body, if you think you're an Indian, then you're an Indian.  (Actually, Irving Berlin had already figured this one out a long time ago.)
The most exciting type of re-identification, of course, has to do with sex.  Bruce "Caitlyn" Jenner has shown us that anyone, no matter his or her X and Y chromosomes, or the conspicuously present or absent dangly bits in a person's crotch, can be whatever sex he or she prefers.
This ability to define reality to suit oneself isn't limited to ones own body.  It can also apply to events.  For example, despite overwhelming proof to the contrary, poor deluded Emma Sulkowicz is a rape victim.  Lena Dunham's drunken, consensual hook-up?  Rape and she's a victim too.
The important thing to remember with all these re-imaginings of ones self is that, no matter how ludicrous they are, everyone else is honor bound to accept them as truth. Despite Caitlyn's massive upper body, missing waist, present penis and testes, and absent (but not surgically removed) ovaries, uterus, and milk ducts, Caitlyn is henceforth a man.  That's reality.  You're not allowed a gracious, polite accommodation of her delusions.  Instead, when you use those feminine pronouns to describe Caitlyn, you'd better mean them.  Anything else, any doubt about reality, is grotesque cisgender heteronormative sexism. Oh, and while you're at it, we've always been at war with Eastasia.
What's scary is that this kind of delusional thinking (of the "we have always been at war with Eastasia" stripe) is not limited to lay people.  A doctor I know insists that Caitlyn Jenner, having undergone breast augmentation and hormone treatment (although the dangly bits apparently remain intact), has actually "changed" from one sex to another.  The fact that the changes are superficial or transient, and that they do nothing to alter Bruce/Caitlyn's gender-based bone structure, internal organs, and DNA is irrelevant.  To the doctor, the magic is real:  Caitlyn and others similarly situated are truly changed, rather than merely having undergone procedures bringing their physical shape into greater conformity with their personal desires and sense of self.
I'll add here, as I often do, that I have no particular beef with Caitlyn Jenner, although I find distasteful her relentless exhibitionism. If you want to have me pretend you're a woman, and are not insisting that I abandon reality and my society's stable social structure to do so, I will happily refer to you as "Miss." Heck, I'll call you Loretta or perhaps I'll call you a cab — anything you like as long as your delusion isn't foisted on me.
What the Left has done is put its imprimatur on the Humpty Dumpty school of defining words. As H-D famously said to Alice in Through the Looking Glass,
"When I use a word," Humpty Dumpty said, in rather a scornful tone, "it means just what I choose it to mean—neither more nor less."

"The question is," said Alice, "whether you can make words mean so many different things."

"The question is," said Humpty Dumpty, "which is to be master—that's all."
It seems to me that, now that the Church faces the threat extinction at the hands of Leftists with the Obergefell bit in their teeth, it's time to go Humpty and turn the Left's tactics back upon it.
I once said that the state should get out of the marriage business. Since that's not going to happen, traditional religions need to get out of the marriage business. The big announcement should go out: In light of the Supreme Court's ruling in Obergefell, it's become too financially risky for traditional religious institutions to conduct marriage ceremonies any longer. To the extent Obergefell governs a constitutional right to "marriage," the traditionalists are taking their marbles and going home.  They simply won't play the marriage game any more.
That's not as draconian as it sounds.
Just as Columbo always turned away, only to turn back again with that one last question, religious organizations might have a tag end to that "end of marriage" announcement:
"Oh, by the way . . . . One more thing. Having searched through our religious texts, we've discovered that what God actually requires of the faithful isn't 'marriage' at all, but a "covenanting ceremony."  And in case you're wondering, it's just a coincidence that this covenanting ceremony looks precisely like the weddings of old, right down to the one man/one woman aspect, the prayers and blessings, the officiating priest, minister, rabbi or imam, or anything else. No matter what you, the Leftist might think, these are no longer marriage ceremonies, any more than Caitlyn is still a man, George Zimmerman is Hispanic, or Emma Sulkowicz is a delusional girl rather than a rape victim. They have been transformed."
I'd like to add one other point while I've got your attention.  Straight people, when they marry, proclaim their love and commitment to each other in the presence of God, their family, and their friends.  The civil aspect is simply a pragmatic step to obtain the benefits of civil marriage, irrespective of some of the corresponding civil burdens.  The Left, with its "#LoveWins" battle cry has made clear that, when it marries, it wants Big Brother to proclaim its love for them. That's really kind of sad when you think about it, isn't it?