Understanding just how serious Hillary's server problem really is — BY SCOTT, MY GUEST BLOGGER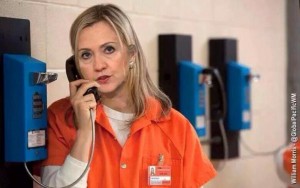 Will Hillary Clinton survive this e-mail scandal criminally and politically? It is tough for me to see how, given the revelation that she had retained on her private server e-mails containing classified information. This is all dripping out slowly – the worst possible thing for Hillary. Her trustworthiness rating in the polls is already Nixonian and it will only continue to drop as more information – or more stonewalling – comes to light.
And rightfully so. Every single word Hillary has said about her email system has turned out to be likely false, demonstrably false, or ridiculous spin:
She complied with all regulations – false.
She wasn't subject to a subpoena for documents when she unilaterally disposed of over half of her e-mail as private — false.
She didn't send or receive classified information – false.
The information in her e-mails wasn't classified at the time it was sent – false.
She didn't send the classified information stored on her server, someone else did – meaningless.
The information was not marked classified – meaningless.
I've compiled a time line, below, and these facts tell the tale. Regardless of why Hillary set up a private server, there is no question that she used it to hide from lawful subpoenas and FOIA requests. She didn't turn over a single document until it became clear that Trey Gowdy was being so persistent in forcing the issue that she had to. She had no right, under State Dept. regulations, to unilaterally decide what was and was not a government record, nor could she destroy records knowing that they would be part of an ongoing investigation. We know that some emails she received from Sydney Blumenthal were not provided in the documents she submitted to the State Department in December, 2014 claiming that they were a comprehensive production of all government records on her private server.  Thus it is reasonable to assume that she in fact destroyed government records relevant to a subpoena.
Hillary's conduct amounts to obstruction of justice (18 USC 1519) and comes with a jail term of up to 20 years. To put this in perspective, the accounting firm of Arthur Anderson was put out of business by the DOJ in 1992 for obstruction of justice when it destroyed records relating to its accounting of ENRON.
I would imagine that, criminally, the Obama DOJ, which is perhaps the most politicized in our nation's history, would simply ignore Hillary's obstruction if that is all there was. And given the complexity of the facts, most people would just tune it out. Clinton would do one of her well-practiced shameless squeals of victimized outrage, complain of a vast right wing conspiracy, and her minions would do the rest in the press and the Sunday morning shows. Obama's DOJ certainly showed no rush to intercede in this matter, just as it already has countenanced obstruction of justice and destruction of government records from the IRS and Lois Lerner without any sort of criminal investigation.
But obstructing justice is far from all. Hillary's email scandal reached critical mass when the Inspector General for the Intelligence Community found classified information in four of forty documents Hillary Clinton produced from her private server. That is when this private e-mail travesty went from obstruction of justice to a threat to national security. And what we are seeing is the tip of the iceberg.
The government takes little more seriously – among the peons at least – than maintaining the security of our classified information. People are prosecuted all of the time for mishandling classified information (18 USC 1924). By mishandling, that means that the defendant took control of and secured classified information in a place or manner that was not authorized. Notably, both David Petraeus and Sandy Berger were prosecuted for that offense. Hillary Clinton's private server was not an authorized conduit or receptacle for any classified information. The presence of classified information on her private server would seem a clear violation of the applicable statute.
A far more serious offense comes when you take classified information and destroy it or transfer it to other people not authorized to see it (18 USC 793). That carries a jail sentence of up to ten years per act and the standard of conduct is gross negligence. Under the Obama administration, Bradley Manning was convicted for violating this statute and jailed for 35 years. State Dept. contractor Stephen Kim was given 13 months for discussing arguably non-classified information with Fox News' James Risen. Former CIA officer Jefferey Sterling was recently sentenced to 42 months in prison while former CIA officer John Kiriakou served 30 months, both for providing classified information to a party not entitled to see it.
The IT company Hillary hired to control her server beginning in 2013, River Platte, has no security clearance. Neither do any of the attorneys Hillary tasked with reviewing all of her e-mails and selecting those that she was willing to produce to the State Dept. on December 5, 2014. Those would appear to be clear violations of the statute at issue.
So what remains to be answered:
How many more of the 30,490 emails contain classified information? We are at four out of forty at this point. At some point, these documents will be evaluated by the IG for the Intelligence Community.
Who precisely has had access to Hillary's server and e-mails because of her "gross negligence?" What are their security clearances, if any?
Are the 31,000 "personal" documents Hillary claims to have wiped clean from her server backed up on any other medium. This is very unclear. River Platte claims that it transferred all data on Hillary's server to one or more servers in 2013, then wiped her original server clean. The FBI has taken control of the original server. Where did River Platte transfer the data and where is it today? What about backups and archives?
If Hillary's emails were sanitized and 31,000 emails wiped clean, who precisely did the document review and what criteria were they instructed to follow? When did they do it?
What are the actual contents of the 31,000 emails Hillary erased?
How much damage has Hillary done to our national security?
None of the answers to the above questions bodes well for Hillary. This is not the typical Clinton scandal. It is not Travelgate, White Water, the Rose Law Firm, Vince Foster, nor Monica Lewinsky and the bimbo eruptions. This isn't even about Benghazi now. And as the fact pattern below suggests, this is on a trajectory to get far worse for Hillary in the coming months. I don't think she survives this. What say you?
Background Information & Time Line:
Applicable Laws
18 USC 793 – Gathering, transmitting or losing defense information. Felony with fines and imprisonment up to ten years.
18 USC 1924 – Unauthorized removal and retention of classified documents or material. Misdemeanor with fines and imprisonment up to one year.
18 USC 1519 – Destruction, alteration, or falsification of records in Federal investigations and bankruptcy. Felony with fines and imprisonment up to 20 years.
Clinton Timeline
13 January 2009 – (CW) Hillary registers clintonemail.com.
21 January 2009 – (RT) Hillary sworn in as Secretary of State and immediately begins use of her private e-mail system to conduct all her duties as Secretary. For the first three months Hillary served as Secretary of State, her private email server had virtually no security. It was not encrypted.
29 March 2009 – (Wired) Hillary finally begins to use run-of-the-mill, commercially available security on her system. This decision to use a private e-mail server and commercial security left her highly vulnerable to hacking. We may well never know if or how often her e-mail was hacked by individuals or foreign agencies.
20 Sept. 2012 – (Wash. Ex.) The House sends a document request to Sec. of State Clinton requesting all documents relating to Benghazi, putting Clinton on formal notice for the purpose of federal law governing Obstruction of Justice that the House "contemplated" investigating the Benghazi incident. The State Dept. responded to this request by producing some responsive documents, but did not produce any of Hillary's e-mails.
1 February 2013 – (NRO / NRO) Hillary resigns as Sec. of State. She does not follow any of the internal State Dept. Procedures for turning over records. Moreover, Hillary never had the authority under State Dept. regulations applicable to all employees, "including political appointees," to decide unilaterally what was and was not a government record on her e-mail account. Per those regulations, she was supposed to make a list of proposed items she would retain.  A reviewing official would then inspect both the list and the items.  If they passed inspection, the official would then certify that the material removed or retained did not "diminish the official records of the Department" or "violate confidentiality required by national security . . ."
2013 – (WaPo): "After she left government service in early 2013, the Clintons decided to upgrade the system, hiring Platte River as the new manager of a privately managed e-mail network. The old server was removed from the Clinton home by Platte River and stored in a third-party data center, which are set up to provide security from threats of hacking and natural disaster, [Barbara J.] Wells [a lawyer for Platte] said. [¶] Platte River Networks has retained control of the old server since it took over management of the Clintons' e-mail system. She said that the old server 'was blank,' and no longer contained useful data."
(Daily Caller reported 14 Aug 2015) – "Former Secretary of State Hillary Clinton entrusted her email server to an IT firm [Platte River] that was not cleared to handle classified materials, according to the chief spokesman for the Defense Security Service. The DSS is an arm of the Defense Department and is the only federal agency authorized to approve private sector company access to sensitive or confidential material."
1 August 2013 – (Wash Ex) The House issues two subpoenas to the State Department, one for documents the House had requested but the State Dept. still had not produced, and a second for documents related to Secretary Clinton's internal, self-exonerating State Department investigation, known as the Accountability Review Board.
17 April 2014 – (Wash Ex) The State Dept. completes its production of documents allegedly responsive to the House subpoenas. None of the documents include e-mails by Hillary.
8 May 2014 – (Wash Ex) A new House Select Committee is formed under Trey Gowdy to investigate the Benghazi incident. Gowdy attempts to "reset" relations with the State Dept and asks them to comply fully with prior subpoenas.
11 Aug. 2014 – (Wash Ex) The State Dept. produces documents to the House. The production includes approximately ten emails to or from Hillary showing her private email address. This is the first time the House becomes aware that Hillary was conducting her duties as Sec. of State using a private e-mail account. Gowdy's committee against presses the State Dept. to comply with the subpoenas.
October 2014 – (Wash Ex) The State Dept. formally requests that Hillary provide all government records still in her possession, including e-mails. It does so in response to pressure from the House. In order to make this seem as if it is in the normal course of business, it sends out similar requests to the previous three Secretaries of State.
Late 2014 – (LI) According to documents Hillary's lawyer filed in federal court, Hillary Clinton directed her lawyer to review the e-mails on her server in order to provide all "federal records" to the State Department. Her lawyer has no security clearance.
18 November 2014 — (Wash Ex) The House sends another request to the State Department asking for emails to and from Clinton relating to the Libya attack. This time, committee staffers include instructions specifically demanding emails that were sent or received on any @clintonemail.com account.
2 December 2014 – (Wash Ex) The House sends a letter to Clinton's attorney asking for all emails to or from clintonemail.com that relate in any way to Libya. Clinton's attorney would later respond by directing the House to to the State Dept's previous production.
Dec. 5, 2014 – (LI) Clinton's attorney delivers to the State Dept. 30,490 e-mails hard copied onto 55,000 pages, claiming those to be the sum total of all federal records in Hillary's possession. He retains thumb drives with those e-mails in their electronic form.
2 March 2015 – (NYT) The NYT breaks the story about Clinton's use of a private e-mail system to conduct her duties as Sec. of State.
4 March 2015 – (Fox) Trey Gowdy issues a subpoena directly to Clinton demanding responsive e-mails on her private server.
7 March 2015 – (Daily Caller) It becomes apparent that the State Dept. intentionally mishandled Numerous Freedom of Information Act (FOIA) Requests going back to 2012, all of which should have elicited emails from Hillary's private email.  These requestse included one in in 2012 that specifically asked the State Dept. to identify all email accounts Hillary used to conduct her State Dept. duties.
10 March 2015 – (WaPo) Hillary holds a press conference at the UN before mostly foreign journalists to address her e-mails. She makes no mention that her server has been wiped clean, stating only that she will not submit it for inspection. She states that what she did complied with all relevant rules and that it was custom and practice to to so, a claim an  AP Fact Check disputes the next day:
"I opted for convenience to use my personal email account, which was allowed by the State Department, because I thought it would be easier to carry just one device for my work and for my personal emails instead of two." (See NYDN article showing Hillary bragging about managing three different email/electronic devices in her daily life)
"[T]he vast majority of my work emails went to government employees at their government addresses, which meant they were captured and preserved immediately on the system at the State Department." (That would not been the case with her assistant, Huma Abedin, nor her Chief of Staff, Cheryl Mills, both of whom likewise maintained email accounts on clintonemail.com. Nor would it be the case as regards correspondence outside of the State Dept., such as to heads of state or Sydney Blumenthal)
"[A]fter I left office, the State Department asked former secretaries of state for our assistance in providing copies of work- related emails from our personal accounts. I responded right away and provided all my emails that could possibly be work-related, which totaled roughly 55,000 printed pages, even though I knew that the State Department already had the vast majority of them."
"QUESTION: Were you ever — were you ever specifically briefed on the security implications of using — using your own email server and using your personal address to email with the president? CLINTON: I did not email any classified material to anyone on my email. There is no classified material. . . . So I'm certainly well-aware of the classification requirements and did not send classified material."
19 March 2015 — (Pdf) Congressman Trey Gowdy, in a letter to David Kendell, Hillary's lawyer, all but accuses Hillary and her team of being dishonest by omission in regards to Hillary's emails. Moreover, Gowdy notes that the emails that Hillary had already produced show a significant gap in time around the Benghazi disaster. Gowdy asks Hillary's attorney to agree to give Hillary's private server to the State Dept.'s IG or a neutral third-party so that all of her emails can be reviewed for compliance with the latest and prior subpoenas.
27 March 2015 – (Politifact) Hillary's lawyer responded to Trey Gowdy's letter. This from Polifact: "'During the fall of 2014, Secretary Clinton's legal representative reviewed her [email protected] account for the time period from Jan. 21, 2009, through Feb. 1, 2013,' Kendall wrote. 'After the review was completed to identify and provide to the Department of State all of the secretary's work-related and potentially work-related emails, the secretary chose not to keep her non-record personal emails and asked that her account (which was no longer in active use) be set to retain only the most recent 60 days of email. No emails from [email protected] for the time period Jan. 21, 2009, through Feb. 1, 2013, reside on the server. Thus, there are no [email protected] e-mails from Secretary Clinton's tenure as secretary of state on the server for any review, even if such review were appropriate and legally authorized.'" (This statements begs the question of precisely when the server was wiped clean and whether there are any archived back-ups. If this is accurate, then the server was wiped clean sometime between 5 December 2014 and 27 March, 2015. Moreover, as noted at Hot Air, this meant that Hillary wiped clean from her server over 31,000 e-mails from her time as Sec. of State, claiming them to be wholly personal. That is more documents than she produced. She would have had to have been sending an average of over 21 personal emails a day each day while she served as Sec. of State.)
15 June 2015 – (Politico) Responding to a subpoena, the State Dept. produces documents to the Benghazi Select Committee. The production does not include at least 60 e-mails Sydney Blumenthal sent Hillary at her private e-mail address discussing national security and foreign policy matters. It appears that they are among the ones Hillary never turned over and subsequently destroyed.
7 July 2015 – (Youtube) Hillary gives her first, and to date only, national interview. She states that all the questions and accusations about her email are a vast right wing conspiracy. She further claims that the House never subpoenaed her documents and that she had no legal obligation to provide her e-mails to the State Dept., adding that they all would have been captured when she sent the e-mails to .gov addresses.
8 July 2015 – (Hugh Hewitt) Trey Gowdy appears on Hugh Hewitt's radio show to point out that Hillary's documents have been under multiple subpoenas since 2013, with the most recent directly addressing her private e-mail account served on her attorney on 4 March 2015.
31 July 2015 – (Powerline) It is revealed in Court for the first time that Hillary's two closest associates at the State Dept., her "special assistant" Huma Abedin and her Chief of Staff Cheryl Mills, also maintained their work email addresses on clintonemail.com, thus shielding their emails from production just like Hillary's. Hillary later certifies that only Huma Abedin maintained such an email address.
1 Aug. 2015 – (Politico) Approximately 30 Freedom of Information Act (FOIA) lawsuits seeking documents that would have been kept on the clintonemail.com server are ongoing or have been reopened following revelations about Hillary's private server. On 1 Aug, Fed. Dist. Ct. Judge Emmet Sullivan asked the State Dept. to have Hillary, Huma Abedin, and Cheryl Mills each certify under oath, subject to penalty of perjury, that they have produced all responsive documents.
11 August 2015 – (Fox) Charles McCullough, Inspector General for the Intelligence Community, informs Congress that, of the 40 random e-mails the State Dept. provided to him for review, four contained classified information from five different intelligence agencies. Two of those e-mails contained information classified Top Secret at the time of its production. Further, the Top Secret information in one of the e-mails consisted in part of "operational and geospatial intelligence from the CIA and the National Geospatial-Intelligence Agency (NGA), which produces satellite images." He has been denied further access to any of Hillary's documents. The State Dept. is currently producing tranches of documents that Hillary turned over to the State Dept. on 5 Dec. 2014, some with significant redactions. It is unknown as to whether these redactions hide classified information relating to national security or foreign policy.
11 August 2015 – (Breitbart) Hillary makes a partially non-responsive declaration under oath to Judge Sullivan, stating in part that she does not understand what documents are required in this law suit. Further, she states that Cheryl Mills did not have an email account on clintonemail.com but that Huma Abedin did. Neither Mills nor Abedin submitted a declaration under oath.
11 August 2015 – (Clinton Campaign / and see Ron Fournier's response at National Journal) Hillary's campaign issues an op-ed length series of talking points, recycling some of her old defenses along with a few new ones. One, they claim that any classified information on Hillary's server was not marked as such at the time. That is a red herring as it is meaningless to the statutes at issue. Two, while they admit to an investigation of the classified information on the server, they claim that it is not an investigation of Hillary. As Jonah Goldberg points out at NRO, that is like saying you're investigating a car in a hit and run accident but not the driver.
12 August 2015 – (WaPo) FBI takes custody of Hillary's e-mail server from a data center that Platte River Communications maintains in New Jersey. Reports are that the server is "blank."
12 Aug 2015 – (WND) The State Dept. refuses to turn over any further of the 30,460 emails produced by Clinton to the IG for the Intelligence Community.
13 August 2015 – (Breitbart) In the State Dept.'s latest production of a portion of Hillary's e-mails, Hillary requested a book on e-mails that included a chapter on how to permanently delete them. (You can't make this stuff up)
14 August 2015 – (McClatchy) According to an analysis of 6,000+ documents released to date, at least 86 influential private citizens and foreign leaders corresponded with Hillary on her personal email. It is noteworthy that none of those emails would otherwise have been captured by the State Dept. for their records absent voluntary production by Hillary.
14 August 2015 – (McClatchy) The FBI and the House Homeland Security Committee have both begun investigating Platte River Communications, including such interesting as (1) whether they were authorized to handle classified communications (per today's DC, linked earlier, they are not), (2) who would have been able to access information on the server, and (3) whether and how they backed up Hillary's server.
14 August 2015 – (Legal Insurrection) The State Dept. files a response to Judge Sullivan's Order, stating that they do not intend to search Hillary's private server for responsive documents to a FOIA request, claiming (1) that they are under no legal compulsion to search for documents not under their control and (2) that Hillary's certified claim that she already produced all government records in her possession obviates the need for them to act.
15 August 2015 – (Fox) At a speech in Iowa, Clinton addressed the e-mail issue: "Hillary Clinton defended her handling of the 2012 Benghazi attacks and her use of a private email server as secretary of state, dismissing the controversies as 'partisan games' in a speech in Iowa on Friday. [¶] 'They'll try to tell you it's about Benghazi, but it's not,' Clinton said, pointing to Republican-led congressional inquiries that she said had 'debunked all the conspiracy theories.' 'It's not about emails or servers either. It's about politics,' she said. 'I won't get down in the mud with them. I won't play politics with national security,' Clinton said at the annual Wing Ding, a Democratic fundraiser in northern Iowa that attracted three other presidential candidates." (This woman is beyond shameless. And if that is the best she can do, Democrats are right to be very worried about her future electability.)