[VIDEO] Harry Potter and the daily threat to Israel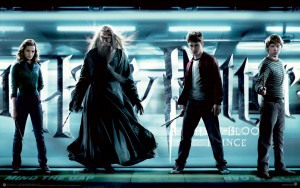 I've long held that, no matter J.K. Rowling's political leanings, her artistic truth comes down on the side of right and justice:
In the wake of Voldemort's perverted resurrection, The Order of the Phoenix centers on Harry's desperate efforts to convince the Powers That Be that evil once again walks among them. What Harry discovers is that nobody wants to hear him. He is reviled as a liar, attention seeker, and trouble—maker. Dolores Umbridge, who is the ultimate smug bureaucrat, with grim smiles mires Harry in endless, aimless tasks, all intended to reduce his ability to focus on Voldemort's existence. Only with tremendous effort is he able to rally some believers to his side and prepare them for war.

I don't pretend to know what J.K. Rowling was thinking when she wrote Order of the Phoenix, but I can't help but see in this post—9/11 book a perfect analogy to the situation the West faces today, in the real world, in its War against Islamofascism. Some of us, like Harry, know that we have seen evil, acknowledge its existence, and are prepared to fight it. But just as Harry must deal with a government Ministry bound and determined to explain away or ignore the evil in its midst, we too face an anti—War movement that endlessly ignores, explains away, and excuses the most vile acts of terror and human degradation. I have to believe, however, that there are at least some young people who experienced the Twin Towers falling as the formative event of their youth, and who will find guidance and inspiration in Harry's struggle to wage overcome both evil itself and a cultural indifference to that same evil.

Rowling's dark tone continues unabated — indeed, it deepens — in Harry Potter and the Half—Blood Prince. . . . As Half—Blood Prince begins, the denouement in Order of the Phoenix, which saw Harry and his allies at the Ministry of Magic engaged in a pitched battle against Voldemort and his Death Eaters, has finally convinced the governing forces in the Wizard world that there is a real problem.

There's an awful lot of plot in Half—Blood Prince that simply moves the characters forward, but the book also contains a powerful defense of a just war. Near the book's end, Harry questions whether it's worthwhile engaging in a fight so destructive to the Wizarding community. Dumbledore will have none of this. Essentially, he tells Harry that, in the battle between Good and Evil, those on the side of Good cannot give up, but must press ahead, knowing that they are doing the right thing. Again, I can't think of any better message for countless young people throughout the Western world to read. Some, at least, will figure out that, despite the worldwide media's negative drumbeat regarding America and her military, true evil resides in those who gleefully torture and murder in the name of their God.
The above may have been prescient, because I was delighted to read that Rowling came out recently and strongly against the foul, antisemitic movement known as Boycott, Divest, and Sanction. It therefore seems entirely right for someone to have put together an absolutely wonderful video weaving together Harry Potter truths about the nature of good and evil with events in Israel: