Armed civilian stops escaping terrorist (in Israel)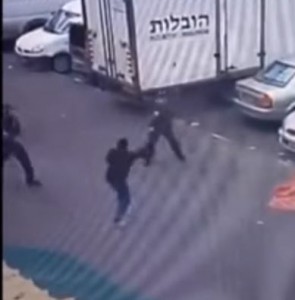 Israel had yet another stabbing today, after yesterday's horror attack, which killed a young mother of six in front of three of her children. Today, the pregnant woman who was stabbed survived, as did her baby. (If you don't know about all this, don't be surprised. The MSM assiduously ignores the daily horrors of Israel's knife intifatah. The way to know about it is to follow a pro-Israel source on Facebook. I follow The Israel Project, StandWithUs, The Times of Israel, and the Israel Defense Forces.)
Today's attack in Israel had a special resonance for me because of the way in which the terrorist was taken out of commission:
The terrorist, around 17 years old, infiltrated Tekoa through an existing breach in its fence and arrived shortly after 10am to a second-hand clothes store in the Tekoa industrial area.

The manager of the store turned to the young attacker to ask him what he was looking for. In response, he drew out a knife and stabbed 30-year-old Michal Fruman, one of the employees, in her chest.

He then fled back towards the breach in the fence. Security forces ordered him to stop, but he ignored them, at which point he was shot and critically wounded by an armed civilian. He was taken to the Hadassah Medical Center in Jerusalem.
This is not the first time an armed civilian has taken out a terrorist; it's just the most recent time. Here's footage of another civilian ending a terrorist's career:
Arms used defensively save lives.