The single best "why you need to vote for Trump" post I've seen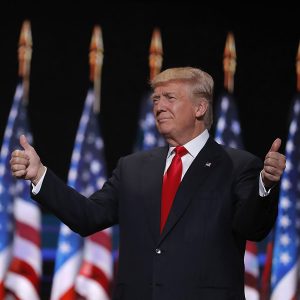 As you all know, Trump was my last choice during the Republican primaries but by default he's my first choice against Hillary. I'm not the only one who has had to work my way to making peace with the situation as it is, rather than as I wanted it to be.
Wayne Gruden has written an argument for concerned Christians explaining why Trump, despite being a deeply flawed candidate, is still to be preferred over Hillary. He even addresses the concern so many people have that Trump, once he's elected, will suddenly cast off the Clark Kent glasses and announce that he's really "Super Liberal.
I cannot recommend Gruden's article highly enough. Even though it's written for Christians, every voter who hates Hillary and Trump equally, but who really hates the authoritarian Progressive agenda needs to read it and learn that turning one's back on Trump is not the answer. Here are a few excerpts:
I do not think that voting for Donald Trump is a morally evil choice because there is nothing morally wrong with voting for a flawed candidate if you think he will do more good for the nation than his opponent. In fact, it is the morally right thing to do.

I did not support Trump in the primary season. I even spoke against him at a pastors' conference in February. But now I plan to vote for him. I do not think it is right to call him an "evil candidate." I think rather he is a good candidate with flaws.

He is egotistical, bombastic, and brash. He often lacks nuance in his statements. Sometimes he blurts out mistaken ideas (such as bombing the families of terrorists) that he later must abandon. He insults people. He can be vindictive when people attack him. He has been slow to disown and rebuke the wrongful words and actions of some angry fringe supporters. He has been married three times and claims to have been unfaithful in his marriages. These are certainly flaws, but I don't think they are disqualifying flaws in this election.

On the other hand, I think some of the accusations hurled against him are unjustified. His many years of business conduct show that he is not racist or anti-(legal) immigrant or anti-Semitic or misogynistic – I think these are unjust magnifications by a hostile press exaggerating some careless statements he has made. I think he is deeply patriotic and sincerely wants the best for the country. He has been an unusually successful problem solver in business. He has raised remarkable children. Many who have known him personally speak highly of his kindness, thoughtfulness, and generosity. But the main reason I call him "a good candidate with flaws" is that I think most of the policies he supports are those that will do the most good for the nation.

[snip]

Hillary Clinton would quickly replace Justice Scalia with another liberal like Breyer, Ginsburg, Sotomayor, and Kagan. This would give liberals a 5-4 majority on the Supreme Court even without Justice Kennedy, and 6-3 when he votes with them.

But that is not all. Justice Ginsburg is 83, and she has had colon cancer, pancreatic cancer, and has a heart stent. Justice Kennedy is 80. Justice Breyer is 78. A President Clinton could possibly nominate three or four justices to the Supreme Court, locking in a far-left activist judiciary for perhaps 30 or more years. She could also add dozens of activist judges to federal district courts and courts of appeals, the courts where 99% of federal lawsuits are decided. Judicial tyranny of the type we have seen when abortion rights and same-sex marriage were forced on the nation would gain a permanent triumph.

The nation would no longer be ruled by the people and their elected representatives, but by unelected, unaccountable, activist judges who would dictate from the bench about whatever they were pleased to decree. And there would be nothing in our system of government that anyone could do to stop them.

That is why this election is not just about Hillary Clinton. It is about defeating the far left liberal agenda that any Democratic nominee would champion. Liberal Democrats are now within one Supreme Court justice of their highest goal: gaining permanent control of the nation with a five vote majority on the Supreme Court, and then relentlessly imposing every liberal policy on the nation not through winning elections but through a relentless parade of one Supreme Court decision after another.

Even if Clinton were to drop out of the race (perhaps due to additional shocking email disclosures, for example), our choice in the election would be just the same, because any other Democratic nominee would appoint the same kind of liberal justices to the Court.
Go on — read the whole thing and then ask yourself if you can, in good conscience, do anything that will help place America in Hillary's hands.
The way I see it, the GOP created the Trump zombie when it joined with the Left, only more savagely, to kill the Tea Party. If it hadn't done so, the bright, cheerful Tea Party ideology would have produced a solid conservative candidate. I don't feel I owe the Republican Party anything at this point.
Also, to add a few things to help you hold your nose and vote for Donald, here are a few things this bombastic, bullying, foot-in-mouth, remarkably spontaneous man has not done:
Trump has not put America's national security secrets into enemy hands.
Trump has not spent decades helping rapists (whether those arrested or those elected).
Trump has never been heard uttering anti-semitic slurs.
And of course, Trump doesn't have a trail of dead bodies in his wake. There's no evidence whatsoever that Hillary had anything to do with any of the followings deaths (the list of which a friend emailed me). It's just that most of us don't have so many friends, employees, acquaintances, and business associates in our lives who do not die from natural deaths but, instead, commit suicide, die violent deaths, or die apparently natural deaths under somewhat suspicious circumstances. (And no, I haven't vetted the list, but I do recognize based upon my fund of knowledge the accuracy of the majority of the facts stated in it):
James McDougal – Clinton's convicted Whitewater partner died of an apparent heart attack, while in solitary confinement. He was a key witness in Ken Starr's investigation.
Mary Mahoney – A former White House intern was murdered July 1997 at a Starbucks Coffee Shop in Georgetown .. The murder happened just after she was togo public w:th her story of sexual harassment in the White House.
Vince Foster – Former White House counselor, and colleague of Hillary Clinton at Little Rock's Rose Law firm. Died of a gunshot wound to the head, ruled a suicide.
Ron Brown – Secretary of Commerce and former DNC Chairman, reportedly died by impact in a plane crash. A pathologist close to the investigation reported that there was a hole in the top of Brown's skull resembling a gunshot wound. At the time of his death Brown was being investigated, and spoke publicly of his willingness to cut a deal with prosecutors. The rest of the people on the plane also died. A few days later the air Traffic controller committed suicide.
C. Victor Raiser, II – Raiser, a major player in the Clinton fund raising organization died in a private plane crash in July 1992.
Paul Tulley – Democratic National Committee Political Director found dead in a hotel room in Little Rock , September 1992. Described by Clinton as a "dear friend and trusted advisor".
Ed Willey – Clinton fundraiser, found dead November 1993 deep in the woods in VA of a gunshot wound to the head. Ruled a suicide. Ed Willey died on the same day his wife Kathleen Willey claimed Bill Clinton groped her in the oval office in the White House. Ed Willey was involved in several Clinton fund raising events.
Jerry Parks – Head of Clinton's gubernatorial security team in Little Rock.. Gunned down in his car at a deserted intersection outside Little Rock Park's son said his father was building a dossier on Clinton He allegedly threatened to reveal this information. After he died the files were mysteriously removed from his house.
James Bunch – Died from a gunshot suicide. It was reported that he had a "Black Book" of people which contained names of influential people who visited prostitutes in Texas and Arkansas
James Wilson – Was found dead in May 1993 from an apparent hanging suicide. He was reported to have ties to Whitewater..
Kathy Ferguson – Ex-wife of Arkansas Trooper Danny Ferguson, was found dead in May 1994, in her living room with a gunshot to her head. It was ruled a suicide even though there were several packed suitcases, as if she were going somewhere. Danny Ferguson was a co-defendant along with Bill Clinton in the Paula Jones lawsuit Kathy Ferguson was a possible corroborating witness for Paula Jones.
Bill Shelton – Arkansas State Trooper and fiancée of Kathy Ferguson. Critical of the suicide ruling of his fiancee, he was found dead in June, 1994 of a gunshot wound also ruled a suicide at the grave site of his fiancée.
Gandy Baugh – Attorney for Clinton's friend Dan Lassater, died by jumping out a window of a tall building January, 1994. His client was a convicted drug distributor.
Florence Martin – Accountant and sub-contractor for the CIA, was related to the Barry Seal, Mena, Arkansas, airport drug smuggling case. He died of three gunshot wounds.
Suzanne Coleman – Reportedly had an affair with Clinton when he was Arkansas Attorney General. Died of a gunshot wound to the back of the head, ruled a suicide. She was pregnant at the time of her death.
Paula Grober – Clinton's speech interpreter for the deaf from 1978 until her death December 9, 1992. She died in a one car accident.
Danny Casolaro – Investigative reporter. Investigating MenaAirport and Arkansas Development Finance Authority. He slit his wrists, apparently, in the middle of his investigation.
Paul Wilcher – Attorney investigating corruption at MenaAirport with Casolaro and the 1980 "October Surprise" was found dead on a toilet June 22, 1993, in his Washington DC apartment. He had delivered a report to Janet Reno 3 weeks before his death.
Jon Parnell Walker – Whitewater investigator for Resolution Trust Corp. Jumped to his death from his Arlington, Virginia apartment balcony August 15, 1993. He was investigating the Morgan Guaranty scandal.
Barbara Wise – Commerce Department staffer. Worked closely with Ron Brown and John Huang. Cause of death unknown. Died November 29, 1996. Her bruised, nude body was found locked in her office at the Department of Commerce.
Charles Meissner – Assistant Secretary of Commerce who gave John Huang special security clearance, died shortly thereafter in a small plane crash.
Dr. Stanley Heard – Chairman of the National Chiropractic Health Care Advisory Committee died with his attorney Steve Dickson in a small plane crash. Dr. Heard, in addition to serving on Clinton 's advisory council personally treated Clinton's mother, stepfather and brother.
Barry Seal – Drug running TWA pilot out of Mena Arkansas, death was no accident.
Johnny Lawhorn, Jr. – Mechanic, found a check made out to Bill Clinton in the trunk of a car left at his repair shop. He was found dead after his car had hit a utility pole.
Stanley Huggins – Investigated Madison Guaranty. His death was a purported suicide and his report was never released.
Hershell Friday – Attorney and Clinton fundraiser died March 1, 1994, when his plane exploded.
Kevin Ives and Don Henry – Known as "The boys on the track" case. Reports say the boys may have stumbled upon the Mena Arkansas airport drug operation. A controversial case, the initial report of death said, due to falling asleep on railroad tracks. Later reports claim the 2 boys had been slain before being placed on the tracks. Many linked to the case died before their testimony could come before a Grand Jury.
THE FOLLOWING PERSONS HAD INFORMATION ON THE IVES/HENRY CASE:
Keith Coney – Died when his motorcycle slammed into the back of a truck, 7/88.
Keith McMaskle – Died, stabbed 113 times, Nov, 1988
Gregory Collins – Died from a gunshot wound January 1989.
Jeff Rhodes – He was shot, mutilated and found burned in a trash dump in April 1989.
James Milan – Found decapitated. However, the Coroner ruled his death was due to natural causes".
Jordan Kettleson – Was found shot to death in the front seat of his pickup truck in June 1990.
Richard Winters – A suspect in the Ives/Henry deaths. He was killed in a set-up robbery July 1989.
THE FOLLOWING CLINTON BODYGUARDS ARE DEAD
Major William S. Barkley, Jr.
Captain Scott J . Reynolds
Sgt. Brian Hanley
Sgt. Tim Sabel
Major General William Robertson
Col. William Densberger
Col. Robert Kelly
Spec. Gary Rhodes
Steve Willis
Robert Williams
Conway LeBleu
Todd McKeehan
Quite an impressive list!