Liberal arts colleges — making young adults mentally ill (Warning: NSFW)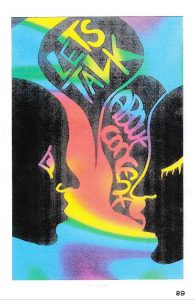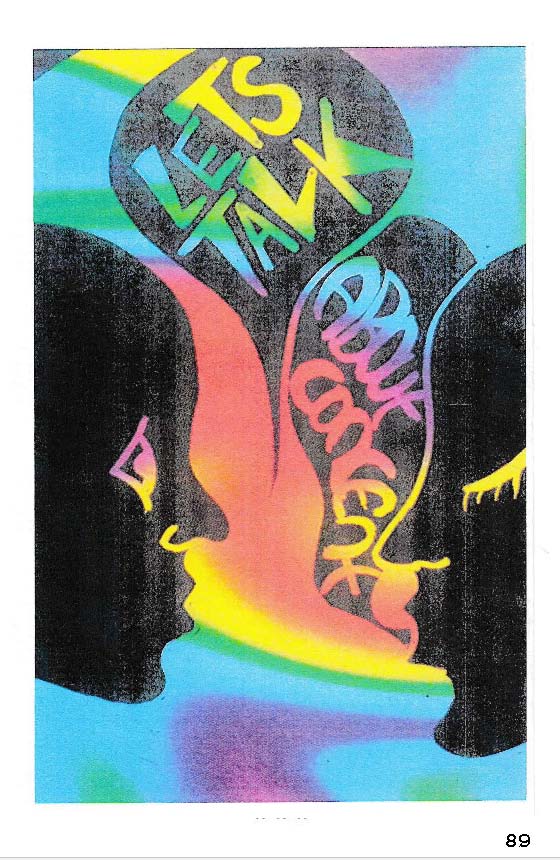 They say that to a hammer everything is a nail. After a full-bore orientation at an obscenely expensive liberal arts college ("OELAC") in the Midwest, I can say with some confidence that to OELAC's administrators every incoming freshman is a bundle of pathologies. Really. During one talk, we were assured that around 30% of incoming freshman have mental health issues. It seems to me that OELAC's administrators see it as their responsibility to make sure that this number grows to 100% by the end of the academic year.
I wrote the other day about the absurd welcoming ceremony that OELAC held, one that managed to feel much like my children's graduation from preschool only infinitely more creepy. This drive simultaneously to infantilize and pathologize these young adults continued yesterday when we parents were gathered together for a formal orientation talk.
I foolishly thought the talk would be along the lines of "Welcome to OELAC! Your children will learn and grow here. Now go forth and enjoy the delights of this lovely midwestern city before you kiss your kids goodbye." I could not have been more wrong.
Before I even get to the content, I want to note that, as was the case for the preschool graduation . . . er, parade of the freshman class, four of the five speakers were women. Incidentally, I know that the other person, that one out of the five, not only looked like a man, but identified as a man, because he proudly announced that his pronouns were "he" and "him."
Disappointingly, the orientation had nothing to do with "Your child will learn and mature here." Instead, the assembled administrators announced that they were going to talk about "wellness," which seems to be academic code for cultivating that special snowflake quality in each young person foolish enough to go to OELAC. (And don't get me started on how Little Bookworm ended up there. It's a painful tale, best left untouched.)
Perhaps I shouldn't have been so surprised at this announcement about "wellness." I'd already noticed earlier that the freshman's schedule for the day did not have a mere "break." Instead, the freshman had "wellness breaks." Ordinary breaks of the type these kids all had growing up in preschool, elementary school, middle school, and high school, and that we adults still have at work, are inadequate for snowflakes in training.
To my great distress (I think I was actually triggered!), I got to witness a "wellness break" in action later that same afternoon. One couldn't miss it because at least 20 of these 18- and 19-year-olds, after the rigors of a few hours of orientation, were clustered around — I kid you not — an honest-to-goodness "therapy dog." The kids weren't even relating to it like a real dog. They were clustered around it trying to suck in wellness. It was unnerving to watch.
(By the way, did you know that anxious dogs also need therapy? Yes, here in America we have treatment for your Triggly Ruff.)
Back to that orientation. . . .
Each of the assembled speakers at the parent orientation started with an anecdote about his or her emotional pain when his or her children left for preschool or college. I found it hard to tell which they were talking about because their approach to both experiences seems to be identical.
One speaker earnestly told us that when her son left for college she gave him a beautiful empty box into which she instructed him, at the end of each day, to place his love and hope and something something something. After the word "hope," I lost track of the point she was making because I started calculating how much money the boy will have to earn over the years to pay for psychiatric treatment.
After announcing the high proportion of mentally ill incoming freshman, the one male speaker, who is OELAC's counselor, assured us that even those kids who haven't yet been diagnosed with anything specific will still have transition problems. Most of us call those inevitable problems "part of growing up," but he's a hammer and all those students learning and growing are little pathological nails in the making.
Moreover, the counselor said, to the extent our children are high achievers (as evidenced by their being at OELAC), we should expect them to be little time bombs, ready to collapse from self-imposed stress at a moment's notice. To drive the point home, the counselor made some cute analogy to toddlers leaving their parents for the first time. Given the almost desperate effort to treat young adults like babies and adults like toddlers, his analogy was more apt than he probably realized.
As the surrounding parents nodded sagely, the counselor then told us how to handle our children's incipient mental trauma: Tell your children they can talk to you, but don't overreact. Again, I got the same speech when my oldest started preschool. My goal since then has been to create confident, self-sufficient children. I'm terribly afraid that, having succeeded (I have, I really have), this dreadful place is going to undo all my good work by convincing Little Bookworm that she's a fragile, clinging, emotional wreck.
When the counselor finally stopped speaking, the medical director took the stand and, for some time, earned my admiration by speaking in practical terms about how the health clinic works — hours, services provided, insurance concerns, etc. Finally, an adult treating me like an adult and assuring me that the clinic will work with kids to teach them that every sniffle is not an emergency. She got a bit bogged down in the end about delicate sensibilities and such-like, but overall made sense.
Unfortunately, the parents, lulled into childish complacency by a speaker who mostly sounded like a normal grown up, lost their boundaries. They began asking questions that revealed way too many details about their kids' physical and mental issues. Is this whole place just a beautifully landscaped cuckoo's nest?
And of course, the whole sexual assault thing inevitably came up. OELAC incidentally, has one full time staff member devoted to Title IX compliance with an emphasis on sexual assault and at least two others who fold compliance issues into their other responsibilities.
I debated standing up and saying loudly that those 1 in 4 and 1 in 5 statistics are fake and that,  moreover, the parents know that they're fake or they wouldn't be sending their children to these OELACs. The only thing that stopped me was that I promised Little Bookworm I wouldn't make a scene. What a stupid promise! It would have been so satisfying to say that, and then wrap up by shouting "Make America great again!"
What I did instead was take a deep breath and tune out the rest of the talking. There was nothing these administrators were saying that was or should be my responsibility. All of it was, and should be, my child's responsibility, as part of her continued move towards full autonomy.
Anyway, you're probably wondering why I said in the post caption that this post is Not Safe For Work. I said it because I was able to get hold of a copy of "Let's Talk About Consent – a Zine on Sexual Health," which was apparently being distributed to the incoming freshmen. (I do not know if the school distributed it or if a student group did, because I found my copy by a sink in one of the women's restrooms.) It is extremely graphic, without ever being either titillating or erotic. Instead, it is a depressing and frightening document, one that views sex as a nihilistic power struggle played out in a dystopian, rape- and alcohol-strewn wasteland.
I've scanned the document in its entirety, changing it only by adding asterisks (***) and numbers to each page to make it visually easier to separate the pages and to discuss specific pages. If you scroll down, you can see the entire document in jpeg format, along with my comments. I've also uploaded a pdf version of the document at Scribd, which you can find here, and which may be easier to read.
I don't have too many comments. You are all intelligent people and can draw your own conclusions about the document. There were, however, a few things I wanted to highlight.  So that they stand out, my comments are in red, bold font. If you don't want to bother reading either the document or my comments (I understand, I really do), I still urge you to take the time to scroll down to page 11 and pay close attention to what it says. The legal standard it demands could prove horribly damaging to any young men you love.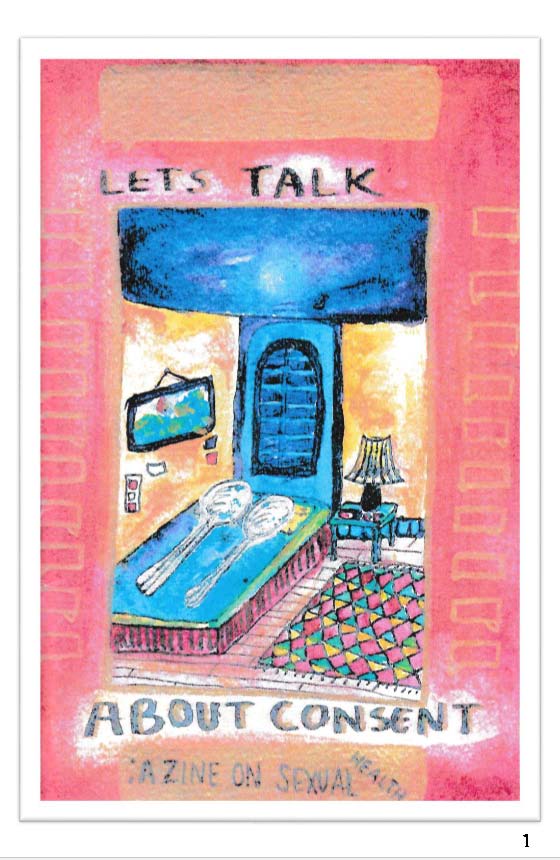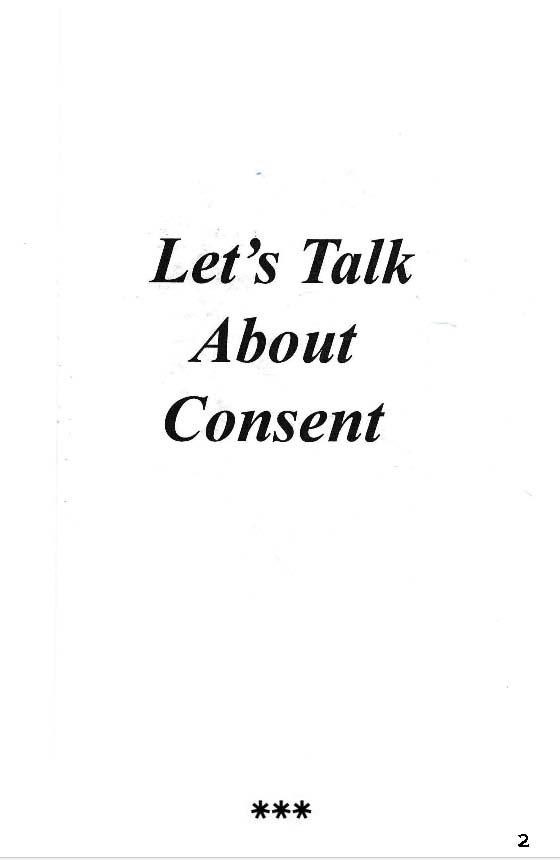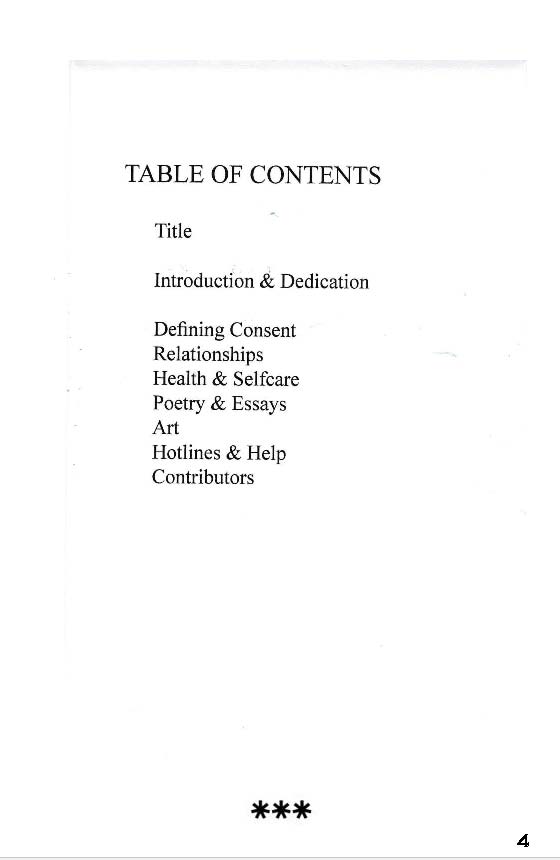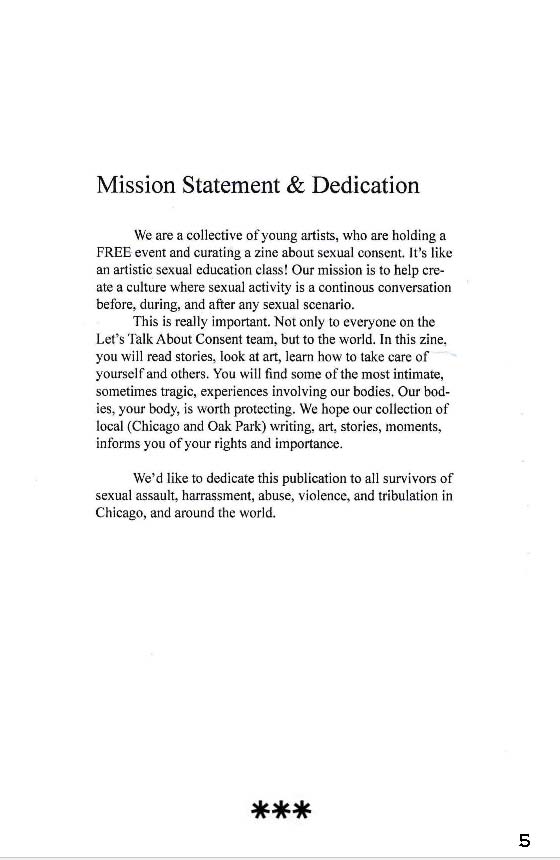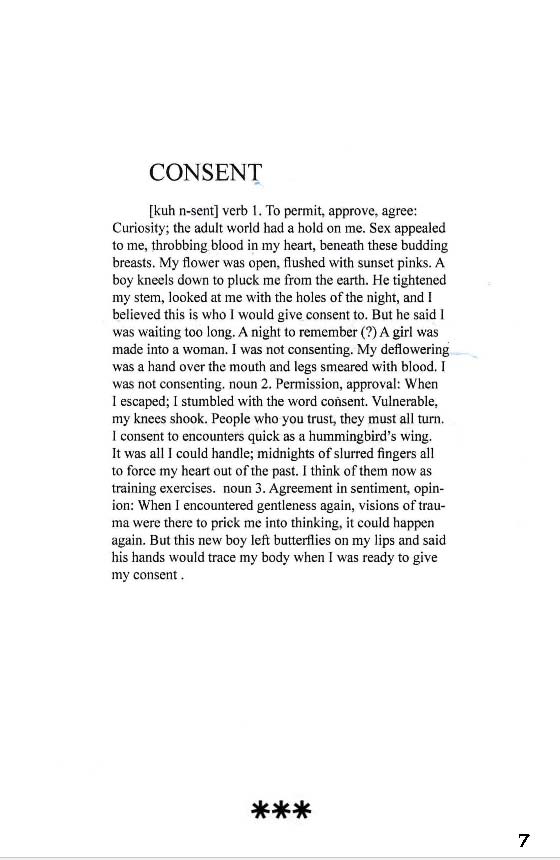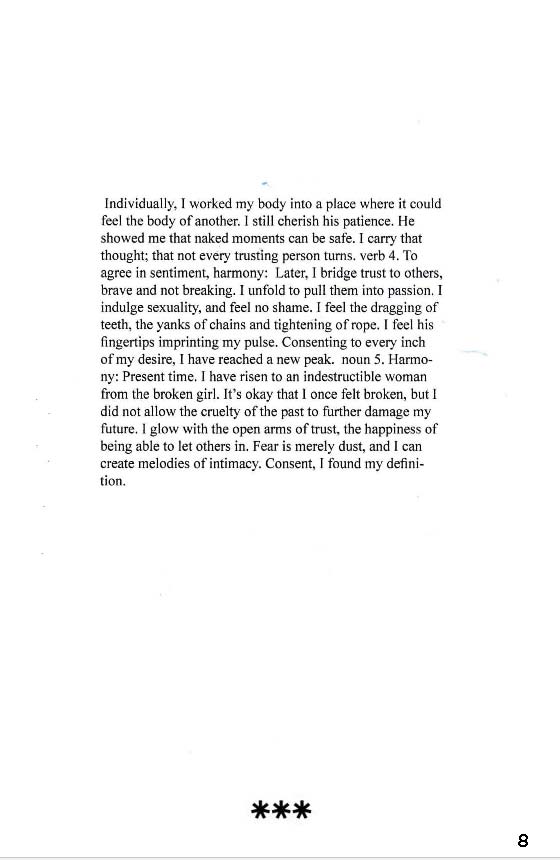 The author of the following page could easily be the "rape" victim at Stanford, or Lena Dunham, or any other young woman who believes the lie that women can drink themselves to incoherence, take drugs, go to bed with anything that moves and then, when regret — powered by vague, inchoate memories or scary blackouts — finally kicks in, can blame the man for having accepted the woman's verbal or non-verbal "yes" at face value.
Parents of sons, you need to read the following page (page 11) very carefully. The Stanford rape uproar has resulted in a Progressive push to make the stated position the operating standard at universities and, if possible, in courts of law. In case you can't read the text in the image, this is what the first paragraph says:
CONSENT WHILE INTOXICATED. The blame of the assault is always on the assailant. It does not matter how intoxicated either parties were [sic]. If someone never consented, if someone decided to revoke consent, if someone feels afterwards that they did not consent, if someone was too intoxicated to consent, or too intoxicated to be responsive, in any situation, the assailant assaulted. The truth is, if you or your partner(s) are intoxicated, you cannot give or receive full consent. Drugs and alcohol directly affect your decision making for the time you are under the influence. Just as someone could decide to drive drunk or text drunk, they could decide to participate in sex drunk. And just as someone might say, "He'd never do that normally. He was drunk" about an accident, they [sic] may use the same speech to talk about a sexual assault involving alcohol or drugs. This, however, does not excuse anyone's actions. Just as a drunk driver should getr a DUI, a sexual assailant should receive consequences as well. As a car accident is an assault on the machinery of a fancy Prius, rape is an assault on the mind, body, and soul.
Only a life spent in American education result in a paragraph that says, when two people both intentionally got drunk and, while drunk, engaged in damaging behavior, only the man can be found guilty. Sexism is alive and well in Progressive circles. These Progs are telling your daughters that, no matter how badly and stupidly and dangerously they behave, the young man who behaves exactly the same way is the only guilty party.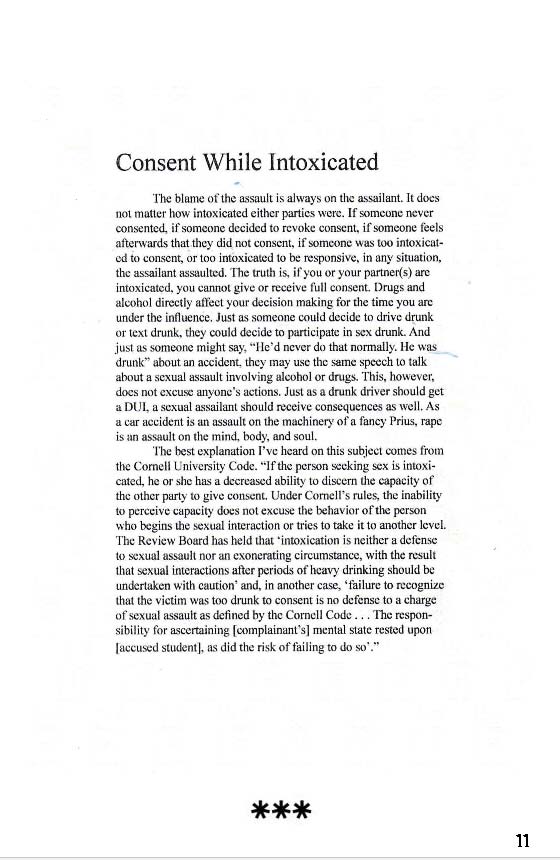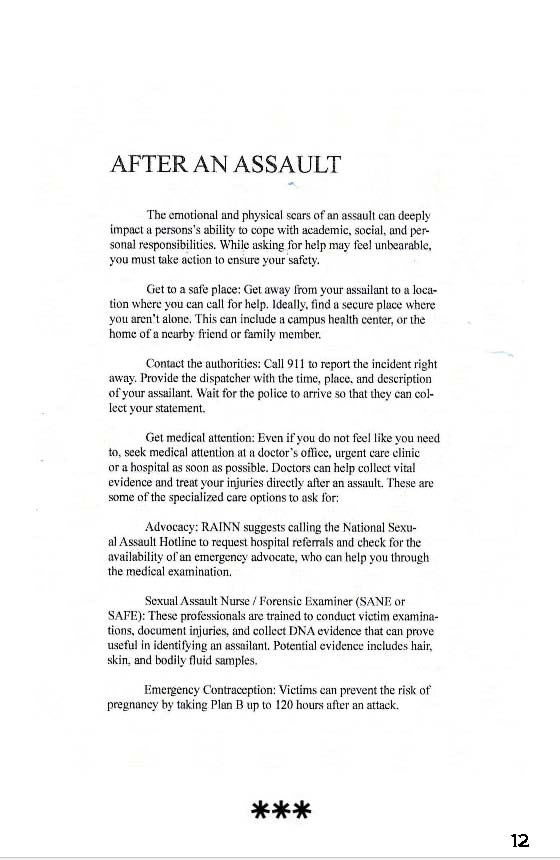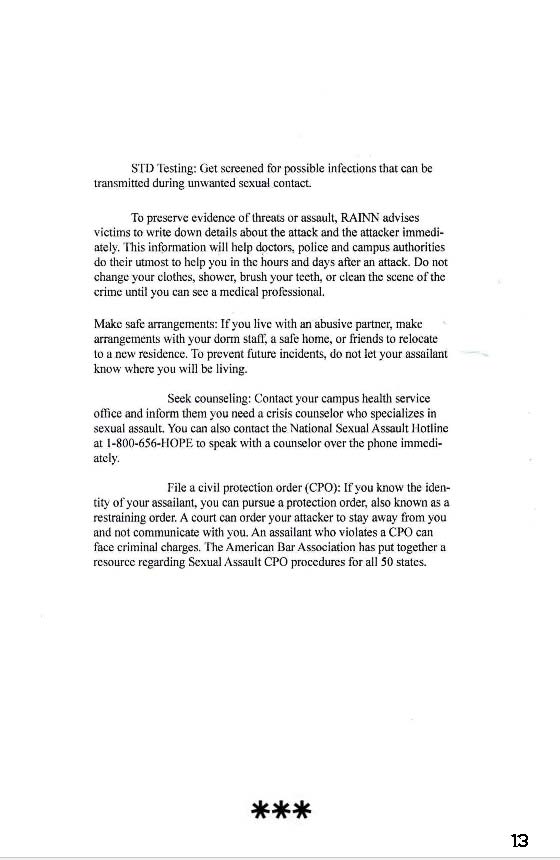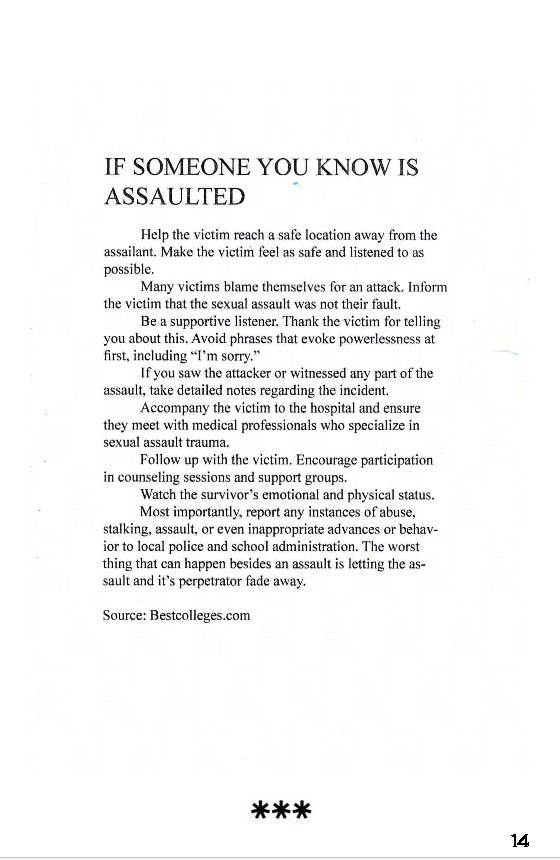 The following page repeats that canard that "One in five college students experiences sexual assault during their [sic] college career." As everyone from Christina Hoff Sommers to Glenn Reynolds has pointed out, if this statistic were true an American college campus would be as dangerous as a South African slum (or perhaps the streets of Stockholm or Germany). Parents who send their kids to college are either too stupid to understand how high a 20% risk is or, despite squawking about the alleged risk, know full well that it's a lie. For a reality check, here's a Prager U video decimating this fraudulent rape data.
The gals who wrote this booklet about sexual assault do, however, get kudos for acknowledging alcohol's role in leading young women into sexual liasons they later regret.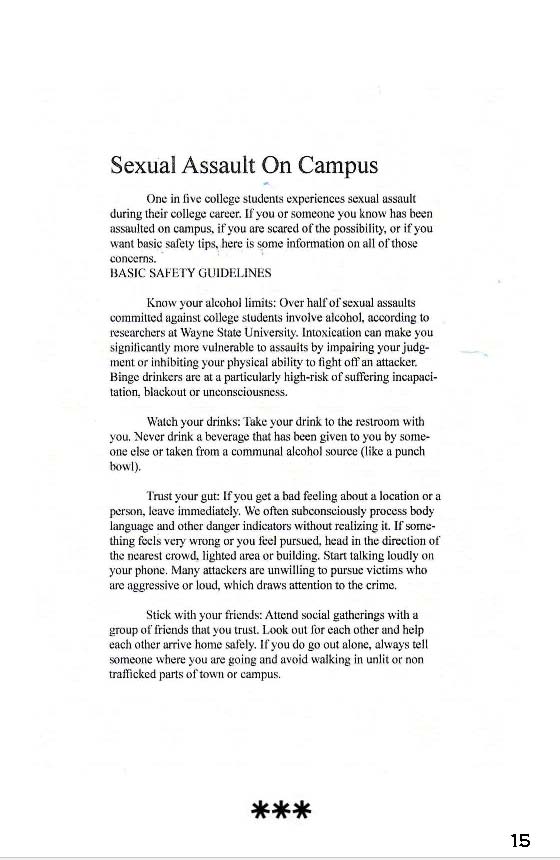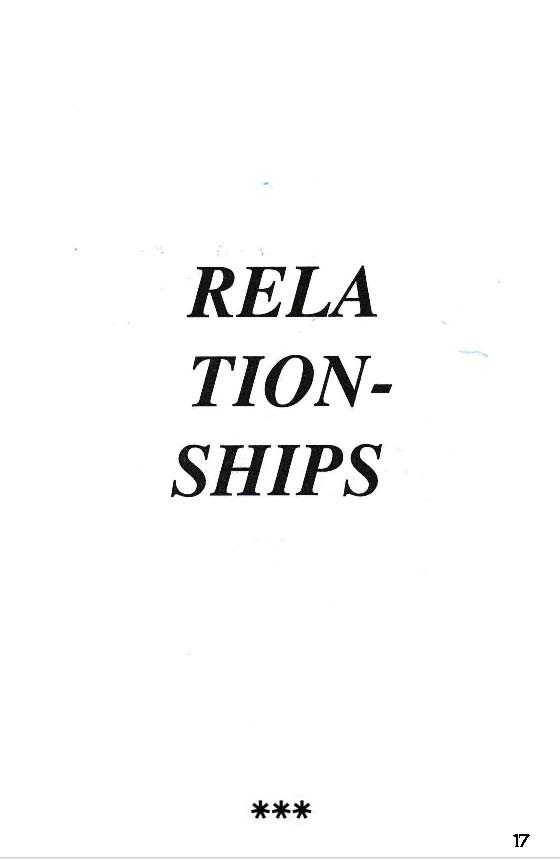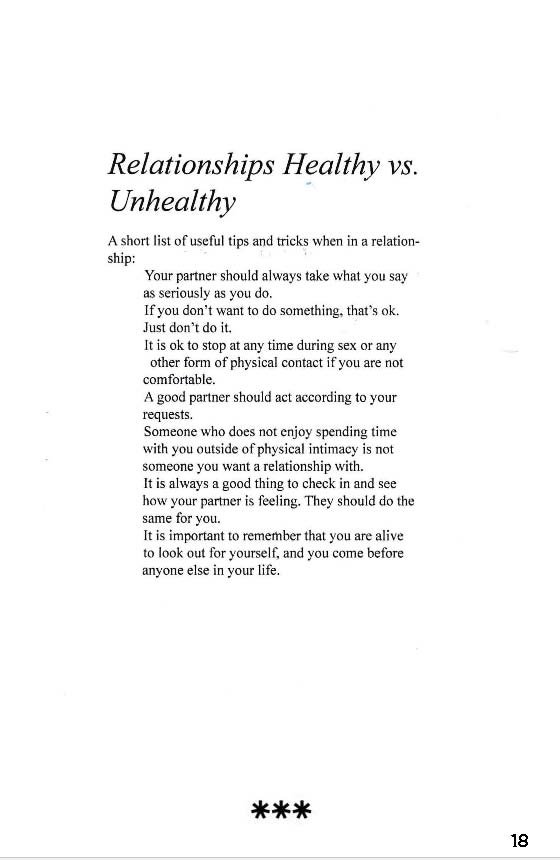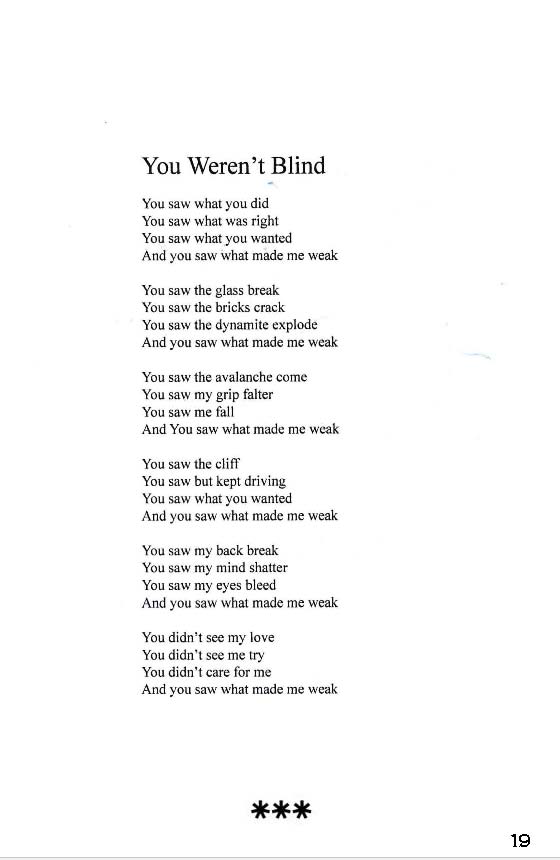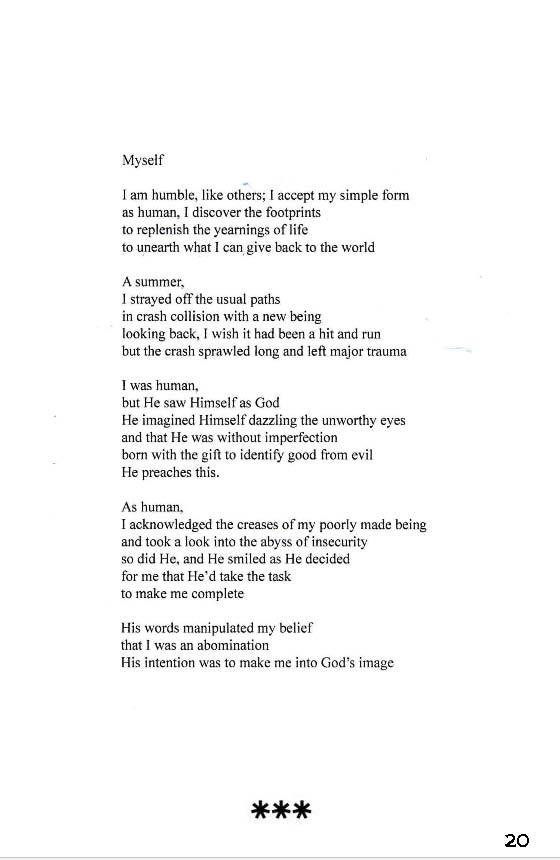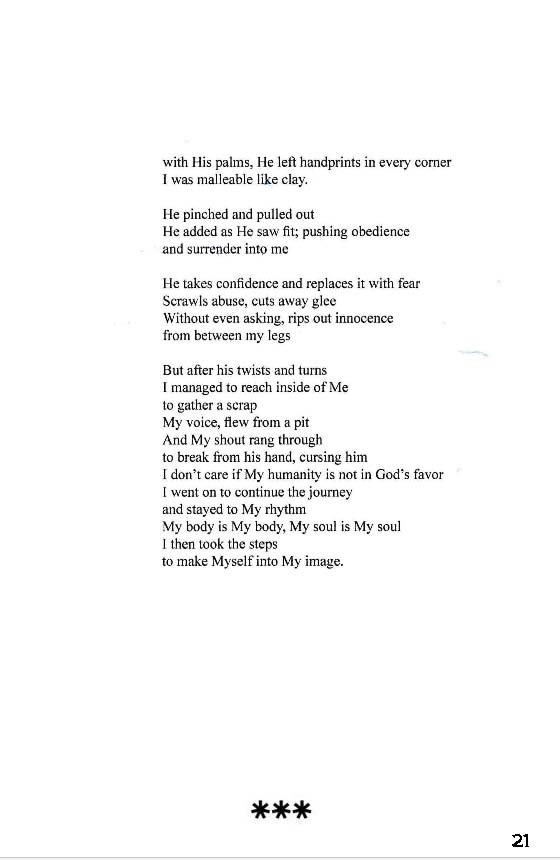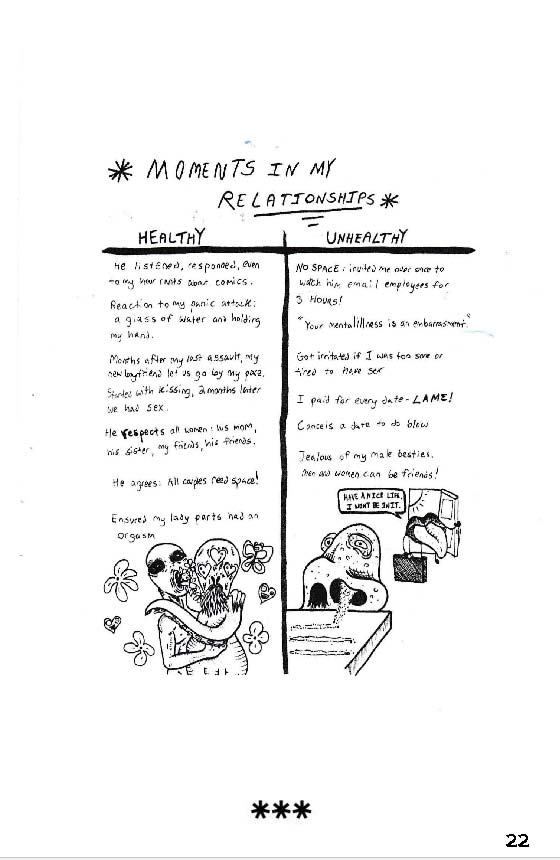 No, you're not imagining it. The following images are unintelligible, either because they were poorly reproduced or poorly conceived.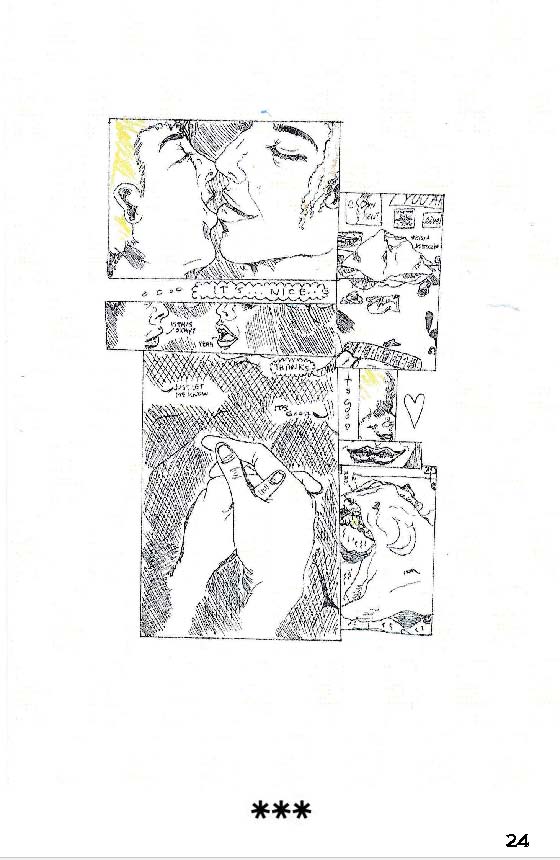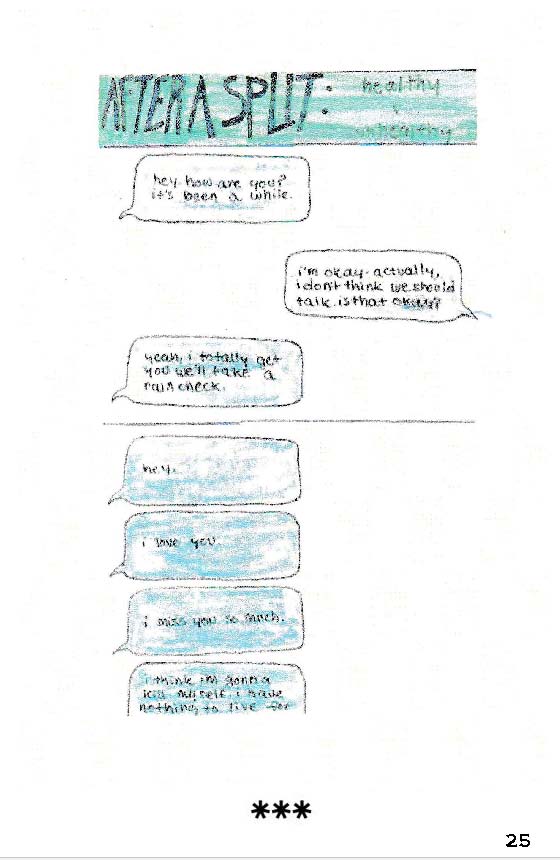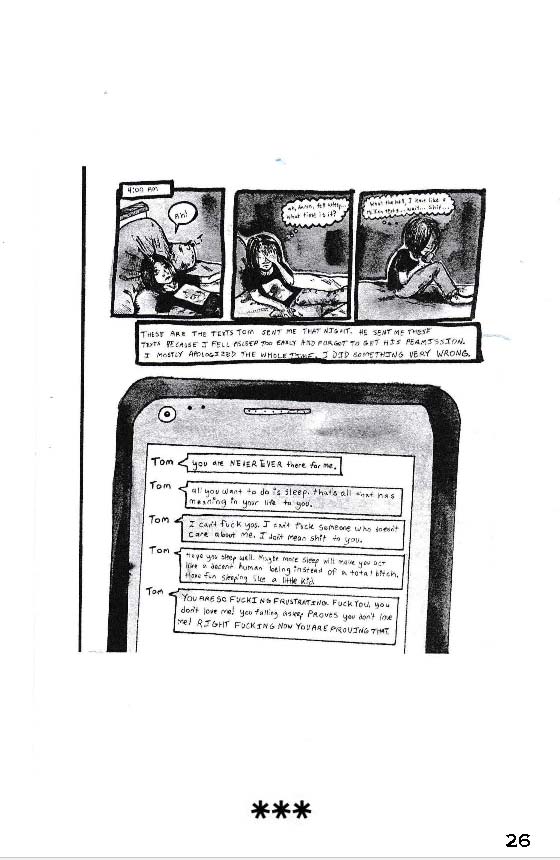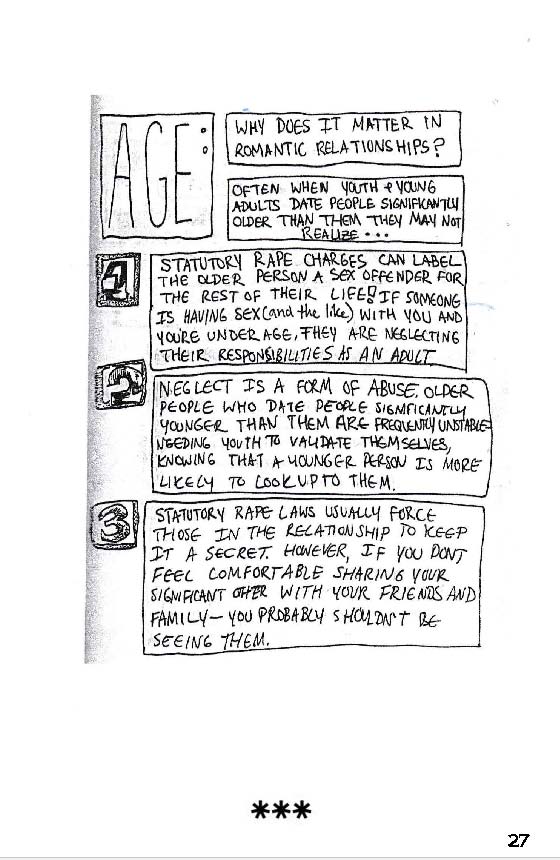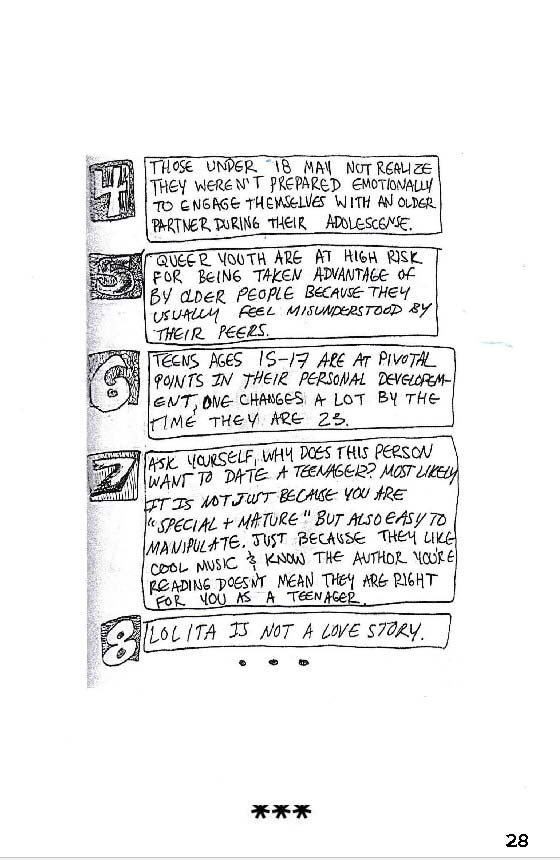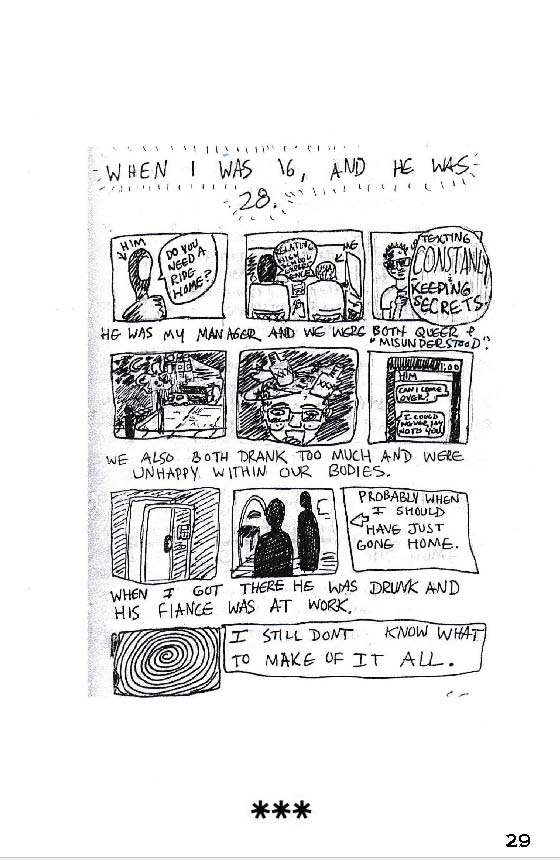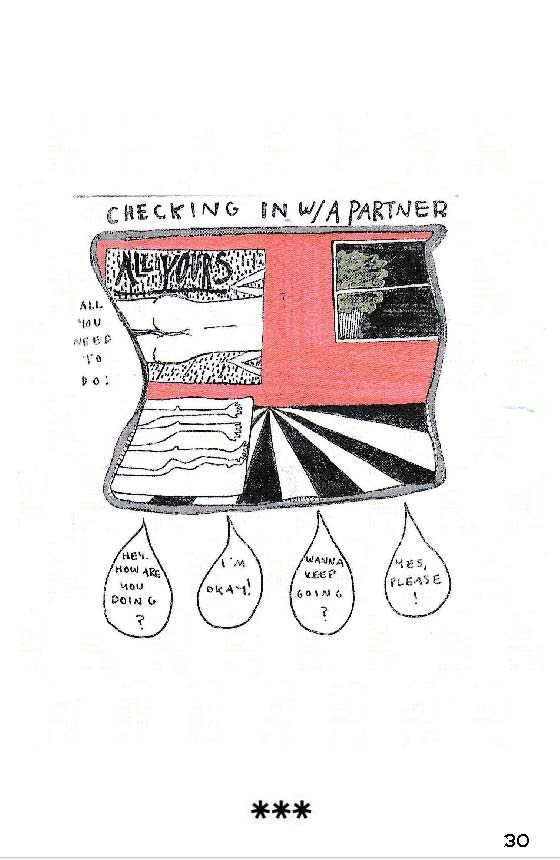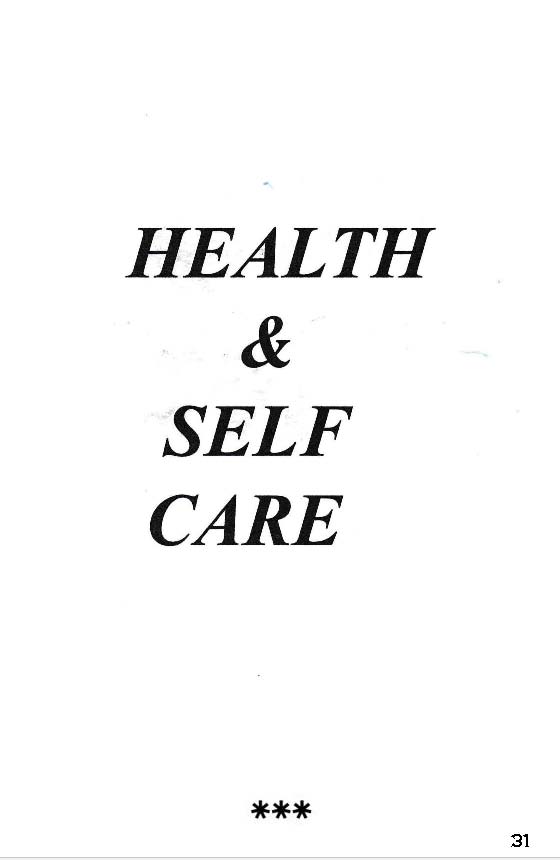 Looking at page 32, below, one has to ask, how many of us regularly have "a long day of sexual frustration and repressed urges"? Do Progressives really never think of anything other than sex? Or more accurately, considering that sex is high on most people's lists of pleasant thoughts, are they incapable of dealing with these thoughts in any other way than wallowing in more sexual thoughts?
The one thing I do applaud on this page, as well as the next one, is the honest admission that substance abuse is a huge problem amongst the LGBT community. Perhaps members of that community ought to focus on healing themselves instead of spending such an inordinate amount of time trying to browbeat us into somehow making them feel better.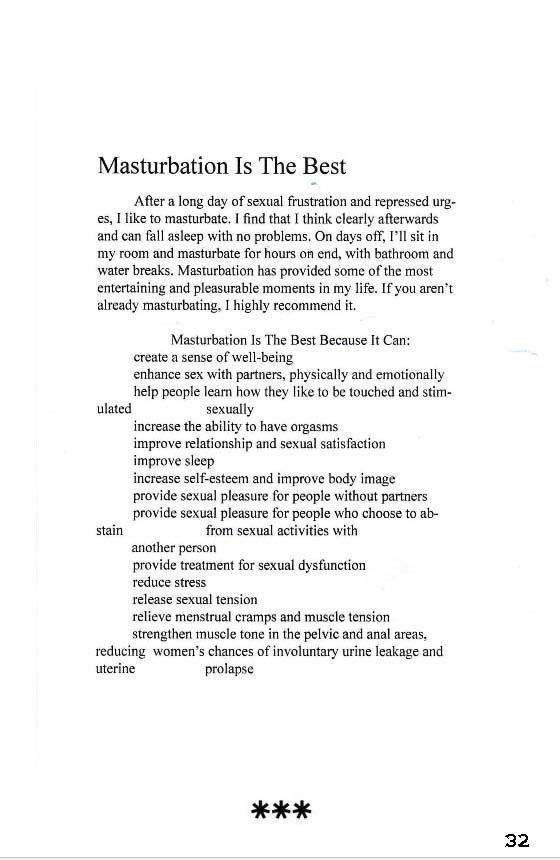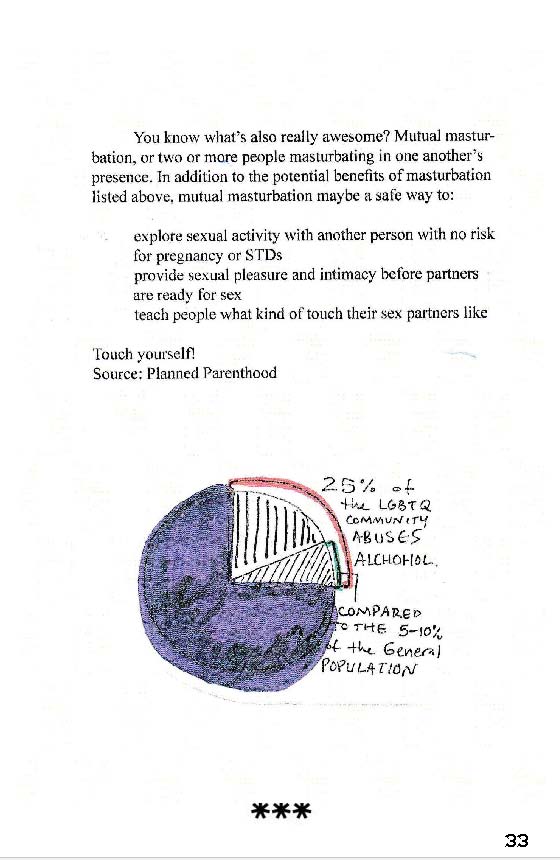 Regarding the instructions on page 34, sorry, but I don't care about your gender. You're not that important to me. If I use a pronoun incorrectly, get over it. It's very rude to take people to task all the time.
As for me, thanks for asking. My pronouns are "Majesty" and "Highness."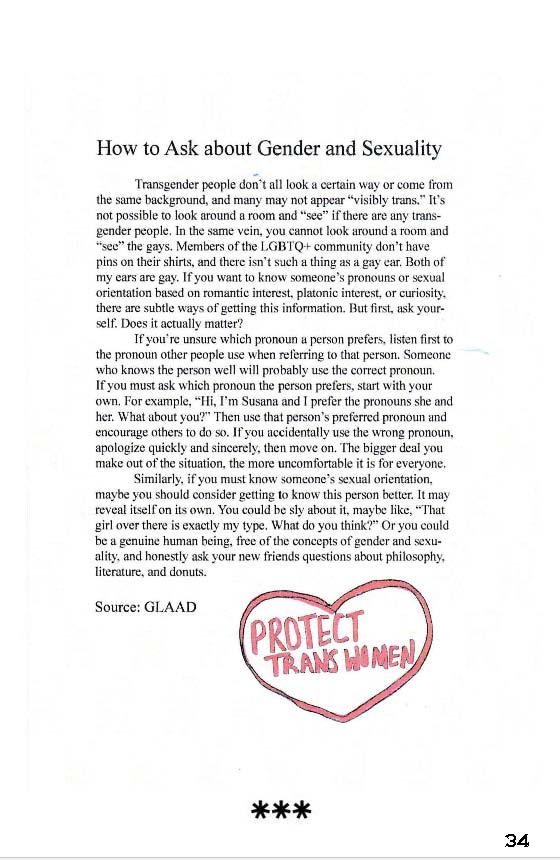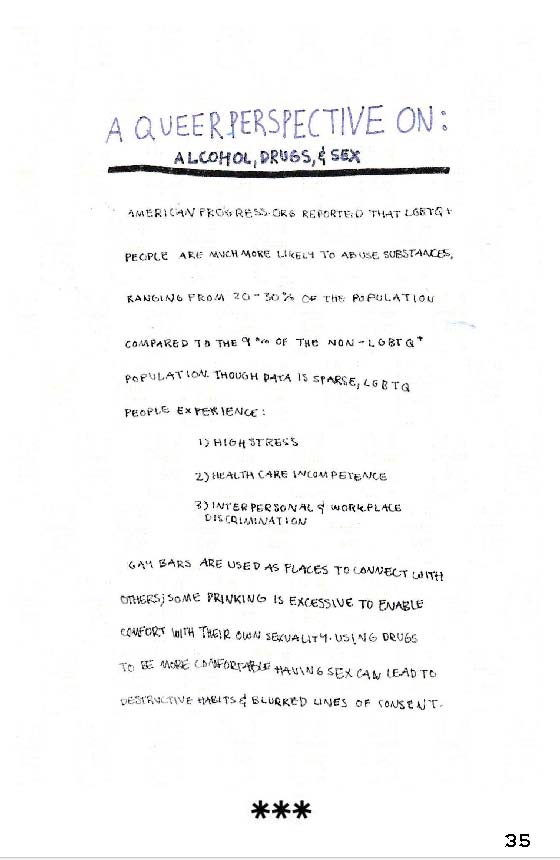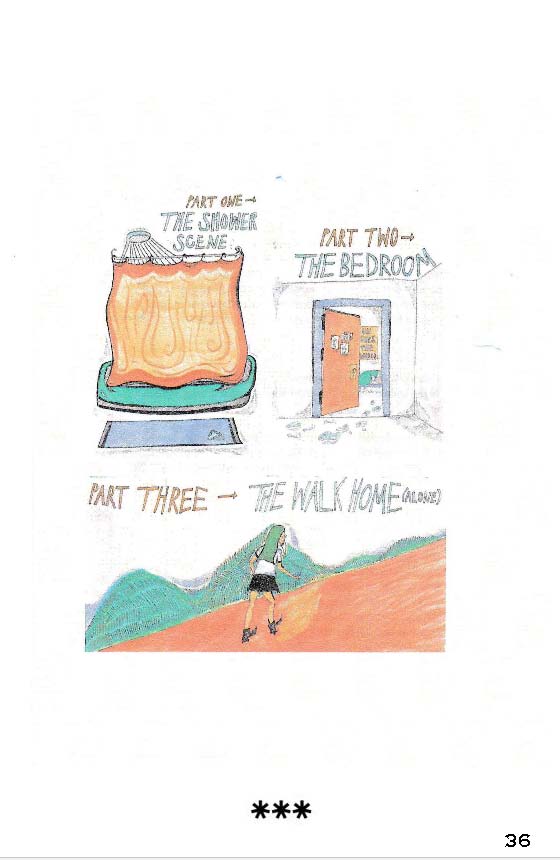 After reading the following STI and STD information, I think most people would agree that they never want to have sex again. Given the authors' assumption that everyone is sleeping around, it seems quaintly old-fashioned to suggest that loving, respectful, long-term, monogamous relationships are a good protection against all these ickies.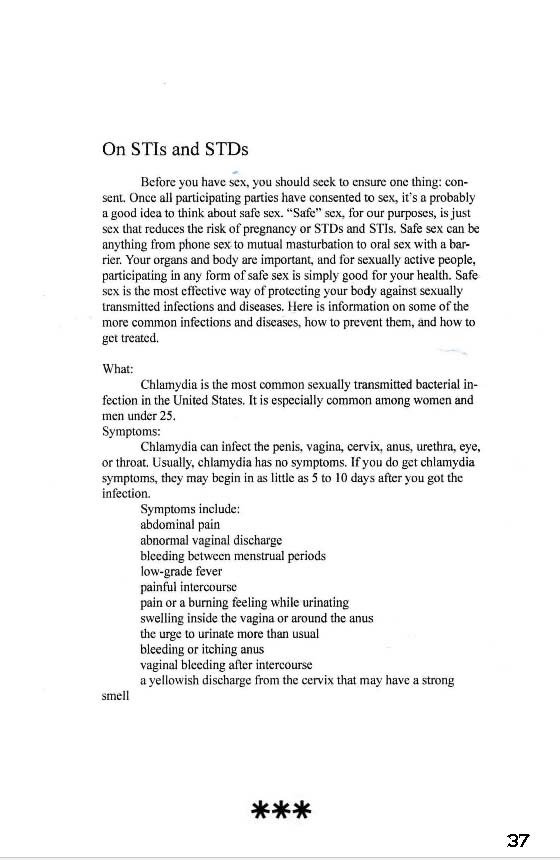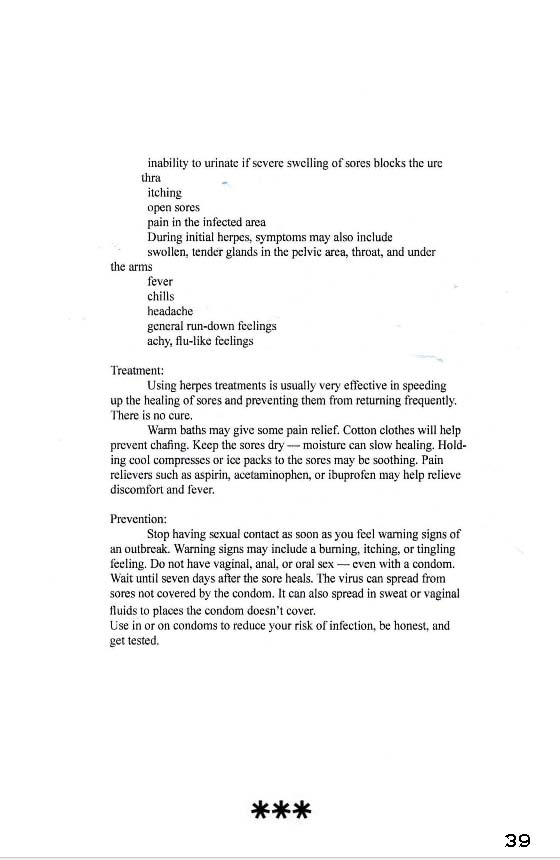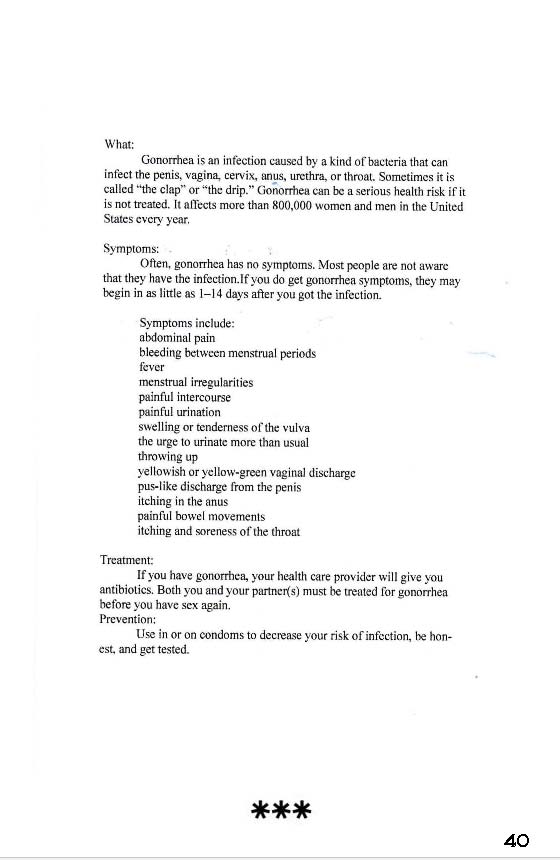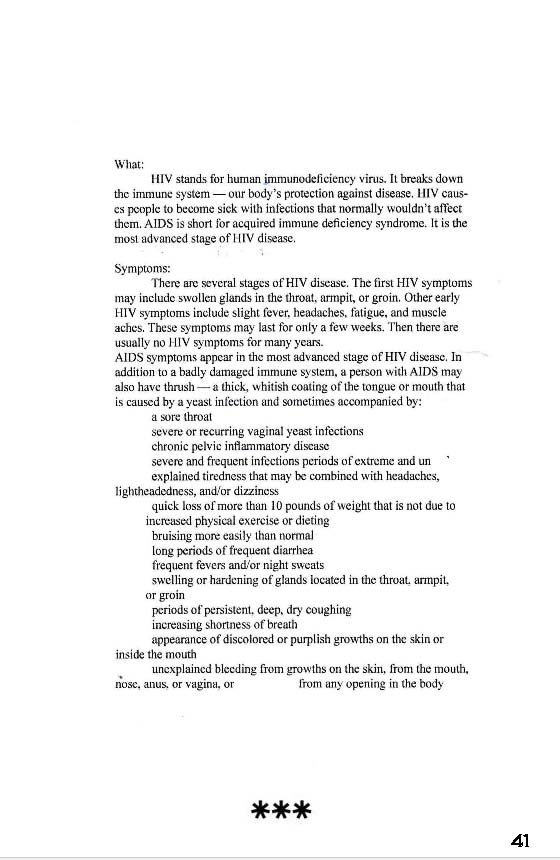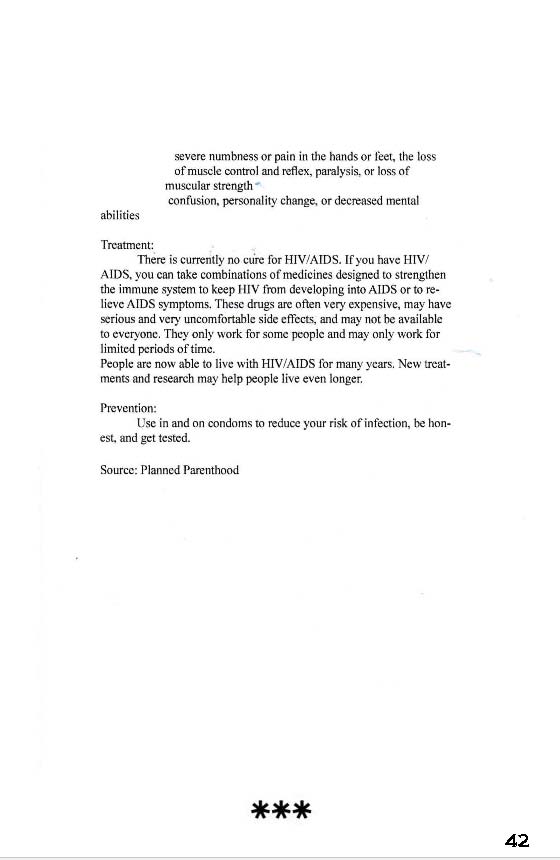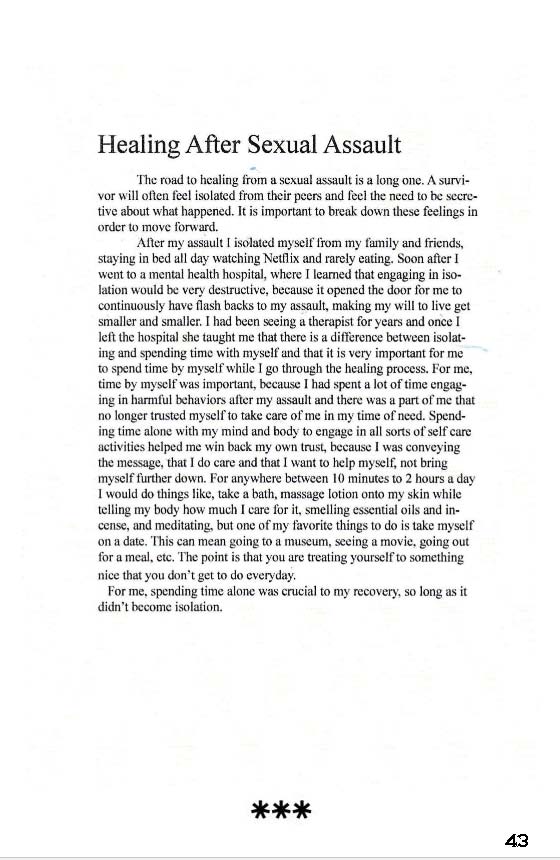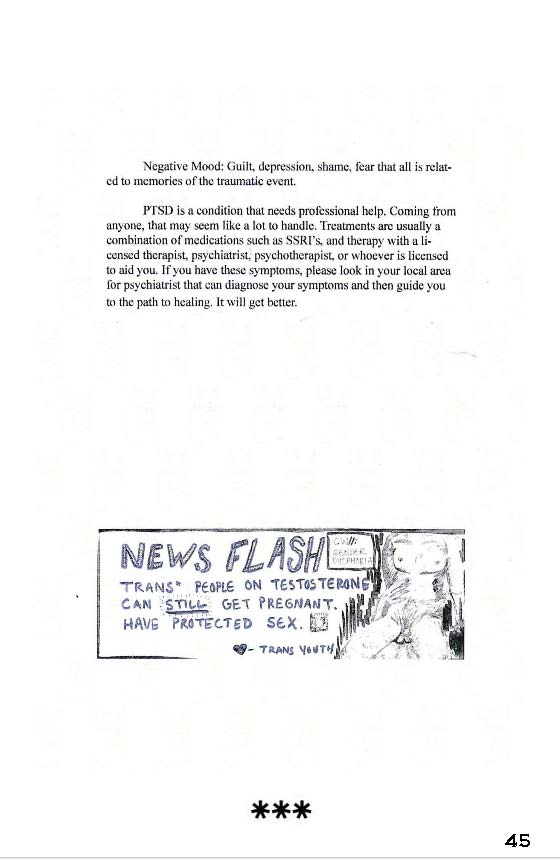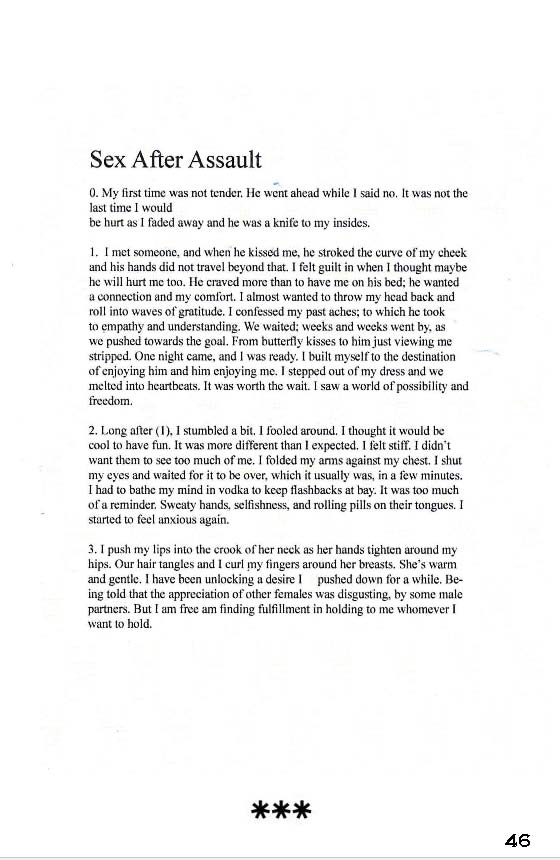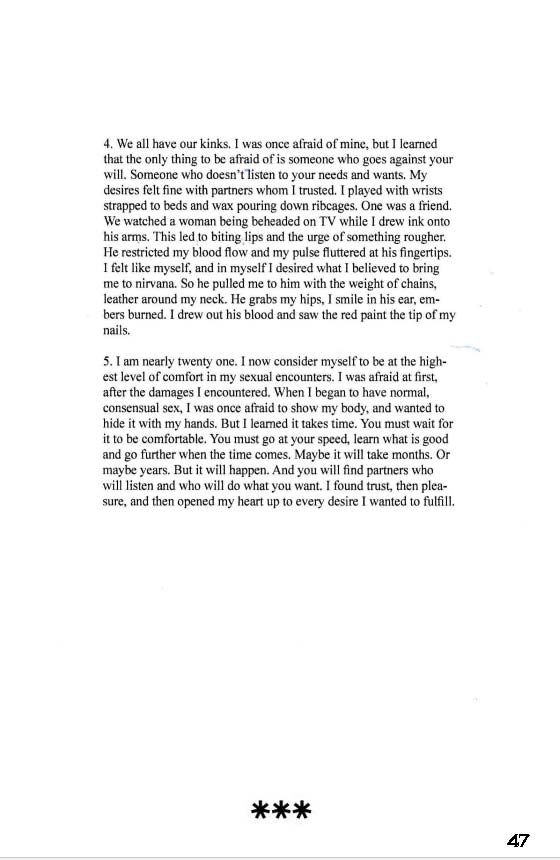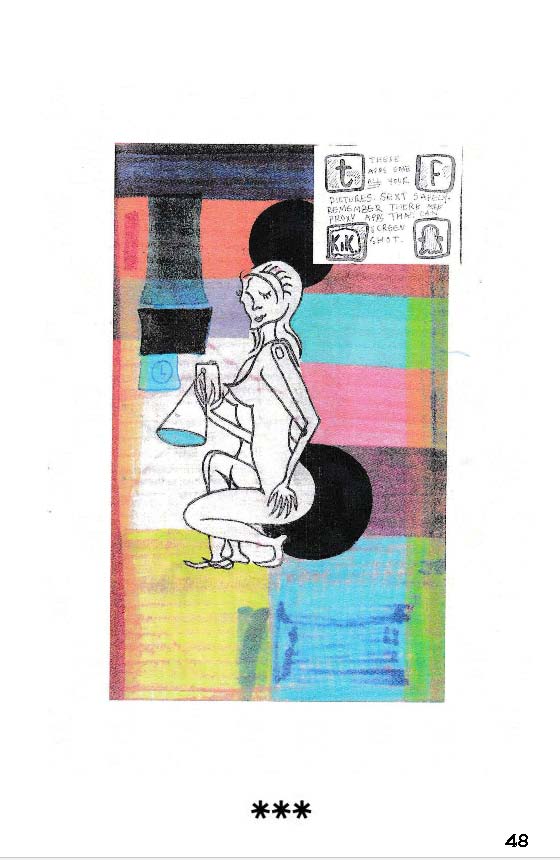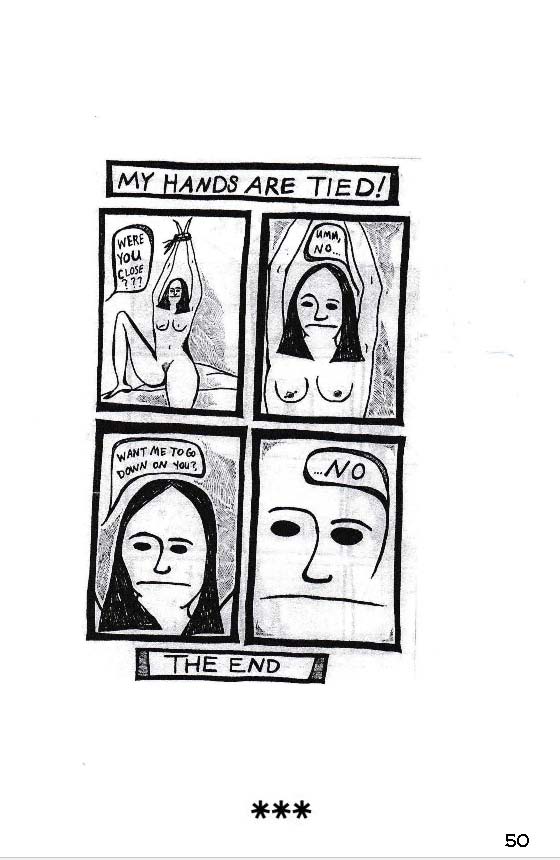 Why is my child being given instructions on kinky sex? I'm just grateful that the booklet's reproduction skills are so horrible my child may be unlikely to figure out what's going on in this endless, muddled, very unsexy "cartoon."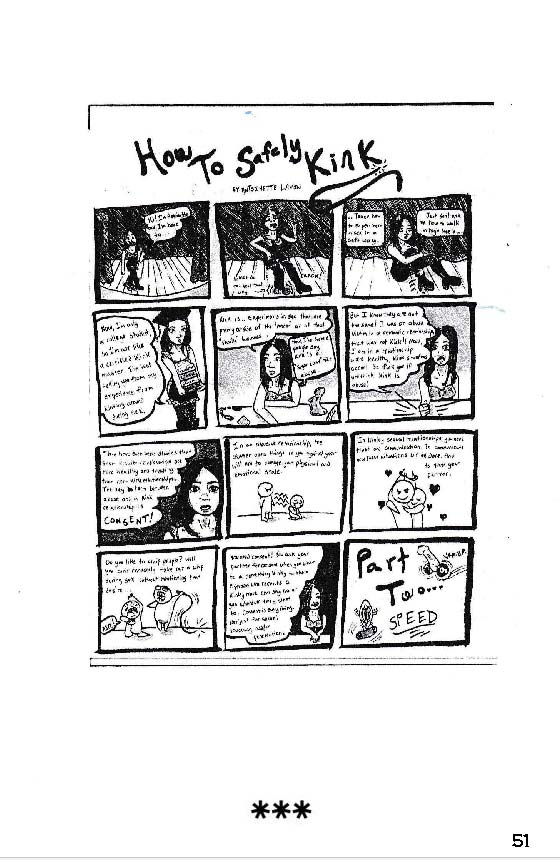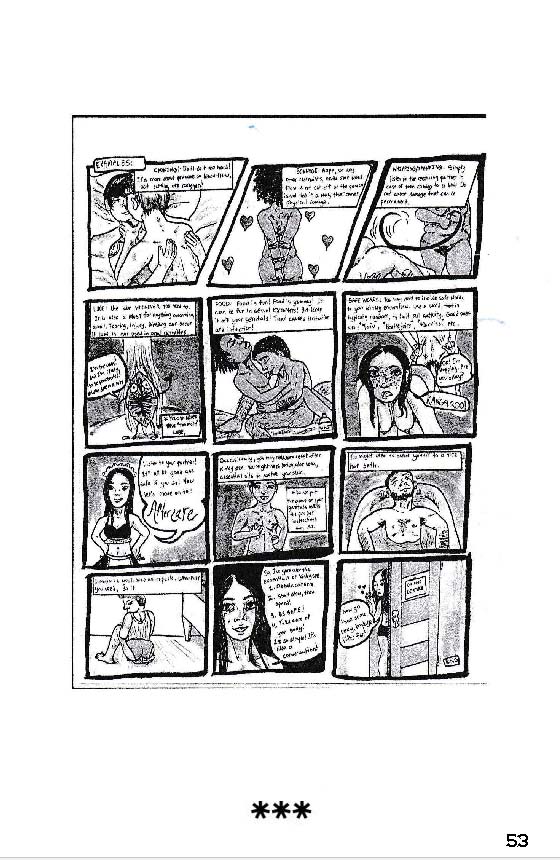 The following poems and essays are terribly sad. Some are sad because damaged people describe their damage. They're also sad because they represent two unhealthy things: sex cultism and victim cultism. Both reduce people to the sum of their sexual organs, denying them the opportunity to be fully realized human beings.