The Kavanaugh confirmation wrap-up
Republicans showed gumption and got Kavanaugh confirmed — and the Democrats and their Leftist allies went absolutely crazy, in ways both amusing and scary.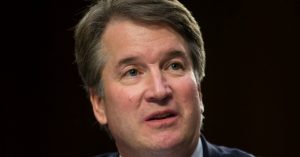 Sorry for the blog silence, although one of the things that took my away from blogging is nice: I've been getting calls and emails from people who live in solid blue enclaves, but are desperate to celebrate this moment. They want to talk about Kavanaugh's exemplary record and intellectual credentials, about Trump's record on judicial picks, about the Leftist witch hunt, about Kavanaugh's and Susan Collins' talks, about Lindsey Graham's cojones, and about the escalating and frenzied insanity from the Left.
Because I'm short on time, I've got a few tweets to share with you, each of which tell a little piece of the story:
Trump is undermining fundamental institutional norms of the Republic. Also We must do away with the Senate, electoral college & the Supreme Court is now illegitimate. Same exact people.

— Stephen Miller (@redsteeze) October 7, 2018
Look at these tolerant, progressive protesters dancing around this lone, 71 year old Trump supporter – they eventually try and rip his signs up but are stopped by organizers. pic.twitter.com/X8evmEzmzx

— Benny (@bennyjohnson) October 6, 2018
Hysterical Left-Wing protesters storming the 13 ton solid bronze doors of the Supreme Court and attempting to claw them open with their bare hands would be the funniest thing I've ever seen – if it was not simultaneously the scariest.

Imagine if conservatives behaved like this? pic.twitter.com/0T2lasZn9E

— Benny (@bennyjohnson) October 7, 2018
.@LindseyGrahamSC tells Chris: "I've never campaigned against a colleague in my life. That's about to change." pic.twitter.com/FMi4yS85OE

— Pat Ward (@WardDPatrick) October 7, 2018
I'm at the anti Kavanaugh rally.

They keep telling everyone to chase down Trump supporters where they eat, work, and live.

These aren't idle threats. They are rallying a nationwide mob.

Believe me. They mean it.

— Jack Murphy (@jackmurphylive) October 6, 2018
Woman all over America are now shaving their heads, in protest of the appoint of Supreme Court Justice Brett Kavanaugh.

As if the liberal women aren't ugly enough? What man in their right mind would want to be hooked up with THESE beauty queens?…. pic.twitter.com/FSuPt6Ymr2

— Peggy A Hubbard 🇺🇸 (@pahubb43) October 7, 2018
Such a pity these folks lost. pic.twitter.com/piceNPXsdV

— Breitbart News (@BreitbartNews) October 6, 2018
It's almost like this was never about righting a wrong but destroying an innocent man for political reaaons. https://t.co/6vZXsmcqJh

— Kim Priestap (@kimpriestap) October 7, 2018
But there is hope:
My son is 26.

He's a liberal.

Went on a hunger strike in college to raise awareness of divesting from fossil fuels.

He would drive me crazy at the dinner table. 😂

Last night he said "it they want to attack a man for what he did at 16 years old….I want out"#WalkAway

— Nurse Patriot ❌ (@LANURSE1) September 28, 2018