Midterms 2018: The Good, The Bad, The Ugly — & The Silver Lining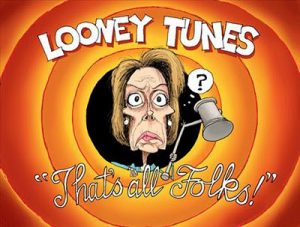 The 2018 midterms are in the history books.  Republicans will pick up somewhere between +2 and +4 Senate Seats while Democrats are expected to pick up approx. 33 seats in the House.  To put this into perspective, "since 1862, the president's party has lost an average of 32 House seats during the midterms."  Obama's first midterm resulted in a Democrat loss of 6 Senate seats and 63 House seats.  So this is bad, but it could have been worse.
Flips in the Senate:
Fla.:  Gov. Rick Scott (R) barely beat incumbent Bill Nelson (D), 50.2 to 49.8.  At less than 1/2 of 1%, that would normally trigger a recount.  But that might not happen as Nelson has already conceded the election.
Indiana:  Mike Braun (R) defeated the incumbent Sen. Joe Donnelly (D) by almost 10 points.
Missouri:  Josh Hawley (R) defeated incumbent Sen. Claire McCaskill by 5 points.
North Dakota:  Kevin Cramer (R) defeated incumbent Sen. Heidi Heitkamp by over 10 points.
Nevada:  Jacky Rosen (D) defeated incumbent Sen. Dean Heller by 5 points
Empty Seat Elections
Ariz.:  Martha McSally (R) is leading Kyrsten Sinema (D) by 1 point with 93% reporting to fill the seat now held by Jeff Flake (R).
Tenn:  Marsha Blackburn (R) defeated former Gov. Phil Bredesen (D) by 11 points to fill the seat now held by Bob Corker (R).
Utah:  Mitt Romney (R) defeated Jenny Wilson (D) by 30 points to fill the seat now held by Orin Hatch (R)
Miss. Special Election:   Interim Sen. Cindy Hyde-Smith (R) has 41.5% share of the vote versus Mike Espy (D) 40.6%. in a jungle primary.  The two will face off in a second election to be held Nov. 27.
Notable Holds
New Jersey:  Bob "I like 'em young" Menendez (D) won reelection over Bob Hugin by 9 points.
Texas:  Ted Cruz (R) won over "Beto" O' Rourke (D) by almost 3 points.
West Virginia:  Joe Manchin (D) won over Patrick Morrisey (R) by 3 points.
In the House races, there are too many to list the changes and still too many not called.
In the State Houses, Democrats captured 7 govenorships, including, in a true heartbreak, Wisconsin.
This election was not a blue wave, nor a red defense, it was, as Prof. Glen Reynolds calls it in USA Today, a purple puddle.  And what that means is "gridlock."  Perhaps, as Reynolds suggests, that will be a good thing.
Sarah Hoyt, writing at Instapundit, gives the pessimist view:
The dems get two years to hide whatever inky stuff has been going one with the FBI/CIA.  After another two years that swamp might be permanent.

Trump is by nature a deal maker. After the first two government shut downs, he'll meet them halfway.  This will wreck our economy and yep his presidency with it.  As they did with Bush in 2006, they now have a chance to wreck the economy and have it blamed on the sitting president.

Border security? What border security? Moar Dem voters, citizenship being insignificant.

Seriously, yeah Judges.  Not all is lost.  But this is bad, very bad.  We failed to beat the margin of fraud.  Maybe it was inevitable.  Maybe Trump won in 16 because they seriously underestimated him.

Yeah, they threw a lot of money at this.  But let's be real, if they can win the House on promises to raise our taxes and throttle our energy production and, oh, yeah, impeach the president that finally got the economy going?  We need to up our game, and somehow we need to clean up vote fraud. Which is now infinitely harder to do, since the loons got the power. No, I'm not giving up.  But this is a heck of a corner we've got ourselves painted into.
All true, but there are some upsides.  One, the true nuts will be front and center.  Speaker Crazy Nancy, Chairman of the Finance Committee Mad Maxine (who is already set to take her pound of flesh out of our banking system), Adam Schiff (The Russians . . .) as head of the intel committee,  Jerry Nadler (we'll get Kavanaugh yet) as head of the judiciary committee, and on and on.  Two, I expect partisan fireworks not seen since 1860.   Will anyone be surprised if impeachment of both Trump and Kavanaugh gets scheduled for a floor vote in the House sometime in February 2019?  The rabid base will demand it.  And the only person who will revel in this more than a loony toon proggie is . . . seated in the White House right now.  The House is alone is powerless, but the nuts and flakes can provide endless fodder for Trump to attack them between now and 2020.
What is the curse — "may you live in interesting times."  We certainly are about to.  Buy popcorn.  And now all eyes on 2020 . . . er . . . the House . . . er . . . Ruth Bader Ginsburgh.