Ravelry, a fiber arts social network, silences Trump supporters as "white supremacists" *UPDATED*
Ravelry, one of the biggest fiber art social media networks, identifies Trump supporters as "white supremacists" and asks its community to help police them.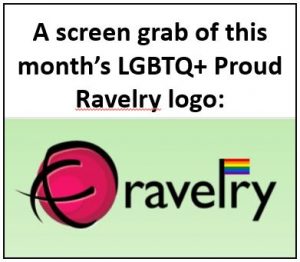 If you do any type of fiber crafts — knitting, quilting, crocheting, etc. — you're familiar with Ravelry. It's a very well-organized social network dedicated to allowing fiber crafters meet in cyberspace, whether to teach or learn, talk about projects, find patterns, etc.
Ravelry is also a marketplace allowing for individual crafters to sell instructions and patterns. Only recently, I bought two excellent PDF project instructions from a gal whom I later discovered, looking at my credit card statement, markets through Ravelry. The site also gets a small percentage of these PDF sales. It also makes money selling logo wear.
Ravelry is very popular. While it's unlikely that all its members, or even most of its members, are active on the site at any given time, and many sign up never to return, as of February 2019, 8,000,000 people had signed up for Ravelry.
Unfortunately, Ravelry has decided to wade into politics and to do so in the most ugly way possible. In an announcement today to its membership, one with a Pride flag proudly displayed in the upper left hand corner, Ravelry said that from now on Trump supporters will be silenced.
Please note that the site is not silencing all political discussions on the ground that they are disruptive to a site dedicated to fiber hand crafts. No, no. It is only silencing Trump supporters because they are "white supremacists" — and it's asking its other members to go full Stasi and police the site for any incipient Trumpista break-outs.
The following is the full text of the Ravelry announcement (bold-italicized emphasis mine):
We are banning support of Donald Trump and his administration on Ravelry.

This includes support in the form of forum posts, projects, patterns, profiles, and all other content. Note that your project data will never be deleted. We will never delete your Ravelry project data for any reason and if a project needs to be removed from the site, we will make sure that you have access to your data. If you are permanently banned from Ravelry, you will still be able to access any patterns that you purchased. Also, we will make sure that you receive a copy of your data.

We cannot provide a space that is inclusive of all and also allow support for open white supremacy. Support of the Trump administration is undeniably support for white supremacy.

Policy notes:

You can still participate if you do in fact support the administration, you just can't talk about it here.
We are not endorsing the Democrats nor banning Republicans.
We are definitely not banning conservative politics. Hate groups and intolerance are different from other types of political positions.
We are not banning people for past support.
Do not try to weaponize this policy by entrapping people who do support the Trump administration into voicing their support.
Similarly, antagonizing conservative members for their unstated positions is not acceptable.

You can help by flagging any of the following items if they constitute support for Trump or his administration:

Projects: Unacceptable projects will be provided to the member or made invisible to others.
Patterns: Unacceptable patterns will be returned to drafts.
Forum posts: right now, only posts written after Sunday, June 23rd at 8 AM Eastern
Profiles: Please do not flag profiles yet if the only banned content is an avatar or avatars. There is not yet a flagging system for those.

Much of this policy was first written by a roleplaying game site, not unlike Ravelry but for RPGs, named RPG.net. We thank them for their thoughtful work. For citations/references, see this post on RPG.net: https://forum.rpg.net/index.php?threads/new-ban-do-not-po…

---

Update history

Sunday, June 23rd @ 8:00 AM Eastern: First version
Sunday, June 23rd @ 8:12 AM Eastern: Clarify that if you are permanently banned from Ravelry you will receive a copy of your data including any purchased patterns.
Meanwhile, even as Trump supporters are banned as "white supremacists" because they support legal, rather than mass illegal, immigration, Ravelry is all in for the LGBTQ++++ spectrum. Indeed, just as silencing Trump supporters merited an announcement, so did Pride Month: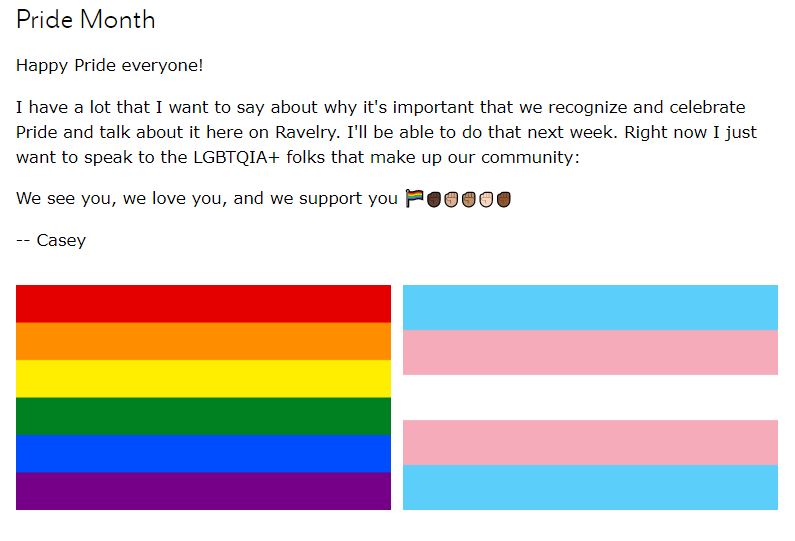 Casey it should be noted, is one of the site's founders. He also proudly boasts on the "about" page that his pronouns are "he/him" and that he's married with children. Oh, and he's white (seen in his photo). In other words, He's a heteronormative, cisgendered, toxic, white male who's reinforcing the patriarchy and damaging the environment by being a breeder. Ick.
(By the way, I don't give a flying whatsit about an individual's sexuality. I give a lot of flying whatsits about the gay mafia — or, as I call it — the QueerBorg attempting to use sexuality to impose a hard Left social and political agenda on America.)
Significantly, Ravelry got its inspiration for silencing Trump supporters from the gamer community. You may remember GamerGate, which occurred when the gamer community was suddenly taken over by Social Justice Warriors as anxious as the Ravelry people are to silence any non-woke, hard-Left social justice voices.
Sadly, while Ravelry is the most dramatic outbreak of social justice warrior-ism turning a non-political activity into a toxic soup, this trend has been breaking out for some months in the knitting world. Just three months ago, Vox ran a story entitled "The knitting community is reckoning with racism : Fiber artists of color are taking to Instagram stories to call out instances of prejudice — and to try to shape a more inclusive future."
The article opens with the author and others taking offense that a knitter was excited about a trip to India. I'm going to have to quote the first few paragraphs so that (a) you can see how little it takes to offend people nowadays and (b) you can see how aggressive the social justice workers are when it comes to imposing their views on others and demanding full submission:
Karen Templer's Fringe Association Co. is kind of like Goop for knitting. There are tips and how-tos for navigating knitting's trickier maneuvers. There are knit-alongs for chunky cowls and cute fingerless gloves. There's an online store that sells the Fringe bag, which has come to be known in some circles as the Birkin of knitting bags. And there's the blog where Templer puts her personal thoughts.

On January 7, she blogged excitedly about her upcoming trip to India. She wrote that 2019 would be her "year of color." She said that as a child, India had fascinated her, and that when an Indian friend's parents offered to take her with them on a trip, it was "like being offered a seat on a flight to Mars." She spoke of her trip as if it were the biggest hurdle anyone could jump: "If I can go to India, I can do anything — I'm pretty sure." Templer, it should be noted, is white.

As someone who is mixed-race Indian, to me, her post (though seemingly well-meaning) was like bingo for every conversation a white person has ever had with me about their "fascination" with my dad's home country; it was just so colorful and complex and inspiring. It's not that they were wrong, per se, just that the tone felt like they thought India only existed to be all those things for them.

The initial comments on Templer's blog post were supportive, but quickly, knitters and fans began to criticize her tone. "Karen, I'd ask you to re-read what you wrote and think about how your words feed into a colonial/imperialist mindset toward India and other non-Western countries," wrote commenter Alex. "Multiple times you compare the idea of going to India to the idea of going to another planet — how do you think a person from India would feel to hear that?"
Templer, rather than giving these Social Justice Warriors a polite or impolite "eff you," instead apologized:
Templer has since apologized for her post, writing, "It took women of color pointing this out for me to see it … which is not their responsibility, and I am thankful to them for taking the time," and that she'd be continuing to raise visibility of people of color (and specifically black/indigenous POC) knitters and their work. (Templer declined to comment for this piece.) But her post triggered a wave of conversations about racism and prejudice in the fiber arts world, which thus far shows no signs of slowing down.
You can imagine how the rest of the article goes. That article was my first indication that the SJWs are trying to destroy fiber crafts. Just a couple of weeks ago, in something that relates to Ravelry's revelry about LGBTQBYOB, the New York Times ran an exultant article about gay men knitting: "Trading the Noisy Gay Bar Scene for the Knitting Circle : Many gay men in New York are looking for alternative ways to socialize. A look at the surprising revival of the knitting circle." Could there be anything more woke?
(I wonder if any of those gay knitting warriors know that they're not breaking any ground here. In medieval Europe, knitting craft guilds belonged exclusively to men. Just as women traditionally cooked in the home, while male chefs cooked in the professional world, women might knit the socks at home, but the big time, big money knitting was a male preserve.)
To any of my readers, or anyone else who sees this, I urge you to resist this effort to politicize the craft world. GamerGate came to an ignominious end because the male Gamers fought back against the effort to silence them. I'm worried that knitters, who tend to be female, may yield to this crude political censorship in order to be nice and polite.
If a craft site wants to ban politics entirely, fine. It's great to focus on the crafts without distractions. But for a social media site openly to silence half of the American public on the ground that they're "white supremacists" because they support a president who believes that open borders will destroy America goes beyond the pale. This kind of thing needs to be squashed instantly.
I've signed out of Ravelry for good and I urge you to do the same.
UPDATE: One of my readers sent Ravelry this farewell letter:
I never post politics here, this was a happy knitting place for me. I was one of the earliest people on this platform. No more, you have decided that censoring the POTUS is acceptable. You have that right. I think you are very stupid for doing so. Go woke, go broke.

So I am asking you, how do I leave Ravely? I couldn't find an easy way to do so. I don't want to belong to a group that blithtly censor ideas they don't like. Especially when we are talking about the administration of the United States of America. I have had many issues with things our government has done over the years. Living in a democracy, I always felt that both sides had a say. Clearly you people don't like living in a democracy, especially one that has free speech.

I know, everyone on the internet is doing it these days. You may think that silencing ideas you don't like is easy and comfortable to do. The ideas don't go away, they will burst out somewhere else. usually in an uglier form.
I can tell my friend how to quit: Go to the "edit profile" page and at the very bottom there's a hyperlink to "delete you account." I've already done so with my account.
UPDATE II: Welcome, Instapundit readers. Also, I've got my own Deep Throat (you know who you are and thank you so much), so I am learning that this is not the first time Ravelry has waded into supporting Leftist politics with a heavy, Big Brother type of hand. If you're interested, check back because I may have a new post on the subject.
UPDATE III: It's a long post, but you can go here if you're interested in Ravelry's 2009 trial run for silencing conservatives.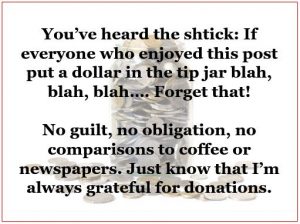 [give_form id="59195″]