Today both Power Line and Commentary Magazine acknowledged that Ted Cruz may well be the last man standing. Because I love it when I'm right (yes, I have no shame), let me repeat my post from September, when I predicated precisely this outcome in the primaries: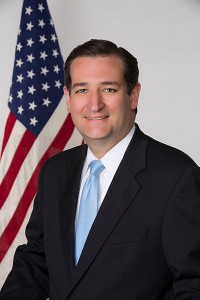 Ted Cruz, with his devotion to the Constitution's promise of individual liberty based upon inherent rights, is the antithesis of Orwell's Big Brother. Nevertheless, there is another Big Brother analogy that comes to mind when I think of Ted Cruz and that may explain his plan to become the Republican candidate for president.
It all begins with my dear friend Don Quixote, who was a big fan of those reality TV shows in which 12 or so people compete in a nicely Darwinian way to be the last person standing at season's end. His particular favorite was Big Brother, which Wikipedia explains as follows:
The premise of the show is that there is a group of people, dubbed as "housemates" or "houseguests", living together in a specially constructed large house. During their time in the house they are isolated from the outside world and are not commonly aware of outside event or have access to any electronic devices. Contestants are continuously monitored by in-house television cameras as well as personal audio microphones during their entire stay. Each season lasts for about three months, with at least ten contestants entering the house. To win the final cash prize, a contestant must survive periodic (usually weekly) evictions and be the last housemate or houseguest remaining in the compound by the series' conclusion.
I never watched the show myself, but I loved hearing Don Quixote explain the strategies the various contestants were using in order to win. One thing that I remember was that the winner was never the early front-runner, or even the mid-season front-runner. Instead, the winner was the gray man, the one who kept a low profile while everyone else was gunning for that week's front-runner. Then, as the field thinned out, the ultimate winner was the one who had been carefully making alliances and playing his allies off against each other.
I keep thinking of that strategy when I see Ted Cruz. He was the first to declare his candidacy (wasn't he?), and he's almost certainly the brightest of the bunch. He's also completely committed to a strict conservative ideology, as well as being anything but a shrinking violet. Nevertheless, he seems to be going out of his way not to make a splash. He's kept out of Trump's line of fire, as well as the missiles that the other candidates and the media are lobbing at Trump, and has been invisible when it comes to challenging either Fiorina or Rubio, both of whom are already being touted as the new conservative darlings to replace Trump's front-runner status.