Bookworm on Aug 03 2009 at 10:53 am | Filed under: Barack Obama
On July 31, right after Beergate, the White House posted official photos of the event.  Thomas Lifson, of American Thinker, saw one and was immediately struck by it.  Here's the photo: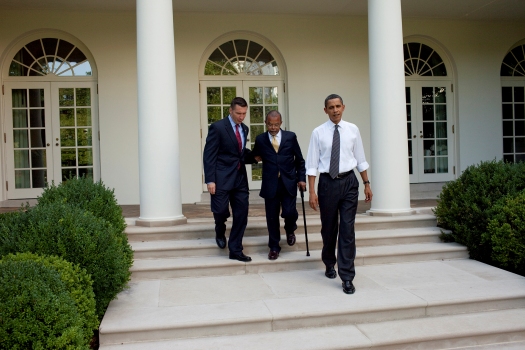 You see what I see: the cop who was flung into unwanted prominence because an esteemed professor and the American president accused him of stupidity and racism, carefully helps that same professor, who has a mild physical impairment, down the stairs. The president strides on, utterly oblivious to his friend's needs. Thomas thought that image compelling:
Sergeant Crowley, the sole class act in this trio, helps the handicapped Professor Gates down the stairs, while Barack Obama, heedless of the infirmities of his friend and fellow victim of self-defined racial profiling, strides ahead on his own. So who is compassionate? And who is so self-involved and arrogant that he is oblivious?

In my own dealings with the wealthy and powerful, I have always found that the way to quickly capture the moral essence of a person is to watch how they treat those who are less powerful. Do they understand that the others are also human beings with feelings? Especially when they think nobody is looking.
Interestingly, a blogger at the New York Times thought it compelling too.  Without, as Thomas notes, a trace of snark, Eric Etheridge links to both the photo and to Thomas' comment.  Thomas believes that the increased recognition this photo is gaining is very important and will get traction:
I have a minor wager with Kyle-Anne Shiver over whether Fox News Channel will broadcast the picture and mention the controversy it has engendered. As I recall, it required something like 4 days before they ran the Obama bow to the Saudi King. On that basis, I predict that sometime today the picture will breakthrough into the cable news domain. I bet Glenn Beck is the first to run it, followed by Hannity, Greta, and finally O'Reilly.
I suspect Thomas is right. That photographic minute in time perfectly exemplifies Obama's self-involvement. Whether he wasn't paying attention, or was just done with Gates (the man having served his purpose), or is completely oblivious to another's pain is unknowable. Obama's specific motivation is missing because we don't have a window into his head. It is enough, though, to see that, regardless of Obama's motive, the outcome is the heartless abandonment of those who are not of immediate use to him — and in this, Obama is a typical narcissist. People, facts, whatever . . . their only utility to a narcissist is to serve the needs of a moment.
The picture was also helpful in cementing Crowley's image as a true public servant. Whatever happened that heated night in July, the fact remains that this is a good man. Even Gates comes out of this smelling reasonably good (writing a pompous, but gracious, post-beer statement). Only our president gained and learned nothing.
Because Thomas thinks this is an important photo, and because I think he's right, I'd like to encourage all of you with blogs to link to Thomas (or, of course, you can link to me) and to publicize the photo.  People need to see that our President's default position is not that of a thoughtful humanitarian, but of an utterly self-involved being who sees people only in utilitarian terms.
UPDATE:  Both Brutally Honest and The Radio Patriot have linked to this one.  Some bloggers, though, are expressing the (entirely valid) concern that this is a set-up.  Once this story gets legs, the White House will holler "A ha!" and produce a photo from the same event showing Obama being incredibly solicitious.  What do you think?
UPDATE II:  Terresa, unsurprisingly, did a thoughtful post too.
UPDATE III:  JoshauPundit is also aware just how charmless skin-deep charm really is.
Email This Post To A Friend
25 Responses to "Seeing inside someone's soul — and finding a blogburst *UPDATED*"
[...] Bookworm Room – Seeing inside someone's soul — and finding a blogburst [...]

on 03 Aug 2009 at 6:02 pm

2

Quisp

I think with Photoshop, anything is possible.

on 03 Aug 2009 at 7:41 pm

3

Mike Devx

When we look at that picture, we see a self-involved complete jerk.

Ask yourself: When Obama looks at that picture, what do you think he sees?

I just want to note, in a meeting of three men, two of them clearly comported themselves at all times with measured dignity. The third, deliberately, did not. He's the odd man out. I ask myself, why?

My answer is that Obama still thinks he's Mr. Cool. When the rest of us look at that picture and mutter "Jerk", because that's what we see.. a Jerk… Obama looks at it and sees Mr. Cool, and he likes it. A lot. "Man, do I look good", is all he can see.

In a way, when someone points out why he looks like such a jerk, he sort of gets it, in truth! But he knows they're just nitpicking, because what's really important is… he looks like Mr. Cool. That's what's really important.

What do you think?

In strife, you try to beat the foe and the foe tries to beat you. It's nothing new.

on 03 Aug 2009 at 8:08 pm

5

Mike Devx

Many have mistaken Obama's "elevated remoteness" for intellectualism. It's not. He's not an intellectual. He's simply remote. He's disconnected, but it's hard to see because of the Politician's Surface. (This also is part of why he cannot ever truly laugh at himself, no matter how hard he tries to fake it.)

He also has a politician's ability to see what you want and pretend to give it to you. Many have walked away from him, even opponents in the same meeting, thinking, "He understands me and he's on my side". They're convinced he has astounding empathy as well. And again, nothing could be further from the truth. Obama has zero empathy. He is pure manipulation. (The total lack of empathy is the other part of why he cannot laugh at himself, and also why every joke that he *means* is hurtful to someone else.)

As Book pointed out, that's one of the undercurrents in this picture. The beer garden party is over. Therefore, Obama is done with these two men. They simply don't matter, not any more. They practically no longer exist to him. He is now completely oblivious to them. Once again, it is now all about him. He's headed forward to his next moment. The next manipulation moment.

That remoteness, that distance… that detachment without empathy, scares me. The incredible self-regard, self-involvement and massive ego disgusts me.

Your point about "cool" people and "jerks" is a good one. I went to martial arts tonight despite a migraine. I managed okay for a while, and then just cratered. I slipped out of the room and around the corner for a rest. One of the young men (half my age and lovely to look at at) spotted me, and came over to assure himself that I was okay (which I was). That guy was a true gentleman. He was completely unworried about being cool, and was concerned only that someone he knew might need help. Obama could learn a lesson about real cool.

Stretch out the back and cervical muscles around your upper spinal cord, Book. Most migraines seem to be caused by muscle over-tightening at that area. Especially if the muscle there is being reinforced with newer layers.

A simple bend forward and back is enough, usually. But you have to stretch to the limit. Spine should look like an A-Okay hand sign.

Mike,

Obama does have empathy. There's no way he can cause people to sympathize with him and to react positively to him, if he didn't know what they were feeling and how to manipulate those feelings. But sociopathy is what you are looking for, because that is a person that knows right from wrong, but doesn't care.

Thanks for the advise, Y. I'll give it a try.

As for empathy, Y, that's an interesting issue with sociopaths. It turns out that sociopaths are exceptionally good at reading others. Where they differ from normal people is that they don't actually have empathy. That is, they don't feel the other's feelings. They just recognize them and then manipulate them to their own ends.

Normal people are actually less good at picking up on feelings than are sociopaths, but normal people make up for that deficit by actually empathizing. That is, unlike Clinton who just said it, normal people really do feel your pain.
I do wonder if the fact that normal people feel pain is the reason they're less good at picking up on feelings. It would be completely overwhelming for the average normal person if he felt, not only his own feelings, but everyone else's. Because the sociopath just observes feelings, he's can just read everybody without being overloaded.

The distinction I wish to make is that just because the sociopath doesn't see other people as human, doesn't mean they don't feel other people's pain. It's more like it doesn't matter to them. Much as a person can imagine how a bug feels when it is crushed, but we don't pay it any mind, not because we lack empathy, but because bugs aren't human to us and thus not deserving of any consideration on this score.

It doesn't mean we lack empathy. It doesn't mean we can't feel the bug's pain if we really wanted to.

In point of fact, sadists feel the pain of their victims quite well. It is just that they like it. Sociopaths don't particularly care one way or another. We are all bugs to them. Most, they leave alone. But when we bother them, down comes the Boot.

on 04 Aug 2009 at 7:27 am

10

SGT Dave

Y,
I think you and BW are hitting on to-may-to vs to-mah-to cylinders here. As a long time professional in reading humans, the ability to manipulate requires perception of emotional states. It also causes a great deal of separation from others. It is very hard to turn off the manipulation and feedback actions after learning them and using them. Check the divorce stats on military intelligence, especially human intelligence. It is horrific at best; most of my friends in the field are on their second or third marriages (if not "confirmed" bachelors/bachelorettes). It becomes easier and easier to NOT shut it off at the end of the day – the manipulator is separated from the emotional connections he has established and immune to the pain that comes with attachment and devotion. I lived that way for the better part of eight years; it ain't pretty. The O-man is showing something here that I've called "booth decompression"; he's re-setting his emotional state now that he has completed a task requiring full engagement of his wit and emotion. He left the "booth" behind, and with it he left all his concerns and all the actions he took inside the "booth". New slate, clean, ready to go on to the next target/subject/objective.
If he's not a sociopath, he's a well-trained operator. He's got all the tells; it's why human intelligence types get bad vibes off him. He's one of us, but there's no senior interrogator or crusty old warrant officer sitting over his shoulder keeping him between the edges of the line between black and white. It is a bit fascinating, in a "there but for the grace of God go I" fashion. If he implodes (and I'm not certain he won't), it will be a catastrophe that makes Nixon look like a choirboy. The problem is that once one of the support lines breaks (lost trust) it will weaken the next – and relationships are not static. He's already having to invest massive efforts to maintain his current relationships because of missteps and uncovered falsehoods. This is a major problem, since his strength flows from expanding his network – and using the new expansions to shore up or pay off the old ties (think pyramid scheme). He's reached the con man's limit, where all the easy marks are gone and the difficult ones are suspiscious. Now comes the time when the effort to hide all the flaws becomes too expensive in the face of other expenditures of prestige. Again, however, the revelation of those flaws reduces the prestige available, making more flaws visible, and so on in a spiralling effect. The press helped keep the lid on for a time, but now there is no one else in the feeding pool with the sharks – he fed them everything else that had significant meat on its bones. Heck, he's down to Hillary! and slick willie (N.Korea, anyone?) to keep the press out of his business. He's monopolized the press by making himself the only "worthy" story in town – now he gets to live with the press looking to create enough copy about the "worthy" story. It should be interesting.

And enough rant for the now…

SSG Dave
"If someone demands all the attention and achieves the spotlight do they then have a right to complain about the brightness?"

That, SGT Dave, is fascinating. I'm on the opposite end of the scale — not a good reader of most people and, therefore utterly incapable effective manipulation. I'm a terrible chess player. I wish I could be more aware of what's going on with other people, and it would be nice to have some human manipulation skills.

For that reason, I've never been able to figure out how such people work. I can quote from books, but I'm always viewing their machinations from the outside, without any understanding of what goes on in their brains.

I think you and BW are hitting on to-may-to vs to-mah-to cylinders here.

It's not a superficial distinction.

If a sociopath doesn't feel what his victims are feeling, then he can only project feelings unto them or view them in the abstract. This lacks realistic feedback and efficacy. Because they are so good at predicting and manipulating people, in a dynamic situation, they could only do so by knowing what people are thinking and feeling. Their capability for finesse would be lacking if they only knew, in an intellectual fashion, what people were feeling. That wouldn't allow for Obama to fool everybody he personally met, including 9/11 families and military families that wanted a square deal from him, thought they got it, only to find out he was playing them.

The thinking behind the argument that the sociopath is dead to emotions is correct, but only for the sociopath's emotions. Everybody else's emotions work perfectly fine and he has no problems maneuvering through them. Because human beings cannot feel exactly what another is feeling, absent hormones and thought control, what empathy utilizes is the 'put yourself into another's shoe' syndrome.

A normal socialized person could only empathize with so much suffering, highs and lows, before they burn out. A sociopath doesn't have any real emotions, in terms of what one might consider love or hate, so they can take a peep at people's emotions almost endlessly.

But most troublesome is the belief powering the argument that sociopaths don't empathize, is due to the belief that if sociopaths did empathize, they would not be sociopaths or they would start caring. I don't think that's the case.

The sociopath isn't sympathizing or commiserating with people so much as he is pulling levers. He knows how the lathe works, and he works it like a machinist. Trying to do the best job he can.

If empathy can be defined as 'feeling what others are feeling and thinking by putting yourself into their shoes' then sociopaths are perfect empath. But the connotation to the word doesn't apply. The connotation of trust, love, respect, or equality doesn't apply. What applies would be "perfect objectivity" because the sociopath has no undue influence in putting himself in your shoes. He understands you very well, but he could not do that if he didn't put himself in your shoes. No amount of 'intellect' could do it. The reason why sociopaths are hardened or deadened, along with military intel and others who must peek inside the heads and hearts of others, is because if you go into someone's skin for too long, you start to become like them. Or you start to sympathize with them. You lose your empathy. The opposite of sympathy would, of course, be sadistic glee and hate. Understanding someone doesn't always produce love and respect. Sometimes it produces more hatred and a very strong desire to inflict pain.

But sociopaths aren't affected by these issues. Because they don't have the normal societal triggers. The ones that taught that you should feel worry about others being in pain. There's reset options available, like the ones Dave spoke of. There's intellectual justifications you can make such as 'the bug doesn't have the nerves to feel pain, so they don't feel pain, even though I know what it would feel like if I was the bug".

A lot of our emotions are born of our values. An objective observer can more easily decipher what is going on between our intellect and our heart. If you are the one in the midst of the maelstrom, however, then you have a hard time untangling things. But a sociopath can put himself into your shoes, without caring at all about the things you care about, and yet fully comprehend and even feel (in the sense that one can imagine what others are feeling) what you would feel. He can gauge the degree of pain he can cause. He can gauge what will motivate you to do x as opposed to y. He can determine, by placing himself into your shoes, what your value judgments are, how you think, and what you are able to withstand. Then he finds the chinks in the armor and exploits them, once he returns to his own self.

Sociopaths are very close to narcissists, but not exact. A narcissist still feels genuine emotion. It is just that he can't feel alive without hurting other people or manipulating them. Other people are his fuel, his reason for being. They aren't people to narcissists. Just fuel. To be used and then replaced with new fuel.

Sociopaths have no need for feelings at all. Still, they have their motives, and those are hard to understand. Since you would necessarily have to place yourself into the sociopath's shoes, and that's very hard to do if you can't deaden your own emotions and feelings in the same fashion.

For that reason, I've never been able to figure out how such people work.
That's cause you're a good person, Book.

That's why we have the Daves. So that they can figure it out for you.

One could, perhaps, take this as similar to "America is at the mall, the Marines are at war" but I choose not to. Instead, I prefer the perspective that says that certain people are exceptionally good at particular trades and crafts and professions. Thus people should specialize in doing what they are best at, what they are passionate for, and in this fashion society will all gain from the fruits of others. It doesn't mean we all go to our island and close the borders with mines and auto-turrets. It does mean that some people are better at some things than others. Equality, thus, is not evening out the individuals but ensuring that the fruits of such specialization are not distributed to a select elite few at the top, hoarding everybody's hard work. Equal opportunity. Everybody can have a chance to partake of the goods of other people's professions.

Btw, Book, I would believe that many of us are waiting with baited breath at your next audio cast.

on 04 Aug 2009 at 8:31 am

14

suek

>>…the ability to manipulate requires perception of emotional states. It also causes a great deal of separation from others.>>

Help me out here a bit…you're saying that in order to function to interpret the emotional states of others and manipulate them, you have to "turn off" your own emotional state? You become strictly an observer, and in order to do your job, you can't be a participant? participating would "taint" your observations?

participating would "taint" your observations?

Correct, suek. Absolute objectivity is the standard here, for propagandists as well as for interrogators and sociopaths.

You cannot manipulate what others are feeling, when you have your own personal emotions coloring the stream. It just can't be done. You may end up being manipulated yourself and not manipulating the subject.

on 04 Aug 2009 at 8:44 am

16

suek

>>If he's not a sociopath, he's a well-trained operator>>

How would you differentiate between them? the operator and turn it off and become emotionally involved, and the sociopath can't?

on 04 Aug 2009 at 8:52 am

17

SGT Dave

Sue,
You hit it on the head. When I'm working you'd be hard pressed to tell the difference between a true sociopath and myself. Hell, I have a hard time living with it at times. I am a well-trained operator, and it nearly cost me my humanity reaching that point. Thank God for my wife, my kids, and my determination to keep living – at one point I almost didn't make it and couldn't look in the mirror.
And it is a constant fight to remain "human" and not just an operator.

SSG Dave
"You see that edge there, between the line and the black? And there's the other one, between the line and the white… Those are the limits where you operate, neither fish nor fowl, in the grey area defined by the razor's edge of a line."
-SFC B, my mentor

The difference between a trained operator and a sociopath, suek, is as you can see here. The sociopath feels no guilt and isn't very troubled by his actions or his self. The trained operator does feel guilt and can be destroyed through their attempts to suppress it. Amongst other emotions.

It's why when people said 'torture' was happening at Gitmo. I saw no signs of it. Cause I know what torture is. And Dave does as well.

it gets to ya, doesn't it, Dave. That other self.

I am curious. Did you ever try to separate out the working persona and the human persona. Disaggregate them, that is, in an attempt to put up barriers and a defense with the claim that it isn't you, it's another personality. Did this ever trouble your sense of your sanity, when the choice was between disaggregation and an acceptance of the other?

on 04 Aug 2009 at 9:43 am

20

SGT Dave

Y,
I never had the disassociative problems, but some of my people did. It gets pretty hairy at times when you're working. You become what the source needs you to be – friend, brother, confessor, tormentor, or synchophant. The immersion is total if you are doing it right – and you need to BELIEVE it. Only a tiny bit of your mind is quietly holding the lifeline back. It may even be worse when you have to leave it behind; you're not taking off a costume – you're killing the person you became and sucking out all the information you gleaned during your time in that skin. And let there be no doubt, you are killing a piece of yourself every time you walk away – even if that piece is pitch black and has tread where angels fear.
I've always been me, even when I was in the booth. It bothered a few of my co-workers because it was seamless. I've even been in riots shouting "arriba, abajo, gringos al carajo!" with the natives, blended so carefully they didn't pick me out or notice I was tagging the ringleaders so we could grab them later. The dichotomy is odd – one moves toward the center of gravity of the riot, seeking out the motivating force. Everyone does it, looking for the charismatic "star" around which the whole maelstrom circles. The hard part is following that stream of pressure and being a part and yet apart. Then allowing the tidal forces to drag you outward, away, then disengage and write up your report – knowing that the next step will be seeing that charismatic person inside a small room; disavowing your actions in placing them there; becoming their soul mate and confidant so that you can bring more people into the little booth and exploit their fears, needs, and loves; and then leaving, shedding a skin and writing the reports.
That was usually the point I'd go and get blind drunk and pass out.
Then I'd get up and go back again, because I am a professional operator – and I couldn't be out of the works for very long because they needed me.
I've still got my soul, though sometimes I have to scrub at the dingy parts. I look at my kids and realize I must've done something right, since they are all the things I wish I'd been – smart, loving, considerate, faithful. I owe my wife bunches for raising them while I was away and keeping me a part of their lives. I hope they don't follow their old man's steps into this shadow world, but I'm raising them to know right from wrong and to stand up for the good. They'll make their choices, and I'll support them wherever they go.

SSG Dave
"Inside this place there is only the questioner and the prisoner. They must believe you to be the only other creature in the world who cares. And you must care, no matter the cost when you stop."

[...] Bookworm Room – Seeing inside someone's soul — and finding a blogburst [...]

Tough work, Dave. Somebody has to do it. And better those that can and can excel than those who would be lacking.

The warriors of the light fight eternally on the border between darkness and illumination, enlightenment and despair.

They fight to create a world where they are no longer needed, all the while knowing that such a world can never truly exist.

Submitted 08/06/09…

Council nominations are up! Informed Votes – Wolf Howling argues that it hurts democracy to have lawmakers who are ignorant of the laws they pass. He's right. President Obama Awards Medal of Freedom To Prominent 'Anti-Zionists' – Joshuapundit gives …

[...] Fourth place with 1/3 points – (T*) – Bookworm Room – Seeing inside someone's soul — and finding a blogburst [...]

Current Watcher's Council Results…

Here are the current results from the Watcher's Council. Winning Council Submissions First place with 2 points! – Soccer Dad – Worth every penny of "free." Second place with 1 points – Wolf Howling – Informed Votes Third place with……
Leave a Reply
You must be logged in to post a comment.