Bookworm on Sep 24 2010 at 3:44 pm | Filed under: Chris Christie
I was amusing myself imagining a dream candidate, one that would attract a lot of crossover votes.  I came up with this political personality:
And this physical image: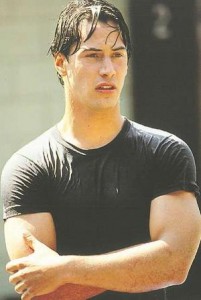 I would so vote for this man.  Of course, because I'm not quite that shallow, I would vote in a second for Christie even if he didn't look like Keanu.  But it would certainly be nice if he did….
What helps is that Keanu keeps his mouth shut:  he doesn't bloviate about politics and the environment.  He does his job and goes home.  It's the same reason I like Brendan Fraser.  They keep the fantasy alive by allowing me to impose my values on their appealing screen personalities, without spewing forth venom and stupidity on a regular basis.
Email This Post To A Friend
5 Responses to "My dream candidate"
I didn't know you liked Keanu ; )

on 25 Sep 2010 at 7:55 am

2

Ellen

Forget the pretty boys with chiseled abs and cut glass profiles.  I am in love with the Fat Man!   I'd walk through fire to vote for him.

Oh, I love Christie, and would also walk through fire for that man, but his political reach would be exponentially expanded if he looked like the pretty boy.

on 25 Sep 2010 at 8:41 am

4

suek

But…he's a pretty _boy_!! Where are the _men_ in Hollywood today? The only one I can come up with is Bruce Willis. No more John Waynes, I guess.

[...] management, and General Petraeus for overseas insights and national security.  But I still wish they both looked like Keanu Reeves. Share With [...]
Leave a Reply
You must be logged in to post a comment.