Bookworm on Oct 31 2012 at 8:19 am | Filed under: Barack Obama, Military
Usually, I post about what I've found on Facebook — the anger, the silliness, and the misinformation from my Liberal friends.  Today, I'm doing something different.  I'm posting about what I didn't find on Facebook.
You see, Facebook was apparently unwilling to tolerate a poster that suggested that Obama had been less than courageous when it came to protecting the people under his command.  (And although Woods and Doherty were no longer with the SEALS when they died, they worked for the CIA, making the President their CEO on the chain of command.)
We here at Bookworm Room do not share Facebook's bias, and are happy to make this poster available to you: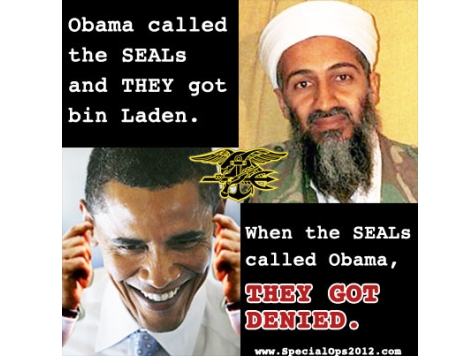 Yes, Facebook is a corporation and we agree to abide by its terms of service when we choose to use it. I'm not planning on boycotting Facebook, because I find it useful and interesting. However, those two facts don't mean that I'm willing to let Facebook get away with censoring appropriate political content. (And by "appropriate" I mean that this poster makes a genuine political point, it is not racist or antisemitic or in any other way hate-filled, it's not X-rated, etc.) If Facebook won't allow its users to distribute this image, it's up to the rest of us to do so.
For more information about the Special Operations community's unhappiness with the Obama administration (he uses them and abuses them, so to speak), go here.
Email This Post To A Friend
2 Responses to "Didn't find it on Facebook: the Navy SEALS' poster attacking Obama on Benghazi"
on 31 Oct 2012 at 3:25 pm

1

David Foster

The message is, no one–individual, political organization, or corporation–can fully trust Facebook as a key component of their social media strategy. Use them for what they're good for, but always keep in mind that the personal opinions of some FB employee may preempt your plans at a very inconvenient moment.

Things like this act to reduce the value of FB as a business, IMO. If I were a FB shareholder, I'd be pissed. If I had a substantial investment position in FB, I'd probably be talking to an attorney about issues of corporate fiduciary responsibility to its shareholders. 

on 31 Oct 2012 at 5:11 pm

2

SADIE

Andrew Noyes (pronounced annoys) has a problem with the poster/meme, but WikiLeaks-no problem. Their editorial judgment has as much value as the stock. Keep it up and they're bound to go the way of Newsweek and be sold for a buck.

 
Leave a Reply
You must be logged in to post a comment.