Ladies and gentlemen, this isn't appeasement — it's worse than that *UPDATED*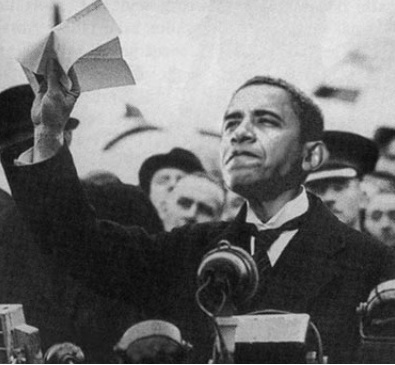 I've noticed something interesting.  While serious thinkers are likening what John Kerry and Barack Obama did vis a vis Iran to Neville Chamberlain's disastrous Munich Agreement, they're  not using the world "appeasement" as the dominant trope.  (E.g., Charles Krauthammer and Bret Stephens.)  They're just saying that, in terms of giving a tyranny permission to be tyrannical, Obama and Kerry have followed in Chamberlain's footsteps.
This omission makes perfect sense when one realizes that there is a substantive difference between Munich and Tehran:  when it came to Munich, as Stephens points out, England couldn't have done anything anyway.  Her military might was practically nonexistent.  The most that Chamberlain could do was put a smiley face on the situation in the hope that Hitler would come after England last, not first.  No wonder Winston Churchill famously said "An appeaser is one who feeds a crocodile, hoping it will eat him last."
Here, however, as Stephens again points out, America held the hand with three kings.  Right up until Obama signed on the dotted line, Iran was a pariah nation badly hurt by economic sanctions, while America still has the most powerful military in the world.  Thanks to Obama, though, Iran has been given permission to go ahead with all the enrichment it needs to do to position itself for becoming a nuclear power; it's been relieved of an enormous economic burden; and it's been legitimized — and all when we had the winning hand.
So why did Obama give away everything when he didn't have to give away anything?  This is not appeasement; this is collaboration.  As Obama made clear from the beginning of his administration, he wants to side with the mullahs and he doesn't like Israel.  Obama has now given free rein to the Obama doctrine:  the elevation of Islamic totalitarian dictatorships to the detriment of anything that stands in their way.  This manifestly awful agreement isn't a desperate mistake, it's an intended outcome.
So yes, this is much worse than Munich.  Obama isn't trying to make the best of a bad situation; he is intentionally creating a bad situation because that situation harmonizes with his core beliefs and values.
And if that doesn't scare you, nothing will.
UPDATE:  Lee Smith states it simply:  Obama has had America switch sides.  Iran is no longer our enemy, but our ally.  We once supported a liberal democracy, but we now side with a bloody-minded, genocidal, misogynistic, homophobic, totalitarian Islamic dictatorship.  Obama has soiled America.
Hat tip to Jon Gabriel for that great photoshop.