Bookworm on Jun 29 2010 at 10:11 am | Filed under: Democrats, Government, Immigration
[Note from Bookworm:  As of now, the video embed of Pete Stark you'll see in the post below has only 97 hits.  It should have a million hits.  Pete Stark is, and always has been, an exceptionally nasty piece of work.  However, Democratic acts in Washington make it clear that what he says is what they think.  Also, please note his disdain and dislike for the people he represents and for Americans in general.  And now, back to Sally....]
Do you doubt whether or not your representatives are listening to you?
Do you question their sincerity in doing their job?
Do you wonder if they truly understand what their responsibilities are in representing their districts in Washington DC?
Do you suspect that your representative has nothing but disdain for the average American citizen?
Do you hear rumors about representatives maligning and mocking their constituents, not taking them seriously and being woefully misinformed on the issues important to every day Americans, the guys and gals on Main Street?
If you answered "yes" to any of the above questions, then watch this representative in action and see for yourself, firsthand, what Washington DC thinks of you.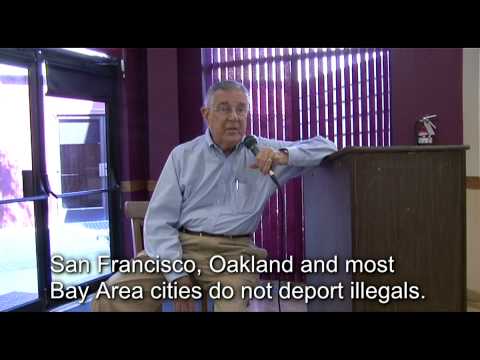 The problem is not Main Street or Wall Street.  It's Pennsylvania Avenue and Capitol Hill!
[Bookworm here again:  For those of you who don't know who Sally Zelikovsky is, especially those of you who are Bay Area conservatives, please check out the Bay Area Patriots website, which is her baby -- and a lovely baby it is.]
Email This Post To A Friend
8 Responses to "The problem is Washington, D.C. — by guestblogger Sally Zelikovsky"
[...] Bookworm Room – The problem is Washington, D.C. — by guestblogger Sally Zelikovsky [...]

[...] explicitly refusing to perform the constitutional duty of securing the nation's borders. Bookworm Room and the Boss Emeritus both have the nine-minute-plus [...]

on 29 Jun 2010 at 2:53 pm

3

locomotivebreath1901

The biggest difference between Conservative nutjobs and Liberal nutjobs is that Liberals elect theirs to public office.

Pete Stark "raving mad" is a text book proof.

Remember This in November…

One of our esteemed Congressmen at work: [HT: Sally Zelikovsky at Bookworm's Place] The disdain and arrogance are dripping off his smug visage. It doesn't matter where you stand on the particular topic, immigration in this case; the sad fact……

on 29 Jun 2010 at 7:58 pm

5

SADIE

Another 'Stark' reminder!
This video should run non stop from today. Don't miss it and Don't forget!


http://www.youtube.com/watch?v=rYfGCMORVoY&feature=player_embedded

Notice how he says there is no problem at the border, then throws the question back at the Citizen and asks him what he thinks will solve the border problem. Well, if there's no problem at the border, why is he fishing for solutions amongst the audience?

on 02 Jul 2010 at 2:29 pm

7

Gringo

Three days later, the video has 176,679 hits on YouTube, so it is not unrealistic to have it hit a million.

There's a level off progression to hits, however, on the net for viral material. A sort of exponential decay.
Leave a Reply
You must be logged in to post a comment.