Bookworm on Dec 19 2011 at 5:53 pm | Filed under: Palestinians, United Nations
Another powerful Danny Ayalon video.  Watch it, then, please, please, please share it with people.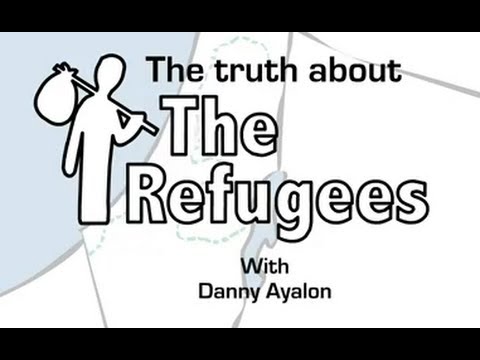 (Or view it here if it doesn't load on my webpage.)
Incidentally, will it make you feel better to know that Danny Ayalon, reciting just the facts set forth in the above video, is causing some embarrassment for the UN, which is incapable of addressing the charges?  It certainly made me feel better.
Question:  I just wanted to ask a question about comments that were made by Israel's Deputy Foreign Minister, Daniel Ayalon, before the Human Rights High Commissioner for Refugees' ministerial event in Geneva last week.  He basically said that the cause of the Palestinian refugee issue was not so much the dispossession of the majority of Palestinians from their homeland by Jewish militias during the 1948 war and refusal of Israel to enable their right to return under resolution 194.  He said rather that it was the establishment of UNRWA [United Nations Relief and Works Agency for Palestine Refugees in the Near East] which has perpetuated the refugee status by applying unique criteria to it.  And I just wonder whether either the Secretary-General or UNRWA has made any response to this statement.

Associate Spokesperson:  No.  We don't go into the lengthy history of how the refugee crisis started.  As you know, the historians may have differing interpretations of what brought on the refugee crisis.  UNRWA, it should be stressed, was established in response to the refugee crisis.  And, as you know, the presence of the United Nations Relief and Works Agency throughout the region is designed to deal with the number, the very large number of Palestinian refugees throughout the region.  If the situation can be resolved and the situation of the Palestinian refugees can be addressed fairly, then UNRWA's work will have been done, but at this stage, we are not there.  It has a lot of work in a lot of countries with, as you know, tens of thousands of people.

Question:  Excuse me, is there no response to the statement by [Deputy] Foreign Minister Ayalon that UNRWA is perpetuating the status of the refugees?

Associate Spokesperson:  I wouldn't react to specific comments.  Over the years people have disagreed and have had their own interpretations of…

Question:  This is not just a personal comment, this is on the Israeli Government official website, his statement is made.  And he is a minister in the Israeli Government.

Associate Spokesperson:  Like I said to you just a second ago, the creation of the United Nations Relief and Works Agency was in response to the refugee crisis.  It is there to handle the situation, the very large situation of refugees across the region that had erupted.  And its existence over the decades is testament to the fact that, throughout this time, the situation of the Palestinian refugees remains to be resolved.  Yes?
Hat tip:  Sadie
Email This Post To A Friend
7 Responses to "The truth about Palestinian refugees"
 
So how come there are no Jews being helped by the "United Nations Relief and Works Agency for Palestine Refugees in the Near East"?
 
There were certainly many tens (perhaps hundreds) of thousands of Jewish refugees in Palestine back in 1948 and onward!!  They came from all over the Near East, after all – and congregated in Palestine.
 
So, how come the UNRWA didn't have a Jewish branch as well as an Arab branch?
 
Rhetorical question — never mind.
 
OT: I just made a Gingerbread Pudding Cake in the slow cooker that is out of this world…..!

I'm salivating. I love slow cooker recipes. The time separation between prep and eating makes me feel as if I didn't actually cook the meal.  It's just there, waiting for me.

 
BW – do those highlighted words make you a little money?  If so, I'm really glad – if not, can you get rid of them? 
 
 
http://www.bhg.com/recipe/cakes/gingerbread-pudding-cake/
Gingerbread Pudding Cake
Ingredients

    Nonstick cooking spray

1  14.5-ounce package  gingerbread mix (I used the one from Trader Joe's – fabulous)

½ Cup milk (I had only rice milk and almond milk and mixed them to make 1/2 Cup – still good)

½ Cup raisins

2¼ Cups water

¾ cup packed brown sugar

¾ cup butter

    Vanilla ice cream (optional – or not, of course!)

Directions

Lightly coat the inside of a 3½- or 4-quart slow cooker with cooking spray; set aside. In a medium bowl, combine gingerbread mix and milk until mix is moistened. Stir in raisins (batter will be thick). Spread gingerbread batter evenly in the bottom of the prepared cooker.

In a medium saucepan, combine the water, brown sugar, and butter. Bring to boiling; reduce heat. Boil gently, uncovered, for 2 minutes. Carefully pour sugar mixture over batter.

Cover and cook on high-heat setting (do not use low-heat setting) for 2 hours (center may appear moist but will set up as it stands).

Remove liner from cooker, if possible, or turn off cooker. Let cake stand, uncovered, for 45 minutes to cool slightly before serving.

To serve, spoon warm cake into dessert dishes. If desired, serve with vanilla ice cream.

on 19 Dec 2011 at 6:40 pm

4

SADIE

There were certainly many tens (perhaps hundreds) of thousands of Jewish refugees …
 
850,000, but who's counting – certainly not UNRWA, designed for the unmitigated abuse of Israel. You do know the Palis, are the only "invented people" with permanent refugee status in the world. This was the price [read: extortion] the survivors of the Holocaust and those who were exiled from arab countries paid for, for membership in that crappy club.
 
p.s.
Earl, you are the King of slow-cooking. Rice pudding and now Gingerbread Pudding Cake. I broke down and bought a new one this year (oval shape) 5-qt. and $15.00 at Walmart.  What a deal.

 
Sadie:  There's a new lentil/spinach soup in there right now from The Indian Slow Cooker….I'll let you know how it turns out.  And then it's Chicken Tikka Masala from the same book – but the chicken has to marinate overnight.

I've printed up the recipe and will try it this week.

As for the highlighted words, I will know in a month if they're making me enough money to justify inconveniencing all of you.

on 20 Dec 2011 at 5:39 pm

7

Michael Adams

OK, so I take the Thanksgiving turkey, frozen these several weeks, and the left overs of the Christmas ham, with dried black-eyed peas, soaked over night, thyme, basil, garlic, four bay leaves, in the crock pot on New Year;s Eve.   Then next morning, I pull out the bones, pour the rest into a big baking dish, put it in the oven at three hundred for a couple of hours, and voila!  Black-eyed pea cassoulet.
Leave a Reply
You must be logged in to post a comment.